How much to borrow for a home an important question if you want to avoid getting into an overwhelming amount of debt.
From the perspective of a first home buyer, it's usually a question of how much you can borrow, rather than how much you should.
But it's important to note that the maximum amount a bank is willing to lend you is not necessarily the amount you should borrow. Your household budget will truly reveal what you can afford.
How much SHOULD you borrow for a home loan?
When taking out a home loan to buy a house, it's typically recommended that you borrow no more than 80% of the property's value, which means having a 20% deposit. Here's why – at an 80% loan-to-valuation ratio (LVR), you usually avoid having to pay Lenders Mortgage Insurance (LMI) which can cost up to $15,000 for a $400,000 loan.
Coming up with a 20% deposit on the house, however, is no easy feat – especially at today's property prices. (Check out what types of financial help you can put towards a deposit.)
If you are willing to pay for LMI, you can usually borrow up to 95% of the property's value (95% home loans).
Want more help sorting out the finances?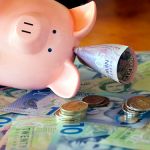 Sign up for free to receive more news and updates, straight to your inbox.
By subscribing you agree to the Canstar Privacy Policy
You don't want to be paying 30% or more of your pre-tax income on home loan repayments though, because by definition, paying that much means you're suffering from mortgage stress.
Work out how much you can comfortably afford to repay on a home loan each month – making sure you include all the costs that come with home ownership like council and water rates, house and contents insurance, and repairs – then add a bit more to act as a buffer in case of interest rate rises.
How much CAN you borrow for a home loan?

While each first home buyer's situation will be slightly different, there are a few broad factors that will affect the amount of home loan you are likely to be approved for.  These include:
1. Your household income
Obviously, your income this is one of the first things a lender will look at to judge whether or not you will be able to service the loan repayments.
2. The type of property you want to buy
Are you buying a house, a unit or apartment, or acreage? Are you buying an established property or a new 'off-the-plan' development? The type of property that you are purchasing may influence the amount of money that a financial institution is willing to lend to you – or indeed whether they will lend to you at all.
Lenders' decisions are also influenced by the purpose for which you're buying that property type. For example, a lender might view it as more risky to lend a large amount to you to buy an apartment in an area where lots of new apartment blocks are in development.
3. The location of the property you're wanting to buy
Some locations are riskier lending propositions than others (flood-prone areas, for example) and financial institutions will certainly take this into account when deciding on a finance application. It is, of course, something that you should also take into account before putting in an offer on a property – among other things!
4. The value of the property you've chosen
Banks will lend to you according to the bank valuation of the property in question – as opposed to the asking price of the property!
As an example, the asking price of a property may be $800,000, but the internal bank valuation may be $700,000. As such, the maximum amount that the institution may be likely to lend on that property could be somewhat less than $700,000.
As a buyer, understanding the real value of a property is a crucial negotiating tool. So, make sure you do your research.
5.  Your credit rating
The better your credit rating or credit score is, the less of a 'credit lending risk' you are and the happier banks will be to lend to you.
6. Your other financial commitments
What other loans do you have? What other financial commitments? This is something that you need to be realistic about, because at the end of the day and whatever size home loan you get, you are the one who will be responsible for repaying it.
Property can be an emotional purchase, so it's worth determining your borrowing capacity – before you fall in love with your 'perfect house'.
Enjoy reading this article?
Sign up to receive more news like this straight to your inbox.
By subscribing you agree to the Canstar Privacy Policy