Over the past two years, average mortgage rates have more than doubled. But when will interest rates go down? Canstar looks at what the big banks are predicting.
When will interest rates go down? It's a question on the lips of any homeowner with a mortgage. Over the past two years, the Reserve Bank has lifted the Official Cash Rate (OCR) from its all-time low of 0.25% to 5.50% – a level not seen since before the GFC, in 2008.
As a result, these increases in the cost of borrowing have flowed through to mortgage rates. In August 2021, the average one-year fixed rate for owner-occupiers on Canstar's mortgage database was 2.58%. At time of writing (06/12/23), the same rate is 7.49%.
Hopefully, fingers-crossed, touch wood, we've reached peak mortgage pain. But the Reserve Bank's recent OCR announcement was one for the hawks.
Back in May, when the RBNZ's Monetary Policy Committee increased the OCR by 25 basis points (bps), from 5.25% to 5.50%, it signalled that its fight against inflation was mission accomplished, and that the OCR was unlikely to move any higher.
However, in its most recent statement, released at the end of November, it said that while interest rates are restricting spending in the economy and consumer price inflation is declining, it remains too high. It warned that if inflationary pressures remain stronger than anticipated, the OCR will need to increase further.
This is a major difference to what the committee was saying as recently as August, when rather than hint about future OCR rises, it said that policy rates were expected to "remain at restrictive levels for a sustained period of time".
And to prove that it's not kidding about raising the OCR even further, the RBNZ backed up its jawboning by revising its OCR projection, including a further hike accompanied by an elevated OCR through to 2025.
RBNZ OCR Forecast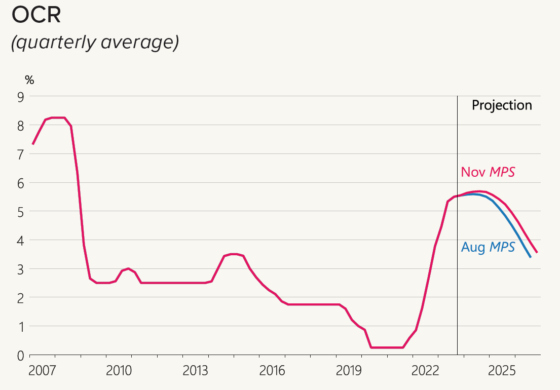 In its meeting, the RBNZ also revised its assumption of where it sees the neutral OCR over the longer term, raising it by 25bps to 2.5%. Thus putting more upwards pressure on the OCR. The shift helps explain why the RBNZ forecasts the OCR will remain higher for longer, compared to its forecasts earlier in the year.
So given the RBNZ's revised prediction, when are interest rates likely to go down, and is another hike to the OCR likely? Let's take a look at what the big banks and industry experts predict.
Below is a quick overview of what the big banks and mortgage broker Squirrel predict. Click on each to jump to a more detailed overview of their predicitions:

ANZ
The ANZ has been consistent over recent months, predicting that mortgage rates will remain at their current levels throughout 2024.
In the bank's October Property Focus, ANZ predicted another rate hike in February, stating that even if another hike was averted, cuts were still a long way off.
Then, in its November report, released the day of the RBNZ's statement, the ANZ changed its forecast, writing: "This month we changed our Official Cash Rate forecast and now expect the next move on the OCR to be lower, albeit with cuts one quarter later than previously (Q1 2025)".
It cited the weaker-than-expected labour market as one of the reasons it had changed its OCR call, but thought the RBNZ would keep the OCR on hold all year.
Now, in the fallout of the RBNZ's new OCR projection, the ANZ sees a possible rate hike in February as "pretty much a coin toss".
ANZ says that its current view is that the RBNZ's tough talk is just that, Scrooge-like talk to dampen the market over the festive season. Because if monetary conditions do ease, and fuel inflation, another OCR rise could be necessary.
But, whichever way the coin lands, according to the ANZ, mortgage rates aren't coming down any time soon, not until inflation is thoroughly under control. The bank expects mortgage rates to remain at their current elevated levels for at least the next 12 months.

ASB
Since the end of October, in its Economic Weekly reports, ASB has been forecasting that it expects the OCR to remain on hold at 5.5% until February 2025, from which point it sees it getting gradually trimmed to 3% by mid-2026.
And in the face of the RBNZ's recent announcement, ASB is sticking to its guns. It said that the RBNZ's announcement had "dropped an Ice Bucket Challenge worth of cold water on people anticipating a quick start to OCR cuts".
While recent data has showed "a slightly faster decline in reported inflation", the ASB notes a couple of reasons for concern as to why the battle against inflation has not yet been won:
Effect of migration on housing: house prices and rental inflation
The technical rise in the RBNZ's assessment of where it sees the neutral OCR over the longer term – which assumes the OCR needs to be higher for longer
However, while the ASB understands the RBNZ's concerns, and its "shot across the bows of those picking a relatively swift start to the eventual easing cycle", it doesn't see the OCR rising any further. But home owners will have to wait until at least February 2025 for an OCR cut, and, hopefully, cheaper mortgage rates.
ASB OCR Forecast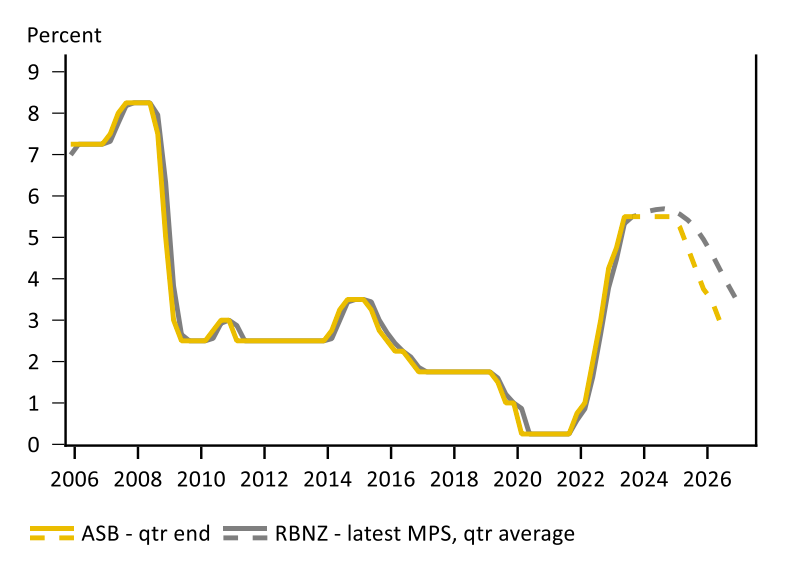 ---
Searching for the Cheapest Personal Loan?
If you're looking for the cheapest personal loan, Canstar's personal loan comparison tables can help. The table below displays the sponsored unsecured personal loan products available on Canstar's database for a three-year loan of $10,000 in Auckland, with links to lenders' websites. Use Canstar's personal loan comparison selector to view a wider range of products on Canstar's database. Canstar may earn a fee for referrals.
---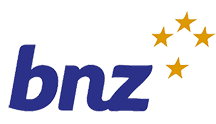 BNZ
Against a backdrop of a broadening domestic slowdown, the BNZ's chief economist, Mike Jones, predicts that the RBNZ doesn't need to lift interest rates any further.
Despite the RBNZ's hawkish statements, the BNZ says the NZ economy is both "stuck in low gear" and "out for the count".
These two metaphors lead it to the same conclusion: that the RBNZ doesn't need to increase the cash rate again, and that the Reserve Bank's OCR cuts will come earlier than it predicts.
While the RBNZ's revised forecast is pointing to an early 2025 start to the cutting cycle, the BNZ expects the first cut to come as soon as next August.
However, while wholesale rates are falling, banks' funding costs are rising, which means mortgage rates are still peaking. New borrowers are currently being testing at rates between 8.5%-9%.
As a result, the BNZ doesn't see fixed rates trending lower "on a sustained basis until late next year". However, when the downturn does come, it expects short-term rates to "fall the fastest".
BNZ Mortgage Rate Forecast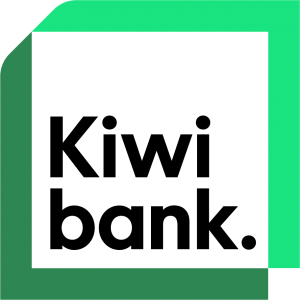 Kiwibank
Up until recently, Kiwibank had been saying that interest rates had hit their peak, and it had been predicting a rate cut in May 2024, with mortgage rates to soon follow.
However, the recent OCR announcement has managed to quash some of Kiwibank's enthusiasm for mortgage relief in the near future.
It now agrees there's a 75% change of another rate hike later in 2024. The Kiwibank's economists make particular note of the RBNZ lifting its neutral OCR rate, which proves that it isn't just tough talking about the need for higher-for-longer rates, it's playing hard-ball, too.
However, Kiwibank isn't completely abandoning its earlier predictions of sunlight uplands and lower mortgage rates in 2024, it now just sees them coming later in the year.
It says: "We still believe the RBNZ will be in a position to normalise policy next year. Rate cuts could well be a 2024 story. Just later in 2024… We now pencil in the first rate cut in November next year."
Compare Travel Money Cards
Headed off overseas and looking for the best in money cards? Here's a rundown of some of the most popular cards in New Zealand:
Provider
Key Features
Main Fees

• 5 Currencies
• Instant international transfers
• Single-use virtual cards for secure shopping
• No monthly fee
• Exchange currencies with minimum fees
• Fee-free transfer between Revolut users
• 9 Currencies
• Earn Airpoints Dollars
• Use wherever Mastercard is accepted
• OneSmart app
• No load/reload fee for bank transfers
• Monthly fee: NZD $1 (if funds in account)
• 10 Currencies
• Use wherever Mastercard is accepted
• Cash Passport app
• No load/reload fee for bank transfers
• No monthly fee
• 9 Currencies
• Use wherever Mastercard is accepted
• No load/reload fee for bank transfers
• No monthly fee
• 40+ Currencies
• Free ATM withdrawal of up to NZ$350 per month
• Receive and add money to your Wise Account for free
• Physical card $14 one-off fee
• 9 Currencies
• Use wherever Mastercard is accepted
• Mastercard Priceless Cities benefits
• Free overseas ATM withdrawals
• No load/reload fee for bank transfers
• No monthly fee
The display order does not reflect any ranking or rating by Canstar. This information is not an endorsement by Canstar of travel money cards or any specific provider. Information correct as of 20/09/23. For full pricing details see individual providers' websites.

Westpac
Westpac has long been one of the more hawkish banks when it comes to the OCR. And at the end of October, Westpac was predicting that the RBNZ would lift the OCR at its February 2024 meeting. And, on the back of the Reserve Bank's recent comments, it's retaining its call for "an OCR increase early next year".
Westpac notes that the RBNZ's revised outlook is more in keeping with its own OCR forecast, although it predicts the OCR lifting sooner rather than later in 2024.
It says that one of the key messages to be taken from the RBNZ's November announcement is that the OCR isn't coming down in the foreseeable future. And, according to Westpac, we can't expect an OCR cut until Q1 2025.
As a result, for a homeowner faced with refixing their mortgage, Westpac says it continues to see value in "fixing for two to three years". However it adds that, shorter terms, while more expensive, would provide borrowers with greater flexibility should mortgage rates start to fall earlier than expected.
Westpac OCR Forecast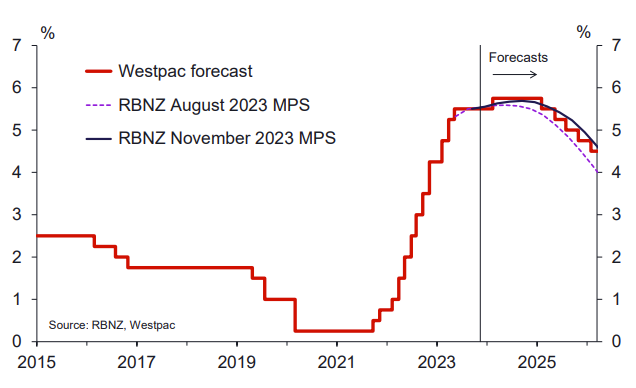 Squirrel
Squirrel founder and mortgage expert John Bolton thinks that our slowing economy is clear indication that we've hit peak rates for this interest rate cycle, and that we can expect rate cuts by the middle of next year.
He says: "It feels pretty clear we're at the top of the current interest rate cycle. As far as the future outlook on interest rates is concerned, my view hasn't changed. And that is that interest rates should start to fall sometime around the middle of next year.
"The reason for that is simply that I think the economy is slowing down a lot faster than was expected, and faster than I think many people have quite got their head around yet.
"Higher interest rates have had a huge impact on affordability and discretionary spending, and the flow-through of that to the economy is now plain to see in retail data. For months now, sales figures have been down, both in dollar terms and in unit sales numbers — and without doubt that translates to a weaker economy.
"When the RBNZ insists rates will have to stay high for the foreseeable future, I don't think these risks are factored in yet. So, even though most economists will be working towards a 2025 date before rates fall, if the risks I've discussed materialise, I wouldn't be surprised if it starts happening around the middle of next year."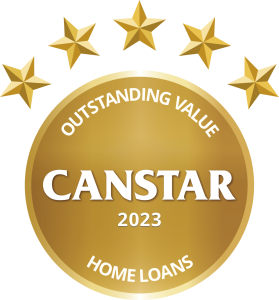 Lowest Mortgage Rates for Refinancing
Looking to refinance your mortgage? The table below displays some of the 1-year fixed-rate home loans on our database (some may have links to lenders' websites) that are available for home owners looking to refinance. This table is sorted by current interest rates (lowest to highest), followed by company name (alphabetical). Products shown are principal and interest home loans available for a loan amount of $500K in Auckland. Before committing to a particular home loan product, check upfront with your lender and read the applicable loan documentation to confirm whether the terms of the loan meet your needs and repayment capacity. Use Canstar's home loan selector to view a wider range of home loan products. Canstar may earn a fee for referrals.
Compare Lowest Home Loan Rates for Refinancing
---
About the author of this page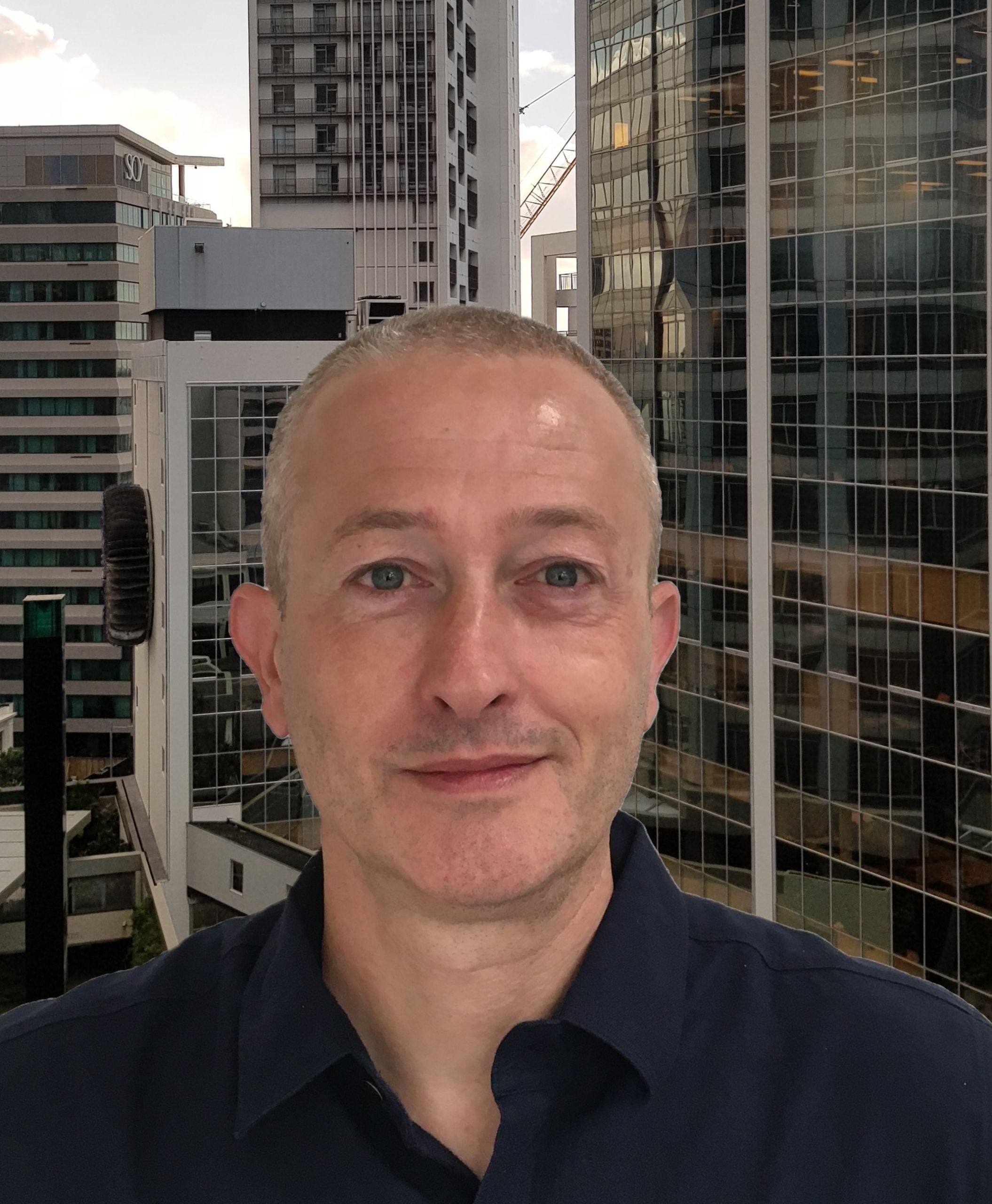 This report was written by Canstar's Editor, Bruce Pitchers. Bruce has three decades' experience as a journalist and has worked for major media companies in the UK and Australasia, including ACP, Bauer Media Group, Fairfax, Pacific Magazines, News Corp and TVNZ. Prior to Canstar, he worked as a freelancer, including for The Australian Financial Review, the NZ Financial Markets Authority, and for real estate companies on both sides of the Tasman.
---
Enjoy reading this article?
You can like us on Facebook and get social, or sign up to receive more news like this straight to your inbox.
By subscribing you agree to the Canstar Privacy Policy