"Back in 2002, we launched with a thought: New Zealand needs a better banking alternative—a bank that provides real value for money, that has Kiwi values at heart, and that keeps Kiwi money where it belongs—right here, in New Zealand." – Kiwibank
Kiwibank is hitting its teenage years and, if it wanted to throw a party, it would have plenty of friends to invite. Since the bank's launch in 2002, nearly 900,000 people – or 20% of the New Zealand population – have become a Kiwibank customer.
"We believed the status quo provided poor service, poor interest rates along with too many, and too expensive, fees and charges," said Kerry Boielle – Head of Lending at Kiwibank – by way of explaining the reason for the 2002 launch.
"The growth was a minimum 100,000 new customers a year for many years and we now have nearly 900,000 customers (one in four of every New Zealander who has a bank account).  The quantum switch was driven by dissatisfaction with the existing foreign-owned banks and support for a Kiwi challenger."
How does Kiwibank have strategic digital advantage?
"Digital disruption" is a current buzzword in the financial services industry, but strategic digital advantage across the industry has been quietly building for many years; something that has held Kiwibank in good stead was its early recognition of the value in innovation.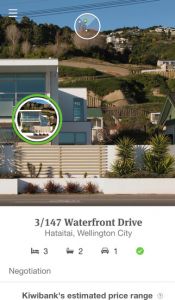 "Kiwibank had the technology to be innovative and knew before it launched that IT was going to lead massive changes in how customers interfaced with their banks," said Ms Boielle. Indeed, Kiwibank was the first to launch real time mobile phone banking. Another recent example of innovation is Kiwibank's Home Hunter app – a mobile app that can enable any New Zealander to use their smartphone or tablet to find a house, get the estimated sale price and apply for pre-approval in minutes – and which won a Canstar Innovation Excellence Award in 2014.
Canstar's online banking star-ratings
Who else provides innovation in New Zealand financial services?
Innovation is not solely a Kiwibank domain of course. Some other notable recent innovations in the New Zealand financial services industry include Westpac's Augmented Reality  andASB's PayTag. There are also plenty of Fintech startups eyeing the lucrative industry that is financial services. One advantage that incumbents have though is an established customer base which, if kept happy, provides protection against digital challengers.
"We have been at the forefront of technological innovation ever since (our launch) and intend to stay there," said Ms Boielle.
Canstar's Online Banking Star Ratings