New Zealand home owners are capitalizing on the overheated property market, holding onto their properties for longer to sell them at a premium.
New property listings have decreased by 12.2% compared with the same period the previous year, and the total housing stock has dropped by 23%, new statistics from realestate.co.nz shows.
Current real estate figures go against the grain; with realestate.co.nz dubbing the 2016 property market, "the year of unpredictability".
Compare home loans with Canstar
Typically, the property market slows down in winter and increases again in spring, but this trend is diminishing, realestate.co.nz spokesperson, Vanessa Taylor says.
"…sellers appear to be more focused on selling at a premium, particularly in markets like Auckland, while buyers are considering all their options and properties are now taking a longer time to turn over."
New property listings in Auckland decreased by 17.8% in September compared with the same month the previous year.
Waikato has taken a huge hit when it comes to housing stock levels, plunging by 31.9% compared to the same month last year. The region's new property listings decreased by 20.1% in September, compared with the same month the previous year.
The capital has also seen a drop in housing stock; there were 8.1% fewer new property listings in September compared with the same month in 2015.
Wellington reflects the "unpredictable" real estate market in 2016. In August 2016, new listings in Wellington increased by 36.8% compared with the same month the previous year.
Buyers expect to pay more for housing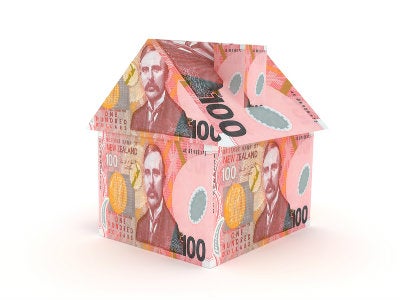 Buyers are also well aware of the rising house prices, with the expected price increasing by 3% on the previous year to $524,671, according to a Nielsen report.
Realestate.co.nz figures show asking prices for Auckland homes have increased to $933,435 in September, up 2% from the previous month.
"With interest rates currently at an all-time low, continued migration increases and a housing shortage (especially in Auckland); the demand for property is still pushing up house prices, albeit at a more measured pace," Nielsen research director Tony Boyte says.
The research company conducted an online survey of 1200 New Zealanders researching property over the period August 2-14.
Almost all those in the New Zealand property market are buyers (95%), with a high proportion being first home buyers, up from 34% in 2015, according to the report.
The majority of house buyers (17%) purchase property as a primary residence, according to Nielsen's research.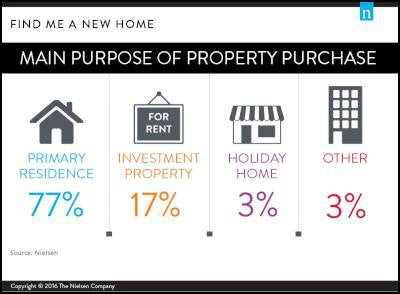 Source: Nielsen
Of the home owners who have a mortgage, 12% say they are likely to change mortgage provider in the next 12 months.
"There's an opportunity for those involved in the home loans market to attract those buyers looking for a mortgage and also those not entirely satisfied with their current provider," Mr Boyte says.
ANZ Bank is the most popular choice for home loans, holding 15% of the market, according to Nielsen's research.
Pressure on first home buyers remains
First home buyers are being locked out of the housing market and these buyers need to be exempt from LVR rules to be able to afford to purchase property, Property Institute of New Zealand chief executive Ashley Church says.
The institute calls for the Government, councils and the Reserve Bank of New Zealand to band together and push for more affordable Auckland housing, particularly for young people struggling to enter the market.
New Zealand has the highest house price-income-ratio and has experienced a larger increase in house price over the past year than most of the world. New Zealand's house price-to-income ratio has increased by 30% in six years; the baseline house price-to-income ratio in 2010 is 100 and New Zealand is now sitting at 130, according to OECD figures.
In addition, New Zealand, tying with Lithuania and Hungary, has had the largest increase in real house prices over the past year.  House prices in these three countries have each increased by 10% over the past year.
As of 1 October, property investors must front up with a 20% deposit, regardless of where in New Zealand they are buying, although, there are some exemptions for new builds.
"This tightening is in response to the growing housing market risks nationwide," RBNZ states on its website.
But Mr Church believes housing inflation will continue until there is sufficient supply of properties, and first home buyers shouldn't be locked out in the meantime.