Glenn Stevenson, ANZ's Head of Mortgages, provides some thoughts for First Home Buyers looking to make the most of the record low interest rates.
As Head of Mortgages at ANZ, it's fair to say that Glenn Stevenson knows a bit about helping first home buyers (FHBs) onto the property ladder. His bank has also just won Canstar's 2020 award for Bank of the Year | First Home Buyers. So who better for us to ask a few questions about the current housing market, what FHBs need to consider when buying a property and how the ANZ can help them into their first home?
Canstar: How important are FHBs for the housing market?
Glenn: "They are really important. They're the pipeline of future home owners. Generally, FHBs tend to buy smaller homes, and with their enthusiasm they look to improve them and put their mark on them: painting and DIY, or adding a deck. Over time, this improves the entry level housing stock, which is great."
Canstar: Have you seen an increase in FHB activity since the removal of the LVRs?
Glenn: "In short, yes! Interest rates have dropped significantly off the back of lockdown, and not only floating, but fixed-rates, too. So FHBs are now in a position where the servicing of a loan has become a lot cheaper. So that's sparked a lot of interest."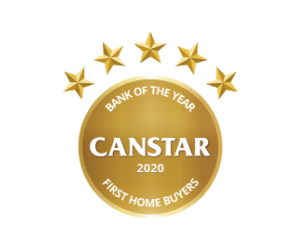 Canstar: Has COVID-19 negatively impacted FHBs looking to use their KiwiSaver for a deposit?
Glenn: "Early on in COVID-19, the reaction we saw in markets across the globe, including here in NZ, was massive. It was a sobering experience for FHBs to see how much their deposit was impacted overnight. It put a lot of people back but, quite surprisingly, stock markets have rebounded. So that issue, for the time being at least, has reduced."
Canstar: What does the ANZ do to help FHBs into a first home?
Glenn: "The key thing for us is that we always endeavour to be really competitive on price. Our mantra is: best price first time, and we work hard so FHBs understand that we'll give them the best deal that we can.
"We also provide FHBs with a Home Loan Coach. Often FHBs don't have too many advocates in their corner, to help them through the process, and when you're buying a home for the first time it can be very daunting. So we get alongside FHBs and really help them to understand how the process works. Our Home Loan Coaches are available whenever they're needed, to answer any questions.
"We've also improved the amount of content we have online for FHBs, so they can do a lot of their own research. Our Home Loan Coaches also provide Property Profile Reports on homes FHBs are interested in. These provide a wealth of information about a property, not only the estimated value, but a whole lot of other stuff, such as school zones, other similar homes that have sold nearby, and many other attributes that FHBs would otherwise not be able to access.
"We also provide a cash contribution, to help pay for things such as solicitors or valuation costs. We just find it's a nice gesture that goes some way towards easing the financial burden of purchasing a first home."

Canstar: What are the three golden rules for FHBs?
Glenn: "One: it's about preparation – spending time doing research and getting a good understanding of the process of buying a first home and the costs associated with owning a home. At ANZ, it's about aligning yourself with a Home Loan Coach that you can go to when you need information and support.
"Two: it's about getting preapproval in place, understanding your finances and hunting for a home that is within your budget. A lot of FHBs get frustrated because they spend a lot of time thinking about and hunting for what is, realistically, their second or third home, and not their first.
"Three: it's about adding value. Many FHBs are younger, and perhaps without dependants, and are in a good position to add value to their property with just a little hard work. It's a good opportunity to earn some good gains in the value of their asset, which is great."
Canstar: Are banks lending more cautiously in the current economic environment?
Glenn: "In short, the answer is yes. The LVR restrictions are gone for the moment, but we've always made sure that our customers are in a healthy position should they experience a bit of a downturn in their asset price or financial situation. It's not in our best interest, or that of our customers, to put them in a position where they have little wiggle room should they experience some financial stress. It's just being careful, particularly in the current environment."
Canstar: Once a FHB has purchased their first home, what is the key thing they should consider next?
Glenn: "This seems very banky of me, but I've been around in this industry for 25 years now, and we've obviously never seen interest rates so low in New Zealand. Obviously, that's great for borrowing money, but it's also fantastic for paying back debt. So, when I speak to people about their home loans, I say they should be talking to their banks about structuring their loans and using the low interest environment to pay down their debt a lot faster."
---
If you're a first home buyer and are looking to get the ball rolling securing finance, Canstar can assist. To help you make the right choice, each year we review mortgage lenders and their products. On top of our First Home Buyers Award, won this year by ANZ, our Home Loan Star Ratings use a sophisticated and unique ratings methodology that compares both cost and features across various types of home loan products. To read our report for free, just click this link. Or to compare current mortgage rates and lenders with our comparison tool, just click on the big button below!
Enjoy reading this article?
You can like us on Facebook and get social, or sign up to receive more news like this straight to your inbox.
By subscribing you agree to the Canstar Privacy Policy