If you're house hunting, you can't get a mortgage without home insurance. Canstar explains why you should prioritise insurance when buying a home.
When you're in the market for a home, insurance isn't likely to be a top priority. But getting insurance when buying a house is crucial to obtaining finance. Unless you can obtain insurance cover for the property, no lender is going to agree to a mortgage.
And due to recent changes in the way many insurance companies calculate risk, you shouldn't just assume gaining cover is guaranteed. So above measuring for curtains or planning where you're going to stick your TV and sofa, when you find your dream home, your No.1 priority should be getting your insurance in place.
Insurance when buying property: a risky business
Due in part to events such as the Canterbury earthquakes, over the past few years, insurance companies have changed the way they look at risk. For the past 50 years, insurance companies calculated risk in much the same way: they took a wide view of a region and shared the costs out across all their customers.
More recently, however, insurance companies have started looking at risk on a house-to-house, street-by-street basis, especially in places such as Wellington. Not only do they look at the location of a building, they look at how the home is built.
Both old and new homes can share the same risks. Old brick homes with tall chimneys aren't flexible and are prone to collapse. So too are modern, open-plan glass boxes. Houses built into the sides of hills raise further red flags, as do older apartment blocks.
The upshot is, if you're looking at a house in a risky location, you shouldn't take insurance cover for granted. Just because you've been a loyal customer with an insurance company doesn't mean they're going to automatically grant you a new policy.
And if you do obtain insurance, the riskier your home and its location, the more it will cost you.
Insurance when buying property: considerations for home buyers
A first stop if you're considering buying an apartment should be the register of earthquake-prone buildings, which can instantly inform you of any problems with some types of buildings. Earthquake strengthening can be prohibitively expensive!
And always ask a real estate agent about whether the home they're selling has been subject to an EQC claim, and check the LIM for warning signs. If in doubt, you can obtain a property's history directly from the Earthquake Commission (EQC).
And regardless of what type of building you're purchasing, or where, you should get your insurance in place from the start and make it a condition of sale, if possible.
Gaining insurance cover can be a long process, especially if the insurer requires a new building assessment. So get in early. You don't want to leave it until the last minute, because if your insurance falls through, so will your finance.
You should also get a clear understanding of the costs involved. If you're buying insurance in an area that is at a heightened risk of a natural disaster, you're likely to pay more and face increased future levies, too.
What kind and level of insurance do I need?
When buying a home, at minimum you'll need to organise home insurance. This covers the physical property. If your home is destroyed or damaged, this cover will pay for a rebuild or repair. Most lenders insist on this level of cover as a mortgage prerequisite.
When determining your level of cover, remember that you only need to pay for cover to replace your home, not the land it stands on. In our large cities, the bulk of the cost of a home is land value. You need to insure just the building.
Home insurance is usually calculated on a sum insured basis, so if your home needs to be rebuilt, the insurer will only pay out the maximum sum that you specify when you take out your policy. This means that you need to do your homework and have a good estimate of the cost to rebuild. Review this amount on a yearly basis, to keep up with inflation. 
When organising home insurance, it's a good idea to get new cover for your contents, too. Especially if you're purchasing additional furnishing for your new home. And while you're at it, why not review and throw in your car insurance, too? Most insurance companies offer deals for bundling all your insurance together.
Compare car insurance providers for free with Canstar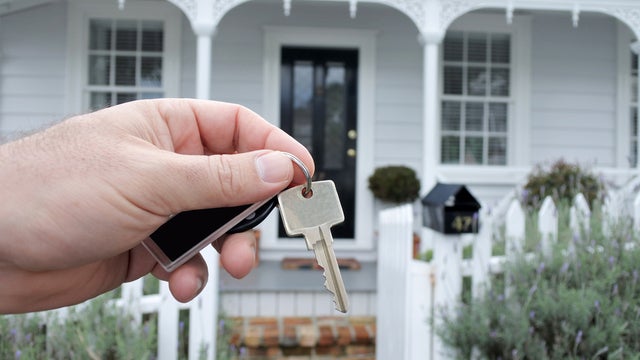 From when do I need cover for my new home?
Although you need to secure your insurance as early as possible, it only needs to commence on settlement day. This is when the property you have purchased officially becomes yours.
It's also the day that you have to pay the balance of the purchase price to the vendor: the remainder of your deposit and any money you've borrowed through a home loan.
As with all financial products and services, Canstar recommends you research insurers and policies. Even if you've already got insurance, it's always a good idea to shop around, and to compare insurers on a regular basis to ensure you're getting the best deal.
For more information on Canstar's Star Ratings of the best insurers and how they rate on customer satisfaction and value for money, just click on the link below. 
Compare home and contents insurance with Canstar
Need a home loan?
And if you're in the market for a mortgage, Canstar can help there, too. Not only can you compare mortgage rates for free on our site, we publish expert research into the best lenders in the market. To read why Kiwibank took out our award for Bank of the Year | Home Loans 2020 click this link. Or to compare current mortgage rates, click on the big button below.