Renters' insurance is contents insurance for renters. Find out what it covers and how it works.
If you're renting a house or an apartment, you might think that it's your landlord's responsibility to look after things like insurance. In reality, it's actually your responsibility. As a renter, you need to take steps to protect your own belongings. By taking out renters insurance, you will be able to sleep easy knowing your valued possessions are properly covered.
Renters insurance is designed to provide a safety net if you find yourself in this situation and need help getting back on your feet financially. Here's a breakdown of how it operates.
How does renters insurance work?
Renters insurance is a type of contents insurance policy for people who are renting a property. It works by covering all or part of the cost of repairing or replacing your belongings if they are stolen, damaged or destroyed due to events such as fire, storm and theft.
For example, if someone breaks into your home while you are renting and steals your TV, renters insurance will, typically, cover the cost of replacing it.
What does renters insurance cover?
Renters insurance covers the cost of repairing or replacing your belongings if they are damaged or destroyed. Generally speaking, you can insure all of your personal belongings, including furniture, appliances, electronics and clothes.
But be sure to check if your policy has any exclusions before committing. For example, you may need to get additional cover for portable items, such as your phone, laptop or jewellery.
Your provider might also put limits and sub-limits on what you can claim. For example, they could cap a jewellery claim at $1000 per item. Therefore, you may want to insure particularly expensive items separately on your policy. But keep in mind, this may raise the price of your insurance.

Why might I need renters insurance?
Renters insurance covers your belongings. Your landlord will likely have insurance, but that does not cover the items you own in that property, such as your clothes and furniture.
When you are renting, the owner will generally take out landlord insurance or home insurance to protect the property. If it's a furnished property, the owner may also take out contents insurance to cover the items they own.
While the owner is responsible for damage or loss to the physical property, fittings and any furniture they own, they are typically not responsible for any damage or loss that occurs to your personal belongings. It's usually your responsibility to protect your own items.
Given your belongings may not be otherwise protected, taking out a suitable insurance policy could be worth considering if you are a renter. Think about the cost of your furniture, electronics, clothes and other valuables – it could add up to more than you realise.
How much does renters insurance cost?
It's hard to pinpoint an exact cost of renters insurance in NZ, as it varies widely depending on factors including:
How much coverage you take out
Your excess
Whether you decide to add optional extras
Your claims history
Where you live.
However, to give you a general idea, one leading insurance company quoted $60 per month, for $10,000 of cover on the contents on a freestanding rental property in Auckland's inner suburbs. For quotes to match your circumstances, you will need to visit individual insurers' websites.
To keep costs down, you may be able to get a discount on contents insurance if you buy your policy online. Another way to potentially lower your premiums is to bundle it with other policies, such as car insurance, or to increase your excess. Typically the higher your excess, the lower your premiums. However, make sure you can afford to pay the excess amount, should you need to make a claim.
How will I be compensated by renters insurance in NZ?
If you experience a covered loss or damage to your belongings, you may be eligible for compensation from your renters insurance policy. Here's a general overview of how compensation works:
Report the incident
If an event occurs that leads to loss or damage to your belongings, such as theft, fire, or water damage, you should promptly report it to your insurance provider. Most insurers have a dedicated claims process that you need to follow.
Claim assessment
After reporting the incident, an insurance representative will guide you through the claims process. They will evaluate the extent of the loss or damage and determine if it falls within the coverage provided by your policy.
Valuation
To determine the compensation amount, the insurance company will assess the value of the items affected. They may consider factors such as the age, condition, and replacement cost of the items. Some policies may offer "new for old" replacement, meaning the insurer will replace your damaged items with brand new equivalents, while others may consider depreciation.
Deductible
Your policy may have a deductible, which is the amount you're responsible for paying out of pocket before the insurance coverage kicks in. The deductible amount is typically specified in your policy and will be subtracted from the total compensation.
Compensation
Once the claim is approved, the insurance company will provide you with compensation for the covered loss or damage, minus any applicable deductible. The payment can come in the form of a direct deposit, check, or as per the arrangements made with your insurer.
It's important to review the terms and conditions of your specific renters insurance policy to understand the coverage, limits, and any exclusions that may apply. Additionally, keep an inventory or record of your belongings and their value to facilitate the claims process in case of an unfortunate event.
Can I get renters insurance if I'm living in a share house?
Yes, renters insurance is designed to cover a renter's personal items, such as phone, laptop clothes, etc. It covers your goods in your share house, and when you're out and about. It can also cover your legal liabilities if accidents occur outside the home. Again, you need to ensure you've read all the small print so you know what you're covered for.
If your flatmates want their possessions covered, they'll have to take out their own insurance policy.
View Outstanding Value Home & Contents Insurance Awards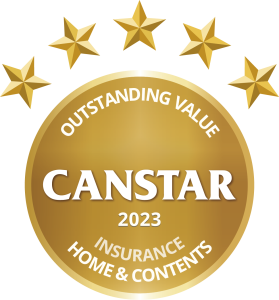 ---

About the author of this page
This report was written by Canstar Content Producer, Caitlin Bingham. Caitlin is an experienced writer whose passion for creativity led her to study communication and journalism. She began her career freelancing as a Search Engine Optimiser, before joining the Canstar team.
---
Enjoy reading this article?
You can like us on Facebook and get social, or sign up to receive more news like this straight to your inbox.
By subscribing you agree to the Canstar Privacy Policy