Online‌ ‌shopping‌ ‌is‌ ‌steadily‌ ‌growing‌ ‌as‌ ‌an‌ ‌industry‌ ‌but,‌ ‌as‌ ‌the‌ ‌silly‌ ‌season‌ ‌fast‌ ‌approaches,‌ ‌we‌ ‌still see‌ ‌stores‌ ‌constantly‌ ‌full‌ ‌of‌ ‌people‌ ‌doing‌ ‌their‌ ‌Christmas‌ ‌shopping.‌ ‌So,‌ ‌does‌ ‌this‌ ‌mean‌ ‌that‌ ‌our‌ ‌shopping‌ ‌habits‌ ‌favour‌ ‌in-store‌ ‌buying‌ ‌around‌ ‌the‌ ‌Christmas‌ ‌period?‌
According‌ ‌to‌ ‌a‌ ‌NZ‌ ‌Post‌ ‌report‌ ‌on‌ ‌ecommerce‌ ‌in‌ ‌New‌ ‌Zealand,‌ ‌it's quite the opposite! ‌In‌ ‌2018,‌ ‌online‌ ‌shopping‌ ‌grew‌ ‌8‌ ‌times‌ ‌faster‌ ‌than‌ ‌shopping‌ ‌in-store‌ ‌‌(16%‌ ‌versus‌ ‌2%).‌ ‌Courier‌ ‌services‌ ‌have‌ ‌now‌ ‌taken ‌over‌ ‌mail‌ ‌as‌ ‌the‌ ‌largest‌ ‌contributor‌ ‌to‌ ‌NZ‌ ‌Post‌ ‌revenue.‌ ‌ ‌
In‌ ‌2018,‌ ‌1.8‌ ‌million‌ ‌New‌ ‌Zealanders‌ ‌shopped‌ ‌online‌ ‌and‌ ‌spent‌ ‌a‌ combined ‌total‌ ‌of‌ ‌$4.2‌ ‌billion.‌ ‌ ‌NZ‌ ‌Post‌ ‌says‌ ‌the‌ ‌largest‌ ‌growth‌ ‌in‌ ‌online‌ shopping has‌ ‌come‌ ‌from‌ ‌Kiwis‌ ‌who‌ ‌are‌ ‌shopping‌ ‌online‌ ‌more‌ ‌often‌ ‌and‌ ‌that nearly‌ ‌one‌ ‌in‌ ‌10‌ ‌shoppers‌ ‌are‌ ‌spending‌ ‌more‌ ‌than‌ ‌$9000‌ ‌a year online.‌ ‌ ‌
In‌ ‌BNZ's‌ ‌September‌ ‌2019‌ ‌Online‌ ‌Retail‌ ‌Sales‌ ‌Report‌ ‌-‌ ‌released‌ ‌5‌ ‌November‌ ‌2019‌ ‌-‌ ‌figures‌ ‌show‌ ‌New‌ ‌Zealand‌ ‌shoppers‌ ‌are‌ ‌favouring‌ ‌local‌ ‌online‌ ‌stores,‌ ‌with‌ ‌spending‌ ‌on‌ ‌local‌ ‌online‌ ‌stores‌ ‌up‌ ‌15%‌ ‌on‌ ‌September‌ ‌last‌ ‌year‌ ‌and‌ ‌spending‌ ‌on‌ ‌overseas-based‌ ‌online‌ ‌stores‌ ‌actually‌ ‌down‌ ‌1%‌ ‌year-on-year.‌ ‌But‌ ‌data‌ ‌does‌ ‌include‌ ‌categories such‌ ‌as‌ ‌online‌ ‌food‌ ‌shopping.‌ ‌ ‌
What‌ ‌are‌ ‌the‌ ‌advantages‌ ‌of ‌shopping‌ ‌online?‌ ‌ ‌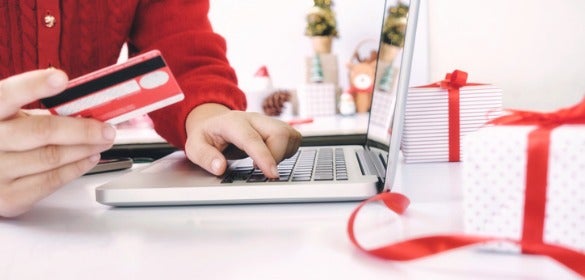 Despite‌ ‌customers‌ ‌shopping‌ ‌online‌ ‌more‌ ‌than‌ ‌ever‌ ‌before,‌ ‌many‌ ‌shoppers still‌ ‌visit‌ ‌physical‌ ‌stores ‌in‌ ‌the‌ ‌lead‌ ‌up‌ ‌to‌ ‌Christmas,‌ ‌either‌ ‌to‌ ‌purchase‌ ‌items‌ ‌or‌ ‌to‌ ‌get‌ ‌ideas‌ ‌for‌ ‌gifts‌ ‌that‌ ‌they‌ ‌will‌ ‌later‌ ‌purchase‌ ‌online,‌ ‌according‌ ‌to‌ ‌the‌  ‌ ‌October/November‌ ‌2018‌ ‌edition‌ ‌of‌ ‌Retail‌ ‌NZ Magazine‌.‌
Without‌ ‌a‌ ‌doubt,‌ ‌there's‌ ‌something‌ ‌charming‌ ‌and‌ ‌quite‌ ‌special‌ ‌about‌ ‌brick‌ ‌and‌ ‌mortar‌ ‌retailers,‌ ‌with‌ ‌many‌ ‌getting‌ ‌into‌ ‌the‌ ‌spirit‌ ‌of‌ ‌the‌ ‌holidays‌ ‌well‌ ‌in‌ ‌advance.‌ ‌
Ultimately‌ ‌though,‌ ‌purchasing‌ ‌decisions‌ ‌commonly ‌boil‌ ‌down‌ ‌to‌ ‌price‌ ‌and‌ ‌availability.‌ ‌Often,‌ ‌it's‌ ‌easier‌ ‌to‌ ‌find‌ ‌what‌ ‌you‌ ‌need‌ ‌online,‌ ‌without‌ ‌ever‌ ‌having‌ ‌to‌ ‌leave‌ ‌the‌ ‌house.‌ ‌So,‌ ‌if‌ ‌you‌ ‌are‌ ‌shopping‌ ‌online‌ ‌-‌ ‌meaning‌ ‌you‌ ‌are‌ ‌quite‌ ‌likely‌ ‌using‌ ‌a‌ ‌credit‌ ‌card‌ ‌-‌ ‌what‌ ‌should‌ ‌you‌ ‌be‌ ‌aware‌ ‌of?‌ ‌Canstar‌ ‌outlines‌ ‌some‌ ‌tips‌ ‌below.‌ ‌ ‌ ‌
How‌ ‌do‌ ‌you‌ ‌protect‌ ‌yourself‌ ‌when‌ ‌shopping‌ ‌online?‌ ‌ ‌
For‌ ‌those‌ ‌shoppers‌ ‌who‌ ‌are‌ ‌planning‌ ‌to‌ ‌head‌ ‌online‌ ‌for‌ ‌at‌ ‌least‌ ‌some‌ ‌of‌ ‌their‌ ‌Christmas‌ ‌purchases,‌ ‌ the‌ ‌‌New‌ ‌Zealand‌ ‌Bankers'‌ ‌Association‌‌ ‌urges‌ ‌you‌ ‌to‌ ‌stay‌ ‌safe. ‌ ‌
"While‌ ‌many‌ ‌of‌ ‌us‌ ‌are‌ ‌rushing‌ ‌to‌ ‌get‌ ‌ready‌ ‌for‌ ‌Christmas,‌ ‌fraudsters‌ ‌are‌ ‌also‌ ‌busy‌ ‌trying‌ ‌to‌ ‌access‌ ‌ our‌ ‌bank‌ ‌accounts.‌ ‌They're‌ ‌always‌ ‌looking‌ ‌for‌ ‌opportunities‌ ‌to‌ ‌steal‌ ‌our‌ ‌money,‌ ‌especially‌ ‌when‌ ‌we‌ ‌ let‌ ‌our‌ ‌guard‌ ‌down,"‌ ‌says‌ ‌New‌ ‌Zealand‌ ‌Bankers'‌ ‌Association‌ ‌acting‌ ‌chief‌ ‌executive‌ ‌Antony‌ ‌Buick-Constable.‌ ‌
If‌ ‌you're‌ ‌shopping‌ ‌online,‌ ‌there‌ ‌are‌ ‌some‌ ‌simple‌ ‌ways‌ ‌you‌ ‌can‌ ‌protect‌ ‌yourself‌ ‌from‌ ‌financial‌ ‌crime.‌ ‌ These‌ ‌include:‌ ‌ ‌
●Shop‌ ‌with‌ ‌online‌ ‌retailers‌ ‌that‌ ‌you‌ ‌trust.‌ ‌Also‌ ‌familiarise‌ ‌yourself‌ ‌with‌ ‌the‌ ‌privacy‌ ‌and‌ ‌ security‌ ‌information‌ ‌on‌ ‌the‌ ‌site.‌ ‌ ‌
●Check‌ ‌that‌ ‌your‌ ‌own‌ ‌internet‌ ‌connection‌ ‌is‌ ‌secure.‌ ‌The‌ ‌website‌ ‌address‌ ‌will‌ ‌start‌ ‌with‌ ‌ 'https://'.‌ ‌The‌ ‌'s'‌ ‌stands‌ ‌for‌ ‌'secure'.‌ ‌There‌ ‌may‌ ‌also‌ ‌be‌ ‌a‌ ‌padlock‌ ‌symbol‌ ‌somewhere‌ ‌on‌ ‌the‌ ‌ page.‌ ‌ ‌
●Avoid‌ ‌public‌ ‌computers‌ ‌and‌ ‌public‌ ‌Wi-Fi‌ ‌for‌ ‌internet‌ ‌banking.‌ ‌ ‌
●Be‌ ‌cautious‌ ‌with‌ ‌regards‌ ‌to‌ ‌handing‌ ‌over‌ ‌your‌ ‌personal‌ ‌information‌ ‌such‌ ‌as‌ ‌date‌ ‌of‌ ‌birth,‌ ‌ address,‌ ‌driver's‌ ‌licence‌ ‌number‌ ‌and‌ ‌passport‌ ‌details.‌ ‌ ‌
●When‌ ‌using‌ ‌internet‌ ‌banking,‌ ‌logon‌ ‌by‌ ‌typing‌ ‌in‌ ‌your‌ ‌bank's‌ ‌full‌ ‌web‌ ‌address‌ ‌rather‌ ‌than‌ ‌ clicking‌ ‌on‌ ‌any‌ ‌links‌ ‌in‌ ‌emails.‌ ‌ ‌
●As‌ ‌always,‌ ‌keep‌ ‌your‌ ‌anti-virus‌ ‌and‌ ‌firewall‌ ‌software‌ ‌up‌ ‌to‌ ‌date.‌ ‌
●Use‌ ‌two-factor‌ ‌authentication‌ ‌(2FA)‌ ‌where‌ ‌available.‌ ‌It‌ ‌provides‌ ‌an‌ ‌extra‌ ‌layer‌ ‌of‌ ‌protection‌ ‌ on‌ ‌top‌ ‌of‌ ‌your‌ ‌password.‌ ‌ ‌ For‌ ‌a‌ ‌more‌ ‌thorough‌ ‌guide‌ ‌on‌ ‌staying‌ ‌safe‌ ‌while‌ ‌shopping‌ ‌online,‌ ‌check‌ ‌out‌ ‌Canstar's‌ ‌article‌ ‌‌here.‌‌ ‌
If‌ ‌ you're‌ ‌looking‌ ‌to‌ ‌use‌ ‌your‌ ‌credit‌ ‌card‌ ‌when‌ ‌shopping‌ ‌online,‌ ‌be‌ ‌sure‌ ‌to‌ ‌research credit card safety features. Also, check that your credit card matches your spending personality.
Don't know which credit card type will suit you?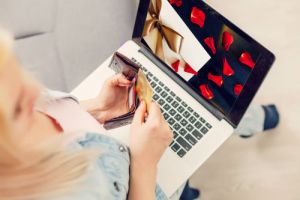 Your spending personality revealed!
.
GST‌ ‌coming‌ ‌to‌ ‌online‌ ‌shopping‌ ‌ ‌
If‌ ‌you're‌ ‌looking‌ ‌to‌ ‌buy‌ ‌your‌ ‌Christmas‌ ‌gifts‌ ‌from‌ ‌an‌ ‌overseas-based‌ ‌retailer,‌ ‌it's‌ ‌important‌ ‌that‌ ‌you‌ ‌ are‌ ‌aware‌ ‌of‌ ‌the‌ ‌new‌ ‌changes‌ ‌coming‌ ‌into‌ ‌place.‌ ‌ ‌
Starting‌ ‌from‌ ‌1‌ ‌December‌ ‌2019,‌ ‌everything‌ ‌you‌ ‌buy‌ ‌from‌ ‌overseas‌ ‌online‌ ‌retailers‌ ‌valued‌ ‌at‌ ‌$1000‌ ‌ or‌ ‌less‌ ‌will‌ ‌be‌ ‌taxed,‌ ‌with‌ ‌the‌ ‌exception‌ ‌of‌ ‌fine‌ ‌metal,‌ ‌alcohol‌ ‌and‌ ‌tobacco.‌ ‌
This‌ ‌is‌ ‌to‌ ‌ensure‌ ‌a‌ ‌level‌ ‌ playing‌ ‌field‌ ‌for‌ ‌New‌ ‌Zealand‌ ‌businesses,‌ ‌who‌ ‌are‌ ‌currently‌ ‌in‌ ‌competition‌ ‌with‌ ‌overseas‌ ‌businesses‌ ‌ selling‌ ‌the‌ ‌same‌ ‌products‌ ‌into‌ ‌New‌ ‌Zealand‌ ‌without‌ ‌collecting‌ ‌GST.‌ ‌ ‌
The‌ ‌changes‌ ‌coming‌ ‌into‌ ‌play‌ ‌will‌ ‌likely‌ ‌result‌ ‌in‌ ‌items‌ ‌being‌ ‌purchased‌ ‌from‌ ‌overseas‌ ‌retailers‌ ‌being‌ ‌ more‌ ‌expensive‌ ‌than‌ ‌equivalent‌ ‌items‌ ‌sold‌ ‌locally‌ ‌in‌ ‌New‌ ‌Zealand.‌ ‌
So,‌ ‌to nab yourself a better price, you might be better off shopping online.
Using‌ ‌your‌ ‌credit‌ ‌card‌ ‌when‌ ‌buying‌ ‌from‌ ‌overseas-based‌ ‌online‌ ‌retailers‌ ‌ ‌
In‌ ‌addition‌ ‌to‌ ‌keeping‌ ‌safe‌ ‌when‌ ‌using‌ ‌your‌ ‌credit‌ ‌card‌ ‌to‌ ‌purchase‌ ‌items‌ ‌online,‌ ‌you‌ ‌should‌ ‌consider‌ ‌ credit‌ ‌cards‌ ‌that‌ ‌offer‌ ‌no‌ ‌international‌ ‌transaction‌ ‌fees‌ ‌when‌ ‌purchasing‌ ‌from‌ ‌an‌ ‌overseas‌ ‌retailer.‌ ‌
Having‌ ‌no‌ ‌hidden‌ ‌or‌ ‌extra‌ ‌charges‌ ‌to‌ ‌pay‌ ‌when‌ ‌shopping‌ ‌online‌ ‌can‌ ‌make‌ ‌a‌ ‌huge‌ ‌difference‌ ‌in‌ ‌ reducing‌ ‌the‌ ‌overall‌ ‌cost‌ ‌when‌ ‌making‌ ‌a‌ ‌purchase‌ ‌from‌ ‌an‌ ‌overseas‌ ‌retailer.‌ ‌ ‌ Choose‌ ‌the‌ ‌right‌ ‌type‌ ‌of‌ ‌credit‌ ‌card‌ ‌that‌ ‌best‌ ‌suits‌ ‌your‌ ‌needs‌ ‌by‌ ‌using‌ ‌Canstar's‌ ‌credit‌ ‌card‌ ‌ comparison‌ ‌tool‌ ‌here.‌ ‌ ‌