Dreaming of becoming a high flyer with access to airport lounges? See how you can land up with an airport lounge pass by picking the right rewards credit card.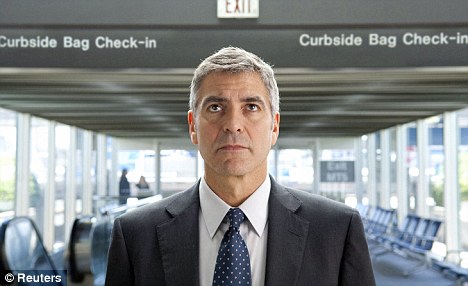 Okay, so no one spends as much time at an airport as Ryan Bingham (aka George Clooney), but if you ever do spend much time waiting around (and if you're making international flights then they do involve a fair bit of waiting) you'll know an airport lounge pass is worth its weight in gold.
Access to airport lounges is available in two forms in New Zealand – entry to the Air New Zealand lounges, and the Priority Pass. Both forms are available in Auckland and Christchurch.
| City | Air New Zealand Lounge | Priority Pass Lounge |
| --- | --- | --- |
| Auckland | Yes | Yes |
| Wellington | Yes | No |
| Christchurch | Yes | Yes |
| Queenstown | No | Yes |
There is an advantage in having a Priority Pass membership, in that you don't need to fly with a particular airline to get the airport lounge pass.
Have a look at flight rewards credit cards, currently on Canstar NZ's database, based on a spend of $3000 per month sorted by star ratings (highest to lowest):
So, which credit cards provide access to airport lounges?
In 2016, Canstar has researched and rated 45 credit cards from 10 different providers and as part of that we assess Airline Lounge Access based on the availability of lounges to travellers in New Zealand and overseas, as well other factors:
Number of lounge passes offered (e.g. 2 passes, unlimited passes, or a discount-only on membership to the lounge).
Whether or not a purchase is required before the lounge passes are given (e.g. cardholder must use the credit card to purchase the flight with the airline).
A small handful of our 5 star-rated credit cards offer complimentary lounge access, as follows:
| Company | Credit Card | Annualised Fee | Lounge Access | Spend requirement |
| --- | --- | --- | --- | --- |
| Kiwibank | Airpoints Standard MasterCard | $65 | Two-single entry Air New Zealand lounge passes per year. | $20,000 per year |
| Kiwibank | Airpoints Standard MasterCard | $150 | Two-single entry Air New Zealand lounge passes per $20,000 spent each year. | $20,000 per two passes |
| ANZ Bank | Airpoints Platinum Visa | $150 | Two-single entry Air New Zealand lounge passes per year. | $20,000 per year |
| Westpac | Aipoints World MasterCard | $390 | Unlimited Priority Pass lounge access. | None. |
Source: Canstar 2016 Credit Card Rewards Star Ratings. Please check conditions with credit card providers
Canstar is an information provider and in giving you product information Canstar is not making any suggestion or recommendation about a particular credit product. If you decided to apply for a credit card, you will deal directly with a financial institution, and not with Canstar. Rates and product information should be confirmed with the relevant financial institution. For more information, read our detailed disclosure, important notes and additional information.
Would you take a longer flight for a luxury airport lounge pass?
The choice is yours… You can pick a longer flight route that has stopovers where you'll have access to airport lounges with a more "luxury" feel. Or, you can choose a more direct flight route, forgo the fancy airport lounge pass and stop off in smaller airports.
Interestingly, the appeal of access to airport lounges is winning over many fliers, with many choosing a longer flight route so they can maximize the airport lounge pass that comes with their rewards credit card.
Amazing airports to visit: even without an airport lounge pass
If you don't have airport lounge access, then there are plenty of amazing airports to visit. Each year Skytrax announces the 10 best airports of the world, which are nominated by airline customers from across the world during the survey period. The top 5 of those airports for 2016 are:
1. Singapore Changi Airport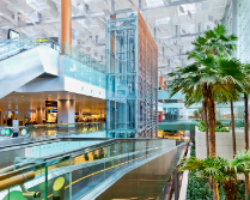 Singapore's beautiful airport has won the Skytrax award four years in a row. That's a pretty impressive achievement for a facility that has to deal with 5,000 arrivals and departures each week – around 715 flights per day. It boasts a nature trail, sunflower garden and a butterfly garden with around 1,000 butterflies
2. Incheon International Airport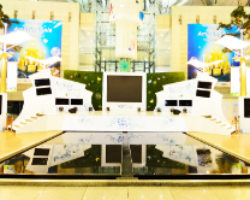 South Korea's largest airport, Incheon International Airport and houses the Korean Culture Museum, a Traditional Culture Experience Zone, cinemas, spa, a golf course (you know, just in case you want to make a day of it), and ice skating rink and indoor gardens. A destination in its own right!
3. Munich Airport
Skytrax describes Munich Airport as being like a city centre, with more than 150 retail stores and around 50 dining choices. Really, that's called being spoilt for choice!
4. Tokyo International Airport (Haneda)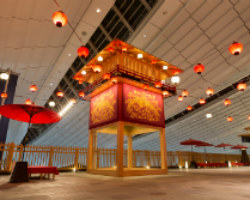 Haneda looks more like a very large, very luxurious shopping mall than an airport. The airport has all the facilities that discerning travellers wold expect – and even has a pet motel for the pampered pooch or Persian that needs to stretch its legs on a stopover.
5. Hong Kong International Airport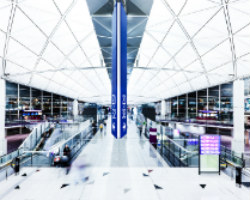 Beautifully designed, the Hong Kong International Airport is 24-hour shopping and dining. It also offers an Aviation Discovery Centre, golf, an IMAX theatre and a Dream Come True Education Park that your kids will love.
And, as the saying goes, sometimes it's out the journey, not the destination.
Is access to airport lounges worth credit card fees?
As with all credit card rewards, you need to look at whether the rewards you can earn match your current spending – and that you're not paying for the "freebies" in other ways, such as fees. Check out Canstar's research on credit cards with rewards, so you can find a cost-effective benefit scheme to suit your own lifestyle.
Images:
(Icheon International Airport) by TanjalaGica
(Munich Airport) by castenoid
(Tokyo International Airport) by winhorse