If your child has a learner licence, they'll be itching to get onto the road. But before you let them behind the wheel, you need to sort out car insurance. So what options do you have? Canstar reveals the best car insurance for learner and young drivers.
You don't have to take out car insurance. But accidents do happen. And a lot of them. According to the Insurance Council of New Zealand, $1.4 billion in car insurance claims were made last year.
And for young and inexperienced drivers, the likelihood of incidents is much higher. So if you value your car, it's crucial that you arrange cover for any young driver who gets behind the wheel.
---
This article covers:
---
Can you get car insurance for a learner driver?
Yes, you can get car insurance for a learner driver. However, there isn't a specific insurance plan for learner drivers. Instead, you need to either include cover for your child on your insurance, or arrange for their own individual cover.
If you arrange individual cover, it will be like any other insurance plan, although with steeper excess and premiums to account for younger drivers' higher levels of risk.
What does car insurance for learner drivers cover?
As we mention above, learner drivers are covered by the same policy terms as seasoned drivers. But the rules are tighter for learner drivers, as policies only provide cover if the driver doesn't break the conditions of their licence. And there are far more conditions attached to learner and restricted licences.
These include:
Learner licence
There must be a supervisor in the front passenger seat, somebody who has held a full licence for at least two years
L plates must be displayed at all times
No driving between the hours of 10pm-5am
If the driver is under the age of 20, they can't drive with any alcohol in their system. For those 20 and above, the limits are:

50mg of alcohol per 100ml of blood, or
250mcg of alcohol per litre of breath.
Restricted licence
Can drive solo between the hours of 5am-10pm. Outside of these hours, a supervisor must be in the front seat
The above alcohol restrictions apply
Cannot carry passengers unless a supervisor in the front seat
Exemption to the above rule applies if the passenger(s) being carried are a:

spouse or partner (married or in a civil union)
financially dependent child
parent or guardian
relative(s) that lives at same address and is on a social security benefit
person for which you are the primary caregiver.
---
Does a learner driver need their own car insurance?
This depends on the car being used. If you buy a car for your child to use, and they are its main driver, then the insurance must be in their name. You can't put the insurance in your name if you are not the car's main driver(s). This is called fronting, and is considered fraud. Car insurance must be in the name of the vehicle's main driver(s).
But if your child is using a family car to learn in, they don't require their own policy, and can be covered by yours.
How can I include my child in my cover?
You usually have two options here:
Include cover for learner drivers within your insurance plan
Or, add your child to your plan as a regular driver of your car
Include learner driver cover
Some insurance plans automatically include cover for learner drivers. This is designed to allow parents to teach their children to drive without worry.  However, not all policies include this automatically. You may have to add learner driver cover. So always check before letting your child behind the wheel.
While this type of cover most likely won't impact your premiums, it will come with a host of added excesses. In addition to the standard excess, you may have to pay:
Learner driver excess: added excess for a claim made as the result of a learner driver
Young driver excess: added excess if they're under 25
Inexperienced driver excess: usually applies to learner drivers over the age of 25
Undeclared driver excess: if you didn't list a learner driver on your policy, your premiums were likely unaffected. But you may have to pay extra excess as a result
All of the above is on top of the standard excess, so it can quickly add up. That's why it can pay to add your child to your policy.
Add your child to your car insurance policy
By adding your child as a regular driver, your premiums will go up. But, it will also avoid many of the added excesses mentioned above. And, when added discounts and benefits are factored in, it could be a better option.
If you're looking for great value car insurance for you and your family, Canstar can help. Each year we release our Car Insurance Awards, which include detailed Star Ratings of the best car insurance policies and providers across a range of driver profiles.
Below are the insurance companies that our expert research panel judged as providing Outstanding Value Comprehensive Cover Insurance for Families with Young Drivers. And also those that offer the best individual policies for young female and male drivers.
Families with Young Driver: Comprehensive Cover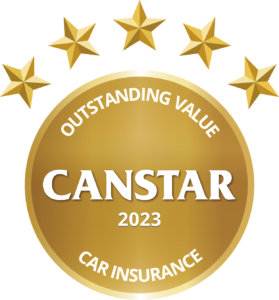 Best Cover for Young Drivers
As we mention above, if a young person is the main driver of a vehicle, they must have their own car insurance cover. And younger drivers can expect to pay higher premiums, especially if they are male. But that doesn't mean a policy has to be poor value for money.
Below are snapshots of Canstar's latest Outstanding Value Car Insurance ratings, revealing the best insurers for both under-25 female and male drivers.
Under-25 Female: Comprehensive Cover
See here for our ratings methodology. The tables above are an abridged version of our research. For the results of our latest Car Insurance Awards, click here, or hit the button below for our full ratings.
---

About the author of this page
This report was written by Canstar's Editor, Bruce Pitchers. Bruce has three decades' experience as a journalist and has worked for major media companies in the UK and Australasia, including ACP, Bauer Media Group, Fairfax, Pacific Magazines, News Corp and TVNZ. Prior to Canstar, he worked as a freelancer, including for The Australian Financial Review, the NZ Financial Markets Authority, and for real estate companies on both sides of the Tasman.
---
Enjoy reading this article?
Sign up to receive more news like this straight to your inbox.
By subscribing you agree to the Canstar Privacy Policy