Electric cars are experiencing bumper sales as Kiwis ditch the pump for the plug. So if you're interested in an EV, what options do you have? Canstar looks at the top selling electric cars in New Zealand.
Despite how it may appear, there's plenty more to the electric car market than just Tesla. While the Model 3 and Model Y are the go-to electric cars for many looking to go green over gas, new makes and models are constantly hitting our shores.
Once dominated by EV posterchild the Nissan Leaf, the electric car market now comprises electric cars or, at the very least, plug-in hybrids from nearly every major car manufacturer.
So with the market growing so quickly, what is the state of the EV market here in New Zealand? And what models are most popular? Canstar takes a look at the top selling electric cars in New Zealand.
In this article we cover:
Top selling electric cars in New Zealand
EV and hybrid cars had a mammoth year in 2022, accounting for just over a third of all new car registrations. Furthermore, it's an achievement that came in the face of months of supply chain issues that left EV manufacturers failing to meet demand. So, if anything, the figures could have been much higher.
So it will be interesting to see how the electrification of our car fleet continues as the year progresses.
So far this year, car sales have broken down into:
31% petrol
32% diesel
37% electric/hybrid
And here are the top selling models:
| | | |
| --- | --- | --- |
| Top Selling EVs 2022 | Top Selling EVs 2023 | Top Selling EVs | October 2023 |
| 1 Tesla Model Y (4226) | 1 Tesla Model Y (3034) | 1 MG 4 (357) |
| 2 Tesla Model 3 (2781) | 2 BYD Atto 3 (2405) | 2  BYD Atto 3 (246) |
| 3 BYD Atto 3 (1685) | 3 MG ZS (1454) | 3 Nissan Leaf (165) |
| 4 MG ZS EV (1106) | 4 Tesla Model 3 (746) | 4 Tesla Model Y (139) |
| 5 Polestar 2 (818) | 5 Kia EV6 (736) | 5 MG ZS (122) |
| 6 Hyundai Kona EV (814) | 6  MG 4 (703) | 6  BYD Dolphin (113) |
| 7 Kia EV6 (683) | 7 Kia Niro (593) | 7 GWM Ora/Volkswagen ID.4 (97) |
| 8 Hyundai Ioniq 5 (483) | 8 Hyundai Ioniq (441) | 8 Kia EV6 (69) |
| 9 Peugeot 208 (358) | 9 Hyundai Kona (406) | 9 Polestar 2 (60) |
| 10 Kia Niro (332) | 10 Polestar 2 (395) | 10 Mini Hatch (54) |
*This list includes total electric vehicles (BEV) only, petrol-electric hybrids (PHEV) are not included.
---
Searching for the Cheapest Personal Loan?
If you're looking for the cheapest personal loan, Canstar's personal loan comparison tables can help. The table below displays the sponsored unsecured personal loan products available on Canstar's database for a three-year loan of $10,000 in Auckland, with links to lenders' websites. Use Canstar's personal loan comparison selector to view a wider range of products on Canstar's database. Canstar may earn a fee for referrals.
Compare personal loans with Canstar
---
Electric cars: what is the Clean Car Discount?
The Clean Car Discount is a government initiative that was introduced in July 2021. As electric and hybrid vehicles are typically costlier than internal combustion engine (ICE) vehicles, the initiative was designed to encourage Kiwis to opt for carbon-friendly vehicles by making them cheaper.
Current Clean Car rebates:
EV: New car: $7015 | Used car: $3507.50
PHEV: New car: $4025 | Used import $2012.50
How do I receive the discount?
To qualify for the discount your vehicle must:
Cost less than $80,000 including GST and on-road costs
Be new or new to New Zealand (used-import) registered for the first time in New Zealand from April 1, 2022
Have a three-star safety rating or more on the RightCar website at the time of registration
Following the purchase of an eligible vehicle you (the registered person) need to apply for the rebate online (providing the sale agreement, plates number and your bank account). Waka Kotahi will then transfer the rebate to your account.
However, the new government plans to make sweeping changes to the Clean Car Discount by the end of the year, removing many of the financial incentives and penalties associated with purchasing EVs and utes.
It's also important to note that from March 31, 2024, EV users will also have to pay the road user charge (RUC), which will significantly increasing the cost of operating an EV.
RUC fees go towards maintaining and improving the road network, and are currently paid by those who drive diesel vehicles. Petrol vehicle drivers pay their part through tax on gas. However, from April 2024, EV car drivers will also have to contribute to the road network by paying RUCs. Currently, the RUC is priced at $76 per 1000km, which will increase the cost of using an EV to get around.
You can find more information about the upcoming changes for EVs here.
---
Compare Outstanding Value Car Insurance with Canstar
Looking for great value car insurance for you and your family? Each year, we release our car insurance awards, including winners for Insurer of the Year, Outstanding Value, and Most Satisfied Customers. As part of our award results, we also publish our Outstanding Value Star Ratings, covering car insurance for different age groups. Below are our top-rated providers in the drivers aged 30-49 category. Click here to view our complete car insurance Star Ratings for all age groups.
Comprehensive Cover: Drivers 30-49:
See here for our ratings methodology. The table above is an abridged version of our research. For the full results of our latest Car Insurance Ratings and Award, click here.
---
Most popular electric cars in New Zealand
It's clear that EV fans tend to have deep pockets, as mid- to high-end vehicles continue to dominate EV sales.
The Tesla Model Y is upwards of $67,000 for the base model, while the Volkswagen ID.4 and Kia EV6 start in the low to mid $70,000s. 
Currently, the cheapest EV in the country is the GWM Ora, which has a price tag more in line with the mid-range petrol cars on the overall Top 10 Selling Cars list. The GWM Ora is $42,990, but drops to under $36,000 with a full Clean Car Discount.
Also at the bottom end of the EV price range is the MG 4, which is available from $46,990 (+ ORC).
Below you can see a list of some of the most popular EVs in the country.
Note: Prices listed below don't include the $7015 clean car discount, or on-road costs. All prices listed should be used as a guide only.
MG 4 (from $46,990)

The MG 4 only hit NZ shores in August, but it has quickly gained popularity. With a range of up to 350km, you're not compromising on specs. The MG 4 goes from 0-100kph in 7.7 seconds and features MG Pilot, which is loaded with nine safety features.
The standard model comes will all the typical interior features, nothing too fancy, but you get what you pay for. If you're willing to dosh out an additional $18,000 for the long range model you'll get a few more luxury features. But for anyone wanting to enter the EV market, the standard MG 4 is a good starting point.
BYD Atto 3 (from $54,990)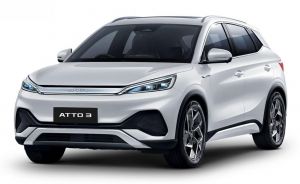 Despite no longer being one of the cheapest EVs in the country, the BYD Atto 3 has remained popular as a reliable mid-range EV.
You get a panoramic sunroof, 18-inch alloy wheels, heated mirrors, wireless charging, electronic (and heated) seats and a massive 12.8-inch touch display. You also have a heap of excellent safety features, like front and rear collision warning, blind spot and lane departure warning, rear cross traffic alert and automatic emergency breaking. The standard 50kW model has an impressive 345km of range; the 60kW model extends that to 420km.
Nissan Leaf (from $49,990)
The Nissan Leaf is the EV that started it all. In 2009 it became the world's first mass market EV. Over the years its range has improved significantly, and now the base model can travel up to 270km on a single charge. There are two models of the Leaf up for grabs – the Leaf and Leaf e+. The e+ comes in at $72,990 and has a range of up to 385km.
Tesla Model Y (from $67,500)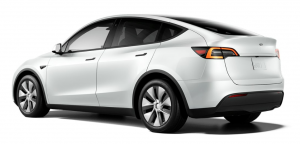 While the past few years have been all about the Model 3, there's a new Tesla on the block. And it's wasted no time in usurping the Model 3. After all, it's a compact SUV, which Kiwis much, much prefer over sedans. It also carries about all the same features and levels of performance as its little brother. So it's no surprise to discover that it was the No.1 EV in New Zealand for 2022.
MG ZS EV (from $50,990)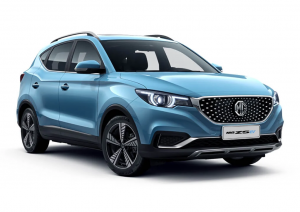 The MG ZS EV is a popular choice despite a cryptic sounding name. Thanks to a recent refresh, there are now three models to choose from – the entry level Excite model, the Essence ($53,990) and Long Range model ($59,990).
Unfortunately, the Excite has lost a few of its premium touches, such as its swanky synthetic leather interior and sunroof. But it did get a nice engine upgrade, offering extra distance (320km, up from 263km).
The Long Range model has all the same features as the Essence, plus a privacy rear window and an increased range of up to 440km.

BYD Dolphin (from $49,990)
The Dolphin only hit our shores a few months ago, but its low price point has proven popular with those entering the EV market.
The BYD Dolphin is available two model variants, the standard and extended – battery size being the main difference. The standard range has a smaller battery unit – 45kWh – providing a range of 340km.
The standard range operating from a single front-wheel-drive motor producing 70Kw of power and 180Nm of torque delivering a 0 to 100km/h time of 12.3 seconds.
GWM Ora (from $42,990)
The GWM Ora hit our shores in April 2023. Over the last few months its price has dipped, as it fights to maintain its title as the most affordable EV. The compactness of the GWM Ora (and shorter range) makes it an ideal city car. And while the GWM Ora has some great features, the main attraction is its price point. At just $42,990*, this compact commuter is over $20,000 cheaper than the Tesla Model Y.
The GWM Ora comes equipped with everything you need for inner-city driving. With a 360 degrees camera, automatic LED headlights, intelligent adaptive cruise control and land departure warning, perusing the streets has never been safer. And, speaking of safety, the GWM Ora has a five star safety rating.
An Extended Range model is also on the market for $47,990* and has a driving range of up to 420km.
Kia EV6 (from $76,990)

Kia's EV6 has been in the NZ EV market for just over a year now, and it has quickly become one of Kiwi's favourite high-end SUVs. Priced at just under $77,000, the EV6 combines performance with comfort.
There are four models available, Air standard range, Air long range ($79,990), Earth long range ($99,990) and GT-Line long range ($111,990).
The standard model has a max range of 394kms and a top speed of 185km/h. A surround view monitor provides 360º views, combined with speed limit assist and collision avoidance have earned the EV6 a premium safety rating.
The standard range goes from 0-1000km/h in 8.5 seconds, but for an additional $23,000 you can get the long range model, which cuts the acceleration speed down to 5.2 seconds.
Polestar 2 (from $67,000)
Another mid-range EV, the Polestar 2, has proven popular this year. The Polestar 2 comes in three models: the Standard Range (478km), Long Range Single Motor (551km) and Long Range Dual Motor (487km). Every model includes standard features such as:
LED headlights with active high beam
Retractable frameless mirrors
Google built-in
Heated front seats
Safely lock, unlock and set cabin temperature with the Polestar 2 app
Mini Hatch (from $49,990)
It might be Mini, but with a range of 233km, it certainly is mighty. The Mini Hatch has a top speed of 150km/h and can be charged from o% – 80% in just 36 minutes. The compact commuter sticks true to its Mini roots, with Union Jack detailing on steering wheel blade.
The Mini Hatch is available in seven colours, and features sun protection glazing and a
panorama glass sunroof.
---
Electric cars: what about hybrids?
The future is electric, that much is clear. But while an electric car can realistically be your go-to for city trips and weekends away, not everyone is convinced. If you don't like the idea of stopping at a public charging network for 30 minutes mid-drive, or you live or visit truly remote areas that have limited charging stations, a plug-in hybrid (PHEV) may be a good option.
A PHEV has an electric battery for shorter trips, plus a conventional petrol engine for use on longer journeys. Some things to consider before choosing a PHEV over an EV:
The price of a plug-in hybrid tends to be lower than that of an EV
The battery range is significantly less than with a full EV, often only 40-60km
PHEVs are eligible for a clean-car discount, although it will be smaller than that offered for a full EV
Top selling plug-in hybrid cars in New Zealand
In the table below you can see the top-selling plug-in hybrid cars in New Zealand based on data from the Motor Industry Association.
---
Top Selling PHEVs, Full Year 2022
Top Selling PHEVs,
October 2023
Top Selling PHEVs, YTD
1 Mitsubishi Eclipse Cross (2705)
1 Mitsubishi Outlander (235)
1 Mitsubishi Eclipse Cross (2216)
2 Mitsubishi Outlander (2243)
2 Mitsubishi Eclipse Cross (195)
2 Mitsubishi Outlander (1338)
3 MG HS (647)
3 Kia Sorento (165)
3 Kia Sorento (666)
4 Hyundai Ioniq (238)
4 Kia Niro (111)
4 Ford Escape (430)
5 Mini Countryman (210)
5 Mini Countryman (33)
5 Kia Niro (372)
---
Looking for a Great Car Loan?
The table below displays some of the unsecured personal loan products available on Canstar's database for a three-year loan of $10,000 in Auckland (some may have links to lenders' websites). The products are sorted by Star Rating (highest to lowest) followed by company name (alphabetical). Use Canstar's personal loan comparison selector to view a wider range of products on Canstar's database. Canstar may earn a fee for referrals.
Compare car loans with Canstar
---

About the author of this page
This report was written by Canstar Content Producer, Caitlin Bingham. Caitlin is an experienced writer whose passion for creativity led her to study communication and journalism. She began her career freelancing as a content writer, before joining the Canstar team.
---
Enjoy reading this article?
Sign up to receive more news like this straight to your inbox.
By subscribing you agree to the Canstar Privacy Policy