After you've purchased a car, it may seem like the big expenses are firmly in your rear-view mirror. But there are actually a number of ongoing car ownership costs you'll need to budget for.
From registration fees to getting your car regularly serviced, we look into some of the car ownership costs you're likely to encounter, and how you should budget for them.
What are the ongoing costs of car ownership?
Some of the main ongoing costs of owning a car can include:
Car insurance
Registration and licence fees
Servicing and maintenance
Car loan repayments
Fuel
Fuel is a huge expense and one that can really impact the cost of keeping your car running. Firstly, before you purchase your vehicle, it pays to consider fuel efficiency. You may like the idea of a nice big ute, but it'll likely eat up a lot more fuel than a compact hatchback. Likewise, newer vehicles tend to be more fuel-efficient than older ones.
To help budget your fuel costs, find out how many kilometres the car you intend to purchase gets to the litre. Compare this to how far you expect to drive each week, and you'll get a good idea of how much you need to budget for fuel.
For example, if your vehicle does 7km/l and you drive about 100km a week, you'll use around 14 litres, or $43 of petrol a week (based on a price of $3 per litre).
It does pay to be a little generous with your calculations, however. As fuel efficiency is typically measured in controlled environments, and real-world driving conditions can't match what it says in the brochure. You should also factor in unexpected trips and weekend excursions. Not just your weekly commute.
So, for the above example, you should plan to budget for $50 or $60 a week instead.
Otherwise, go electric and avoid all the worry of rising fuel prices!
Car insurance
Car insurance isn't mandatory in New Zealand like it is in many countries. But, you really should take out cover. At the very least, a third-party car insurance policy protects you from expensive bills should you damage someone else's vehicle or property.
If you want further cover, you can opt for comprehensive car insurance, which comes at a higher premium.
The cost of car insurance depends on factors like your age, the vehicle you are insuring, where you live, your claims history and the excess you choose. So you can get a better idea of what you'll need to budget for by shopping around and comparing car insurance quotes.
Additionally, if you can afford it, it's often cheaper to pay your car insurance premiums upfront, as opposed to monthly. Click here for some extra tips on how to save on your car insurance.
Warrant of Fitness (WoF)
Car insurance may be optional, but your WoF isn't. A warrant of fitness is like a safety check, to ensure your car is safe to be on the road. For cars older than the year 2000, you need one every 6 months. Cars from the year 2000 or later only need one every 12 months.
There is no set price for a WoF. It's up to individual inspection centres how much they charge. But, you can expect to pay somewhere between $50-$70. Anything more, and it's starting to look pretty dear.
However, don't simply budget for the cost of the WoF itself. Because as a car ages, it often need repairs in order to pass its WoF. Budget for your WoF with the expectation that your car will need work. Otherwise, you could get caught out.
Registration and licence fees
A WoF isn't all that's required to keep your car on the road. You also need your rego and a valid driver licence. Driver licence fees are near non-existent, for most drivers, it's just $43.90 once every ten years. But vehicle licensing fees (rego) are a fair bit more.
The cost of your vehicle licensing (rego) depends on the length of your rego period, your motor vehicle and the fuel it uses. For every extra month over the one-month minimum rego length, you receive a small discount. So paying for two months will be cheaper than paying for one. And paying for six months will be cheaper than paying for three. Of course, the cheapest option is to pay for the full 12 months upfront.
You can see some common costs below: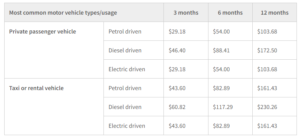 For a full breakdown of costs, and for more information, visit the NZTA website here.
Servicing and maintenance
Aside from the compulsory costs outlined above, servicing and maintenance is an optional but highly recommended ongoing expense. If you don't regularly service your car, problems can build up and cause larger and more expensive issues that take your car off the road. Coughing up a few hundred dollars on a service once or twice a year can save your wallet and car down the line.
It also helps with any resale value, as potential customers like to see a vehicle has been regularly serviced, as it indicates it's been well looked after.
There are many different car service options, offering different levels of maintenance. It pays to check what these entail and how often they should be done. For example, a basic service may be recommended twice a year, while a slightly more expensive one might only be needed once a year, saving money in the long run.
Thankfully, service costs are fairly fixed, which makes them easier to budget.
Unexpected maintenance/repairs
It's important to remember that a car doesn't always adhere to your servicing schedule. Even with regular servicing and maintenance, and a recent WoF, a car can still pack it in and need repairs unexpectedly. It's impossible to accurately budget for this. But, as part of owning a car, putting a little aside each pay as an emergency safety net is a good idea.
---
Car loan repayments
For many, a car loan is the only way they can afford a new car. In fact, most cars are bought with some form of finance. So you're not alone. But budgeting in your loan repayments is crucial to avoid the debt getting out of control, and damage being done to your credit score.
Some tips to help manage your loan repayments include:
Getting a loan with a fixed interest rate to provide certainty around repayments
Focus your energy towards paying off the loan over things like saving. Interest rates on a loan will be higher than any interest earned from money in a savings account
Use our car loan calculator to find the best balance between regular repayments and loan terms
Before applying for the loan, see if you can improve your credit score to get better interest rates
---
Compare car loans with Canstar
If you are looking a getting yourself a new set of wheels but don't have all the cash needed, you're not alone: 80% of car buyers purchase their cars on finance. Shopping around for a new car is no doubt more thrilling than picking a personal loan. But there can be some serious savings available, just by comparing the personal loan market. And that's where Canstar can help!
The table below displays some of the unsecured personal loan products available on Canstar's database for a three-year loan of $10,000 in Auckland (some may have links to lenders' websites). The products are sorted by Star Rating (highest to lowest) followed by company name (alphabetical). Use Canstar's personal loan comparison selector to view a wider range of products on Canstar's database. Canstar may earn a fee for referrals.
Compare car loans with Canstar
---

About the author of this page
This report was written by Canstar Content Producer, Caitlin Bingham. Caitlin is an experienced writer whose passion for creativity led her to study communication and journalism. She began her career freelancing as a content writer, before joining the Canstar team.
---
Enjoy reading this article?
You can like us on Facebook and get social, or sign up to receive more news like this straight to your inbox.
By subscribing you agree to the Canstar Privacy Policy