Electric vehicles/electric cars are rapidly growing in popularity, as countries and car manufacturers alike aim to shift away from petrol and diesel vehicles. But if Kiwis are to begin making the shift in large numbers, electric cars need to become more affordable. So how much does an electric car cost, and can we expect prices to go down anytime soon? And what about the ongoing costs? Canstar takes a look.
Electric vehicles have long been heralded as the future of transport. Electric cars, buses, trams, and trucks are integral to a future without fossil fuels.
And in the past few years, the EV market has ramped up. Electric cars of all shapes and sizes are going mainstream and that includes everything from the smaller electric models we've come to know (such as the Nissan Leaf) to SUVs, utes, trucks and everything in between.
In fact, our top selling electric vehicles list is usually dominated by SUVs, while in late 2022, New Zealand saw its first fully electric ute!
But providing Kiwis with a host of electric SUVs and utes isn't the only barrier to converting the masses. There's also the price. It's a well-known fact that electric cars can be expensive. But exactly how much does an electric car cost? And are government incentives and lower operating costs enough to outweigh the sticker price?
In this article we cover:
How much does an electric car cost?
Currently, the cheapest electric car on the market is the GWM Ora, at a starting price of $47,990. Factoring in  he government's Clean Car Discount (more details can be found below), this comes in at around $41,000. So it's fair to say that even cheap electric cars are more expensive than comparative ICE models.
Here's how the GWM Ora's price stacks up against those of the most popular petrol cars:
Top three selling petrol SUVs, NZ 2023
| | |
| --- | --- |
| Car model |  Approx Starting Price |
| Toyota Rav4 | $33,290 |
| Suzuki Swift | $22,900 |
| MG ZS | $24,990 |
If $40,000 is already well beyond what you can afford for a new car, don't panic. A brand-new EV may not be for you, but there is a second-hand market to explore. With the right car, and the right deal, it can be great option. And if $40,000 sounds high (but not beyond the realm of possibility) then don't tune out just yet, either. Electric cars offer plenty of other savings and benefits down the road that could make the added cost worth it.
You might find that after five years of use, your EV works out cheaper than a petrol SUV.
Although, it's also worth reiterating that the GWM Ora is the cheapest EV in the market. It only goes up from there. According to Motor Trade Association Advocacy and Strategy Manager Greig Epps, the average cost of a new electric car is about $68,000. By comparison, Epps said consumers, "can get a really good new petrol car for under $30,000".
To provide further insight into these costs we've run the numbers on the top three selling EVs and top three petrol vehicles in New Zealand over this year. 
Note, these figures represent passenger vehicles only. Commercial vehicles are not included. Prices don't include on-road costs or the clean car discount.
Top three selling EVs
| | |
| --- | --- |
| Car model |  Approx Starting Price |
| Tesla Model Y | $67,500 |
| BYD Atto 3 | $56,990 |
| MG ZS EV | $49,990 |
Top three selling ICE vehicles
| | |
| --- | --- |
| Car model | Approx Starting Price |
| Toyota Rav4 | $33,290 |
| Suzuki Swift | $22,990 |
| MG ZS | $24,990 |
As you can see above, the top three electric cars are around twice the price of the top three selling petrol cars. This is a significant cost difference, even when you factor in the Clean Car Discount. 
What second-hand options do I have?
The EV market is all about EV posterchild Tesla, which is by far the No.1 selling electric car brand in the country (and the world). But when it comes to the second-hand market, the former posterchild, the Nissan Leaf, is all the rage.
If you're truly on a budget, sites such as Trade Me Motors are awash with second-hand EVs.
You may be able to find some old Nissan Leafs for as little as $10,000 which could be a great option for a second car, great for work commutes and weekend errands. But bear in mind that most of these models are from the early to mid-2010s and the battery capacity will have reduced. So they won't achieve the full range that was originally advertised on them. Not to mention, these older models just don't have the range or features of modern EVs.
If you do go for an EV pushing a decade old, you might just have to factor in a potential battery replacement in the coming years.
If you can stretch your budget to $20,000 or even $30,000, then your options open up. With plenty of vehicles (although mainly Leafs still) only a few years old.
It is, however, worth noting that second-hand vehicles are not eligible for the Clean Car Discount unless they are new to New Zealand. That is, they are a used import. So if you're buying it from a private seller that has already had it registered in NZ, you won't get the government rebate.
Although, at the time of writing at least, the majority of EVs listed on Trade Me Motors are used imports and are thus eligible for a $3507.50 rebate.
Compare car loans with Canstar
---
What is the Clean Car Discount?
The Clean Car Discount is a government initiative introduced in July 2021. As electric and Hybrid vehicles are typically costlier than internal combustion engine (ICE) vehicles, the initiative was designed to encourage Kiwis to opt for carbon-friendly vehicles by making them more accessible.
Since its introduction, the discount scheme has been tweaked a couple of times, and from July 1, 2023, updates to the Clean Car Discount scheme will change the way it's implemented. Notably:
Increased rebate for used EVs and PHEVs
A special rebate for new and used low-emission disability vehicles will be introduced
For new vehicles, the maximum rebate will decrease, and the maximum fee will increase
The threshold at which vehicles will be subject to fees will reduce from 192g of CO2 per km to 150g
New Clean Car rebates:
EV: New car: $7015 | Used car: $3507.50
PHEV: New car: $4025 | Used import $2012.50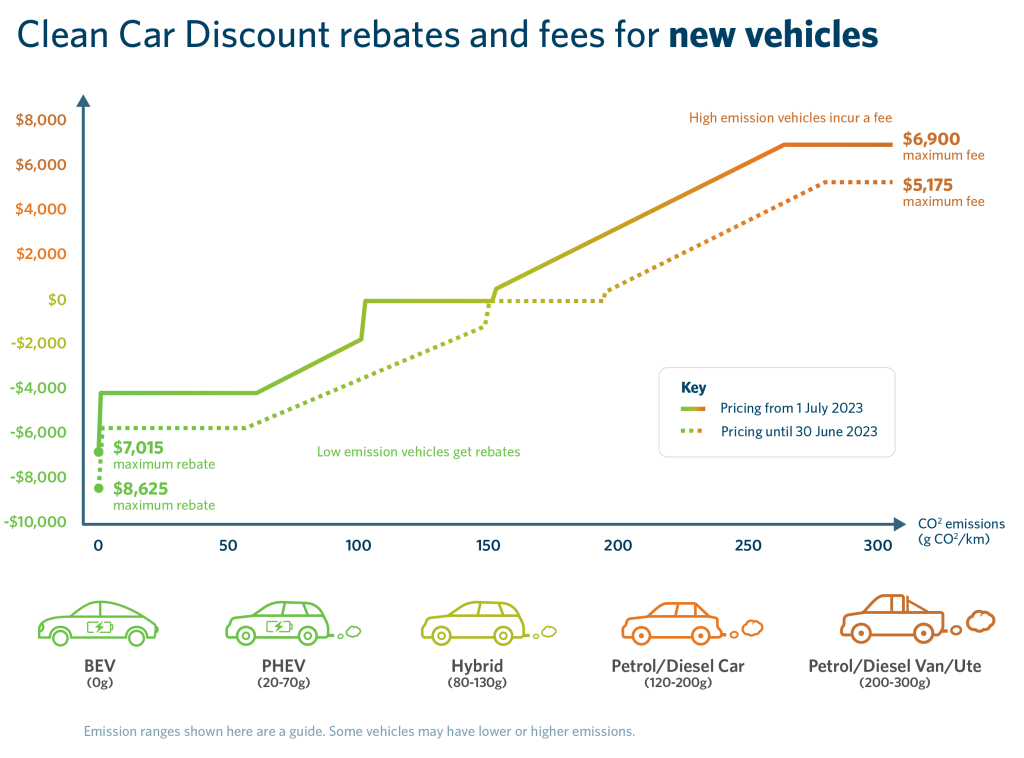 As you can see from the above graph, any new vehicles below the zero band receive a rebate. The more environmentally friendly the vehicle, the larger the rebate, up to a maximum rebate of $7015.
How do I receive the discount?
To qualify for the discount your vehicle must:
Cost less than $80,000 including GST and on-road costs
Be new or new to New Zealand (used-import) registered for the first time in New Zealand from April 1, 2022
Have a three-star safety rating or more on the RightCar website at the time of registration
Following the purchase of an eligible vehicle you (the registered person) need to apply for the rebate online (providing the sale agreement, plates number and your bank account). Waka Kotahi will then transfer the rebate to your account.
However, the new government plans to make sweeping changes to the Clean Car Discount by the end of the year, removing many of the financial incentives and penalties associated with purchasing EVs and utes.
It's also important to note that from March 31, 2024, EV users will also have to pay the road user charge (RUC), which will significantly increasing the cost of operating an EV.
RUC fees go towards maintaining and improving the road network, and are currently paid by those who drive diesel vehicles. Petrol vehicle drivers pay their part through tax on gas. However, from April 2024, EV car drivers will also have to contribute to the road network by paying RUCs. Currently, the RUC is priced at $76 per 1000km, which will increase the cost of using an EV to get around.
You can find more information about the upcoming changes for EVs here.
---
How much does a plug-in hybrid cost?
A plug-in hybrid (PHEV) is another great way to lower your fuel costs and your carbon footprint. These are typically cheaper than full-battery electric vehicles (BEV) and may be a more feasible entry point into electric cars. It's worth noting that the fully electric MG ZS EV is still cheaper than any PHEV in the country, though not by much.
But on average, a PHEV is cheaper than an EV.
Some people also prefer a PHEV due to the assurance that comes with a petrol engine to fall back on. Although, this does impact its EV range, which is typically only 40km-60km on battery alone.
Looking at second-hand options, again you have plenty of plug-in hybrid options for a much lower price. And you don't have to worry as much about the performance of older batteries, because you still have a petrol engine to fall back on.
Hybrids (HEVs)
Alternatively, standard hybrid vehicles (HEVs) which feature a small self-charging battery can be a good option. They may not be able to drive on electric alone, but they get good mileage and can help your fuel go further. They also tend to be low emission and qualify for some level of rebate.
HEVs are widespread and relatively cheap, and many popular vehicles are either already HEVs or available in an HEV option. Whereas an EV or PHEV can set you back double that of a petrol equivalent, HEVs often have little difference in price.
For example, Toyota offers many of its vehicles as a hybrid for only $2000-$5000 more than the petrol equivalent. Such as the popular Toyota Yaris Hatch, which is $28,290 as a petrol model or just $32,190 as a hybrid.
---
Compare car loans with Canstar
The table below displays some of the unsecured personal loan products available on Canstar's database for a three-year loan of $10,000 in Auckland (some may have links to lenders' websites). The products are sorted by Star Rating (highest to lowest) followed by company name (alphabetical). Use Canstar's personal loan comparison selector to view a wider range of products on Canstar's database. Canstar may earn a fee for referrals.
Compare car loans with Canstar
---
How much does it cost to charge an Electric car?
An electric car costs more upfront, but this isn't where savings are made. Most people that are interested in electric cars are interested for one main reason: no more fuel.
Cutting out petrol isn't just good for the planet, but with the price of fuel only going up, Kiwis are keener than ever to go green over gas.
The following table details the cost per 100km for three popular EVs, based on a national average electricity price of 33c per kWh. Keep in mind that electricity prices vary, so check your individual plan to find your cost per kWh:
| | | |
| --- | --- | --- |
| Car model | kWh per 100km | Cost per 100km |
| Tesla Model Y | 14.6kWh | $4.81 |
| BYD Atto 3 | 18.6kWh | $6.013 |
| MG ZS EV | 17.1kWh | $5.64 |
Keep in mind that if you are using a public charging station (the EV equivalent of a petrol station) and not your own home's power supply, the costs may be significantly different. Free charging sites are available, but your average fast-charging site can cost up to $10 per kWh.
How does this compare to petrol costs?
By way of comparison, fuel economy is measured as litres used per 100 km, with the following table detailing the cost per 100km for last year's top three selling petrol vehicles (based on a price of $2.9 per l).
| | | |
| --- | --- | --- |
| Car model | l per 100km | Cost per 100km |
| Toyota Rav4 | 6.7l | $19.43 |
| Suzuki Swift | 5.1l | $14.79 |
| MG ZS | 7.1l | $20.59 |
The cost per 100km difference between EVs and petrol vehicles is stark. Taking the EV average from the above ($5.53) and the petrol vehicle average ($18.27), it works out to a difference of $12.74 per 100 km.
Based on a travel distance of 14,000 km per year, the above averages work out to total yearly costs of $774.20 for EVs and $2557.80 for petrol vehicles. Over the course of the year, this is a difference of $1783.60. Even if you were to assume that every charge you did was at a public fast-charging network (and you were paying $10 per 100km), that's still well under the estimated petrol costs above. And realistically speaking, most your charging should be done at home, anyway.
Of course, these figures serve as an initial guide. Real-world conditions could see more or less petrol or kWh being used. But it highlights the fact that fueling a car will almost certainly cost more than charging one. If you take advantage of EV power plans you could save even more on charging costs.
In fact, with the right setup and the right plan, you could charge your EV for free!
Check out the best power plans for an EV here, at Canstar Blue.
How much to replace an electric car's battery?
There have been plenty of horror stories around customers forking up tens of thousands for a new battery on their Nissan Leaf. And, some of the horror stories are true. Currently, if you have to replace your EVs battery, and it isn't under warranty, you could spend anywhere from over $10,000 to over $20,000, depending on its size and make.
But before you panic.
If you're buying a brand new electric car, battery replacements shouldn't be a huge concern. Most come with a significant warranty (often eight years) that guarantee not only it won't die, but it will retain a certain percentage of its capacity. So if after five years your 380km EV is only managing 100km, you may be in for a free replacement.
It's also rare for an EV battery to just die. Usually, replacements are needed due to the range getting too small (as mentioned above). In saying that, a 2020 study by Geotab found EVs lose, on average, just 2.3% capacity annually.
Based on this, a replacement may not be needed for well over ten years from time of purchase. At which point, you can assume a new battery will be cheaper. The EV market is evolving rapidly and costs are continually falling. Some countries already have battery recycling schemes, which reduce costs by offering trade-ins for old batteries in return for refurbished ones.
Buying a second-hand electric car
If you buy an older, used electric car, battery replacement concerns are a little more warranted. If you pick up a 2012 Nissan Leaf for a few thousand dollars, that's great. But the battery is already a decade old.
If we assume it's lost 2.3% capacity each year, it's already at 77% capacity. On a 2012 Nissan Leaf, that could mean you'd barely get 100km on a single charge.
The age of your EV will play a big role in determining how concerned you should be about battery costs. If your EV is new, it shouldn't be an issue. Although, of course, we can't actually guarantee that.
If your car is second-hand but just a few years old, it also shouldn't be too big a worry. Especially if the battery is still under warranty. But if you buy an EV that is getting on in years, factoring in potential battery replacement costs could be a worthwhile idea. Particularly as older EVs had more limited ranges even when new.
Other ongoing costs
Some other costs that could influence your decision are:
EVs and PHEVs are exempt from road user charges until March 2024
Studies suggest that maintenance costs are, in the long run, cheaper on an EV. With fewer parts and less maintenance or repairs to be done
If work is needed, currently, labour costs for maintenance and repairs can be more expensive. But as EVs become more popular, you can expect this to change
Owning an electric car: the key benefits
Lower operating costs – electricity costs on charging an electric car are significantly cheaper than petrol prices
Environmentally friendly –  the total emissions per mile for battery-powered cars are lower than comparable cars with internal combustion engines. Especially in NZ where much of our energy comes from renewable sources
Clean car discount – EVs and plug-in hybrids qualify for a government rebate
They're smooth and quiet – there's no engine noise and with no gears to work through, an EV is able to apply full power as soon as you touch the accelerator
Exempt from road user charges – until March 2024
Added safety – the weighty battery pack gives your EV a lower centre of gravity, so it's less likely to roll. The lack of petrol or diesel also reduces the likelihood of it catching fire in a crash
NZ's climate is ideal for electric cars – extreme heat and cold can impact an electric car's battery life. Thankfully, many parts of NZ has an ideal temperate climate
---

About the author of this page
This report was written by Canstar Content Producer, Caitlin Bingham. Caitlin is an experienced writer whose passion for creativity led her to study communication and journalism. She began her career freelancing as a content writer, before joining the Canstar team.
---
Enjoy reading this article?
You can like us on Facebook and get social, or sign up to receive more news like this straight to your inbox.
By subscribing you agree to the Canstar Privacy Policy