EVs don't come cheap. But there are two notable models battling it out in the 'budget' EV market: the GWM Ora and the MG 4.
Electric Vehicles (EVs) don't come cheap. If anything, they're famously expensive… In fact, if you look at the most popular EVs in New Zealand, they are, on average, about twice the price of the most popular petrol models.
From January till September 2023, pure electric vehicles (that's excluding hybrids) made up 11.97% of all new passenger/SUV sales. And so far this year, 36% of all new car sales have been electric or hybrid cars. So the demand is there, and as cheaper EVs continue to be introduced, we'll likely see those numbers continue to rise.
So if a car's price is as important to you as your carbon footprint, what options do you have? Well, currently, it boils down to two choices.
The GWM Ora and the MG 4
When it comes to budget EVs there's no such thing. But there are two vehicles that stand out as the cheapest in the market.
GWM Ora – RRP from $42,990
MG 4 – RRP from $46,990
Once you figure in the Clean Car Discount of $7015, that means:
GWM Ora – from $35,975
MG 4 – from $39,975
While hardly cheap, once the Clean Car Discount has been applied, you're left with a EV under $36,000. So, while there aren't really any 'budget' EVs, we'll likely see some in a few years.
The next cheapest option is the MG ZS EV Excite, which comes in at $47,990 ($40,975 with Clean Car Discount).
So if you're looking to get your hands on one of these two 'budget' EVs, which is the better option? Canstar takes a look.
---
GWM Ora
The GWM Ora hit our shores in April 2023. Over the last few months its price has dipped, as it fights for the title of most affordable EV. The compactness of the GWM Ora (and shorter range) makes it an ideal city car. And while the GWM Ora has some great features, the main attraction is its price point. At just $42,990*, this compact commuter is roughly $20,000 cheaper than New Zealand's favourite EV: the Tesla Model Y. But don't let the price point fool you, the GWM Ora still has plenty to offer.
An Extended Range model is also on the market for $47,990* and has a driving range of up to 420km.
What do you get for the price?
The GWM Ora comes equipped with everything you need for inner-city driving. With a 360 degrees camera, automatic LED headlights, intelligent adaptive cruise control and land departure warning, perusing the streets has never been safer. And, speaking of safety, the GWM Ora has a five star safety rating. However, the GWM Ora isn't just safe and affordable, it's enjoyable to drive. With a 10.25″ full colour touch screen infotainment, Apple CarPlay and Android Auto, you (and your passengers) will never be bored.
How does it look?
For a car that is somewhat bubble-esque, the inside is surpringly chic. Don't believe me? Have a look!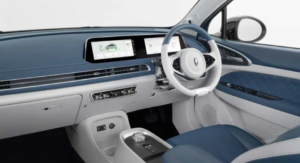 The seats are faux leatherette and everything above the knee level is quite plush. Below that the hard plastics begin. Considering the car's size, there's an impressive amount of legroom. The back seats can be folded down to create more luggage space, but if you're wanting to leave them up, pack light!
The MG 4
The MG 4 only hit our shores in August, but it has quickly become the go-to EV for those on a budget. A reliable and modern compact SUV, it has plenty to offer for its price.
In typical MG form, there's four models to choose from. The cheapest, the MG 4 Excite 5, comes with a range of features, including:
Range of up to 350km
MG Pilot – 9 safety features
Rear wheel drive
Auto start/stop and keyless entry
Android Auto and Apple Carplay
500kg towing capacity
10.25-inch touch screen
So while you're not getting as many interior bells and whistles as the GWM Ora, you're not losing anything spec-wise.
There are three other (more expensive) versions to choose from:
MG 4 Excite 64 – from $51,990*
MG 4 Essence – from $54,990*
MG 4 Long Range – from $63,990*
MG 4 Excite 64
There's only one major difference between the MG 4 Excite and the Excite 64: performance.
While the standard MG 4 can go from 0-100km/h in 7.7 seconds, the Excite 64 can do it in 7.2 seconds.
It's up to you to decide if saving half a second is worth an extra $5000.
MG 4 Essence
If you're looking for an serious difference within the MG 4 range, you might want to consider the Essence. For an additional $3000 you'll get:
EV trip planner
360º camera
5 additional MG Pilot safety features
6 speakers
Wireless smart phone charging
Steering wheel heating
Electric folding mirrors
There's plenty of extra features, which you can see here.
MG 4 Long Range
The Long Range model offers all the same features as the MG 4 Essence, along with improved performance. While the Essence goes from 0-100km/h in 7.2 seconds, the Long Range model does it in 6.5 seconds. As with the Excite 64, this enhanced performance doesn't come cheap, costing an additional $9000 for a 0.7 second improvement.
The GWM Ora vs. the MG 4: Which is best?
There's not really a clear winner here. When comparing the GWM Ora and the MG 4, it really comes down to personal preference. The obvious choice might be the cheaper option, but with both cars regularly lowering their prices, that could be either vechile, depending on when you buy.
Design-wise, it depends on what you like. The MG 4 is more basic and standard-looking, offering little to comment upon. The inside of GWM Ora is effortlessly impressive, and is sure to draw compliments from your passengers. However, the outside design isn't for everyone. The outside is rather round, which can come off as funky….if that's what you're after. Whether you prefer unremarkable but timeless, or cute and compact, is up to you.
If, like many, you're worried about running out of charge while on the road, the MG is the better option. With slightly more range than the GWM Ora, you won't need to stop and charge as often. But if you're looking for a city commuter for a reasonable price (well, as reasonable as an EV can be) then either option is a solid bet.
The GWM Ora appears to have priced itself as an ideal entry point for people looking to get into the EV market. But, by all accounts, the MG 4 is still an excellent entry-level EV.
Shop secondhand
There are plenty of excellent EVs on the market.  The only problem is they all cost a lot. For many, even the models mentioned above will be out of reach. But one great option may be to look at the second-hand market.
If you're truly on a budget, Trade Me is awash with cheap, second-hand EVs under $10,000. These could be a great option for a second car, ideal for work commutes and weekend errands. But bear in mind that most of these models are from the early to mid-2010s and the cars' battery capacities will have reduced. So they won't achieve their original ranges. Not to mention, these older models just don't have the original ranges or features of modern EVs.
If you do go for an EV pushing a decade old, you might just have to factor in a potential battery replacement in the coming years.
If you can stretch your budget to $20,000 or even $30,000, then your options open up, as there are plenty of cars only a few years old.
It is, however, worth noting that second-hand vehicles are not eligible for the Clean Car Discount unless they are new to New Zealand. That is, they are a used import. So if you're buying it from a private seller that has already had it registered in NZ, you won't get the government rebate.
---
Compare car loans with Canstar
The table below displays some of the unsecured personal loan products available on Canstar's database for a three-year loan of $10,000 in Auckland (some may have links to lenders' websites). The products are sorted by Star Rating (highest to lowest) followed by company name (alphabetical). Use Canstar's personal loan comparison selector to view a wider range of products on Canstar's database. Canstar may earn a fee for referrals.
Compare car loans with Canstar
---

About the author of this page
This report was written by Canstar Content Producer, Caitlin Bingham. Caitlin is an experienced writer whose passion for creativity led her to study communication and journalism. She began her career freelancing as a Search Engine Optimiser, before joining the Canstar team.
---
Enjoy reading this article?
You can like us on Facebook and get social, or sign up to receive more news like this straight to your inbox.
By subscribing you agree to the Canstar Privacy Policy