Co-authors: TJ Ryan and Shay Waraker 
A reverse mortgage is very different to a standard home loan mortgage. Canstar explains how reverse mortgages work, and the legal protections for you as a borrower.
A reverse mortgage is a type of equity release product (ERP). Equity release products come in two forms – credit products and debt-free products. A reverse mortgage is a credit product.
Common questions about reverse mortgages
Who owns your home?
In a reverse mortgage, you own your own home but the bank can lend you money in a lump sum or income stream using the property as security, up to a small portion of the home's value.
You remain the legal owner of your home at all times, and legal requirements exist to protect your rights so that you can never owe the bank more than a certain portion of your house's value. This is known as negative equity protection.
However, interest does not compound on the loan, so your balance can increase significantly, reducing how much you own of your own home (your equity).
You can specify a certain percentage of your home's value that you want to remain available for your estate, so that you can only borrow up to a certain amount. This is known as protected equity.
What are the repayments?
Repayments and product fees are capitalised on the loan, so the borrower is not required to make any repayments of the principal or interest. The loan is only repaid when you sell your house, move into residential aged care or pass away.
You can make repayments any time you want to, though. Making repayments means there would be a greater part of the value of your home available in your estate when your house is sold.
Who are the reverse mortgage lenders in New Zealand?
Heartland and SBS are banks in New Zealand offering Reverse Equity Mortgages.
The products on offer are:
| Company | Product | Advertised Rate* | Max LVR available at age 60 |
| --- | --- | --- | --- |
| Heartland Seniors Finance | Reverse Mortgage | 7.82% | 15% |
| SBS Bank | Retirement Loan | 7.55% | 5% |
*Interest rates correct as at 13/02/2019
Features of a reverse mortgage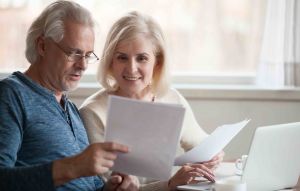 A reverse mortgage home loan product must meet the following criteria:
Available to new customers for new loans, not just existing customers
Floating rate mortgage
Available for an LVR of 15% or greater
Not a bridging loan, construction only loan or reverting loan (i.e. loan with a revert rate that cannot be obtained without taking out a specific product).
Interest rate
In New Zealand, all reverse mortgage lenders offer a floating interest rate for borrowers.
Terms of the loan
Lending terms: What is the minimum loan amount? What are the valuation details?
Protected equity: What specific equity amount is protected from the lender (LVR)? Is there an additional option for protecting a specific equity amount?
Security requirements: What types of securities can be used for collateral?
Specific conditions: Can the property be rented out? What is the default rate?
Committed funding: Is there guaranteed future funding for instalment payments?
Product functionality
Offset facility: Is a mortgage offset account available?
Redraw facility: Is a redraw facility available?
Additional repayments: Is there flexibility to make additional repayments?
Split facility: Is there the ability to have different interest types? Are fees charged to have a split loan?
Portability: Can a loan be transferred from one house to another if you move house?
Top-up facility: Is there the ability to top-up the loan?
Default
Definition of default: What events may cause default?
Action after default: What specific action is taken by lenders if the borrower is in default?
Fees
Loan fees: What fees are charged?
Application and approval
Loan application and approval: How easy is the loan application and approval process?

Enjoy reading this article?

Sign up to receive more news like this straight to your inbox.

By subscribing you agree to the Canstar Privacy Policy
What is the difference between a standard home loan and a reverse mortgage?
The main difference between a reverse mortgage and a standard home loan is that a reverse mortgage does not become repayable until you sell your property, move into residential aged care, or pass away. When your home is sold, only the amount you owe on a property is taken out of the sale proceeds, meaning you can still leave your family the rest of the sale proceeds in your will.
We've compared the other major differences between standard home loan mortgages and reverse mortgages based on data from RBNZ.
| Reverse Mortgage | Standard Mortgage |
| --- | --- |
| Debt | Debt |
| $300 million market size, with approx. 2 providers in New Zealand in 2019 | $258,686 million market size, with approx. 25 providers in New Zealand in 2019 |
| Eligible if aged 60+, depending on type of home and value of home | Eligible based on income and employment risk |
| Paid in a lump sum, income stream, or line of credit | Paid in a lump sum or line of credit |
| Max equity withdrawal: 15-60% (note: providers differ) | Max equity withdrawal: 95% (note, providers differ) |
| Most commonly floating interest rate | Fixed or variable interest rate |
| Interest and loan both repaid by sale proceeds after death or moving out | Interest repaid in regular instalments, and loan must be repaid in loan term |
| Generally provision available so that borrower does not owe more than value of your home | Possible to owe more than value of your home, if value falls or interest repayments are missed |
Legal protections for borrowers
There's no specific legal protection for anyone taking out a reverse mortgage, other than general protection under the Consumer Guarantees Act. Most lenders also comply with the goverment's Responsible Lending Code.
The Ministry of Social Development has developed a code of standards for reverse mortgages, although the code is voluntary and not legally binding.
The code states that:
borrowers will be guaranteed lifetime occupancy
negative equity is not allowed
lenders must set out clear expectations of the conditions, charges, costs and responsibilities
borrowers should seek out independent legal advice before signing up
borrowers can access an independent complaints process.
Do your research
Before signing up, make sure you fully understand how a reverse mortgage works and ensure you get independent legal advice before your loan is finalised.
Enjoy reading this article?
Sign up to receive more news like this straight to your inbox.
By subscribing you agree to the Canstar Privacy Policy
Enjoy reading this article?
Sign up to receive more news like this straight to your inbox.
By subscribing you agree to the Canstar Privacy Policy