Your 30s can feel like you've arrived into adulthood with a thud. It's a decade rife with big financial decisions. But there are ways to ease the burden! Canstar breaks down 15 finance goals for your 30s.
Your 30s are full of common rites of passage, think career changes, getting married, starting a family and buying a home. The financial decisions involved are often complex and costly. So it's important to develop fiscal fitness to stand you in good stead for the years ahead. Here are 15 of our top finance goals to put on your to-do list:
1. Kick your career into gear
Your 30s are a great time to assess whether your career goals are on track. If you are in need of a change of job, or are keen to move up the career ladder, there are steps you can take to move closer to your vocational goals.
Making connections and speaking with people can go a long way in helping you form a plan of attack, so it could be time to get your networking hat on.
Depending on your industry, there may be an opportunity to boost your earning potential through further study. Whether you want to move up the ladder to a dream position, or bring more to the table in your current role, a new qualification could help you move on.
Maybe you love your job but feel underpaid. There are several online tools that allow you to check whether your salary is on par with others in your industry, such as the PayScale Salary Calculator. If you feel you are due for a pay rise, it helps to thoroughly plan and prepare a pitch to your employer.
2. Revamp your budget
Having a household budget and setting financial goals is an indispensable way to plan household finances and develop a good savings pattern. If you started a budget in your 20s, you'll likely need to adjust it as your financial needs grow.
It's especially important to set new finance goals if you plan on starting a family. A baby is an expensive little creature, one that has the habit of impacting earning potentials.
In the long term, you may want to factor saving for the cost of your child's education into your budget, too. Although this shouldn't be at the expense of your retirement savings.
3. Be wise with increased cash flow
People's earnings tend to rise during their 30s. But rather than live paycheck to paycheck, make sure any extra cash works for you.
If you prefer a low-risk approach, commit your extra earnings to a high-interest savings account, where you can slowly build up your cash. You can use Canstar's comparison tool to find the best savings account or term deposit for your needs.
Alternatively, if you're a homeowner, funnelling your savings into a mortgage offset account can help you reduce the total loan amount on which you pay interest.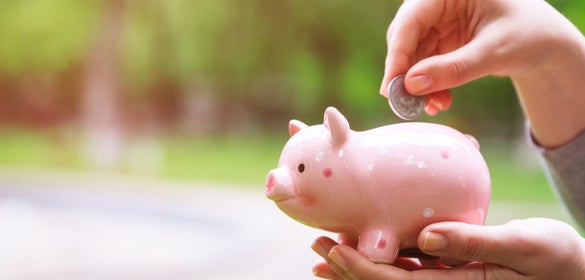 4. Reduce your credit card debt
One of the golden rules of financial planning is to clear your most expensive debts first.
In the world of borrowing, there is good debt, and there is bad debt. Good debt is attached to an asset likely to increase in value over time, or increase your prospects of building wealth, such as a property or shares.
Bad debt applies to purchases that are not going to generate a long-term return, such as a personal loan for a holiday. When it comes to bad debts, high-interest credit card debts are a prime example. If you can't eliminate your debt entirely, consider a balance transfer or switching to a low-rate credit card.
Compare credit cards with Canstar
5. Keep your KiwiSaver options in mind
There are many important factors to consider when choosing the right KiwiSaver fund, including the fees charged and its performance. What was right for you when you first set up your KiwiSaver in your teens might not be right for you now. For example, are you planning on using KiwiSaver for a deposit on a house? Or are you still stuck in a default scheme?
Compare your options and check out Canstar's 5 Star recipients for KiwiSaver here:
Compare KiwiSaver providers for free with Canstar!
6. Raise the roof on your mortgage repayments
If you're a homeowner, paying off as much as you can afford during your 30s could help you to own your home sooner, while saving money on the cost of the loan.
If you borrowed, say, $600,000 at 3.5% interest, and paid the loan off over 25 years instead of 30, you could save over $68,815 on the overall cost. (This excludes any fees that may apply, and assumes interest rates remain the same over the life of the loan.)
With interest rates at current historic lows, now is a great time to shave extra dollars off your loan.

7. Boost your credit rating
A poor credit rating can affect your chances of being approved for a loan. Paying back old debts and making sure repayments are made on time are just two ways you can demonstrate to lenders you have turned a new leaf. Be wary of companies such as credit repair agencies who charge a fee to fix your credit rating, and consider doing the legwork yourself.
8. Put your best foot forward when seeking a loan
Some simple steps you can take to help present your best self to your lender of choice include:
Having all income and expense documents at hand (such as your payslip and regular bills)

Making sure you have repaid as much of your bad debts as possible

Reducing your credit card limits as much as possible

Being able to document a pattern of savings
Compare home loan rates for free with Canstar!
9. Consider setting investment goals
Your 30s can be a prime time to think about investing in riskier investment options, as you still have time on your side and will likely be less impacted by short-term volatility. This means you may be in a position to take on more risk that could result in higher returns over the long term.
If you decide to speak to a financial adviser for guidance on your investment choices, consider seeking one that is independent. It's important to be aware many financial advisers are aligned with institutions.
10. Protect yourself against loss
It's important to make sure you are adequately insured as your assets grow, especially if you have dependants to look after. Despite what many think, life insurance is not just for older people. It can also be relevant for families with young children who may be at risk should an unexpected illness, injury or death occur. It may also be important to consider protecting your salary and assets if you experience a significant increase in wealth during this decade.

11. Shop around for insurance
It's important to compare home and contents, health and car policies each year before you renew. If you don't, you could be hit with the lazy tax. Regularly comparing your options can help you save thousands and ensure you are getting the most bang for your buck. 
12. Increase your emergency fund
It's wise to have an emergency fund in case you are hit with some unexpected expenses. How much is enough? This will depend on your weekly expenses, as well as the number of dependants you support.
It's a good idea to consider having two emergency funds – one for minor incidents, such as the fridge breaking, and another for more serious events, such as serious injury or illness.
13. Get your will in order
Contrary to popular belief, planning for your death isn't regarded as morbid. It is sensible, and an important consideration once you enter your fourth decade. In fact, death is the only certainty in life, so it makes sense to clearly document how you would like your wealth distributed. The fact is that if you die without a valid will, your assets may not be distributed as you had hoped. 
14. Embrace DIY
Skilling up around the house could potentially save you thousands on maintenance, cleaning and repair costs. Granted, this doesn't play to some people's strengths. However, given you don't have to be a tradesperson to take on basic jobs, such as painting the odd wall or cleaning out your gutters, flexing your DIY muscles can pay off.

15. Don't try to keep up with the Joneses
It can be tempting to live large by trying to keep up when others around you are spending big on houses or holidays. However, this is rarely wise. Be especially careful of overspending on your house or car, and make sure you don't accumulate more liabilities than you can afford. It's also important to avoid falling into the trap of overspending as you earn more.
Read more about our latest Savings and Transaction Accounts Star Ratings here!
Enjoy reading this article?
You can like us on Facebook and get social, or sign up to receive more news like this straight to your inbox.
By subscribing you agree to the Canstar Privacy Policy