Author: Martin Kovacs
When it comes to the best dashcam for your car, video quality should always be a main concern but, after that, what options should you look for? In our guide we reveal all you need to know about choosing the best dashcam!
Whether you're running daily errands around town, or regularly racking up the kilometres on the open road, a dashcam can help keep you covered in the event of an incident. However before decking out your ride with the latest dashcam tech, it's worthwhile doing your research. We reveal all you need to know about buying the best dashcam.
The primary function of a dashcam is to capture video footage while driving. So, as a starting point, it's important to pick a camera that provides a good level of detail in all types of light conditions.
In addition to this, some models come with features including in-built GPS, and wi-fi and Bluetooth connectivity (pairing up with a compatible smartphone). Others have driver-assistance features, and the ability to monitor a vehicle while parked.
Read on for a rundown of the features commonly found in dashcams, plus an overview of the specs on offer from a range of different models.

Dashcam features
While dashcams are now a common feature in cars, and can help to prove liability in the event of traffic accident, it's important to keep in mind privacy concerns with regard to recorded video footage.
As the Office of the Privacy Commissioner advises via a blog post, "people need to be responsible in how they use the information that dashcams collect, and to think carefully about posting footage online for everyone else to see".
Typically compact and unobtrusive devices, dashcams can still pack a lot into a small size. Here are some of the main features to look out for:
Camera
It is, of course, important to capture video in detail. Many new-release dashcams can record full-HD 1080p video. But it's also important to consider how a camera performs in low-light conditions and at night.
Models fitted with motion sensing technology (referred to as a G-sensor) may have a setting for when a car is parked. This turns the camera on for a set period when motion (such as the car being bumped) is detected. It's a great way of catching the perpetrators of hit and runs in supermarket carparks!
Display
Dashcams can come with or without a display. Models without a display are generally cheaper. Those with a display can typically be operated via the screen. Models without a display usually link up with a smartphone for operation.
Dashcams with displays usually show live camera footage while out on the road. While models with in-built GPS can be set to display maps and location information and, potentially, other information, such as traffic alerts.
Memory
Most dashcams come with internal memory, along with the capacity to expand memory via a microSD card. You'll have to buy these cards separately.
Loop recording provides for continuous recording. Dashcams automatically record over older video files once the memory limit has been reached. Of course, files that need to be kept should be transferred to another storage device. Some models with larger memories allow users to store important files.
Connectivity
Wi-fi and Bluetooth connectivity can provide for the convenient transfer of video files. This means the device, or its microSD card, doesn't need to be physically removed and connected to an external storage device.
Wi-fi connectivity can also enable a range of other functions, such as live traffic updates and location information. Many manufacturers offer smartphone apps to use in conjunction with a dashcam.
Design
Most dashcams are designed to be unobtrusive and discretely mounted. They generally sport a black or grey finish, allowing for the device to blend in with a car's interior. This makes them less distracting inside a vehicle, and also less noticeable from the outside.
From rectangular to cylindrical design styles, dashcams are, as a rule, compact. Larger models generally sport bigger displays, potentially accommodating more information – from live camera footage, to map and location details.
Installation
They are usually designed to be fixed to car windshields via a mount. You'll need to determine where to best position the mount, allowing for both ease of access and an unhindered view of the road.
Dashcams are typically designed to primarily draw power from a car's power accessory socket, while also being equipped with a small rechargeable battery. They will usually come with a power cable and adaptor.
Dashcams
To help you make your decision we've put together some of the best dashcams on the market, ones that offer a range of features at different price points.
While these dashcams are designed for front-facing operation, it's worthwhile noting that rear-facing cameras are also available, and may be sold as front and rear camera kits.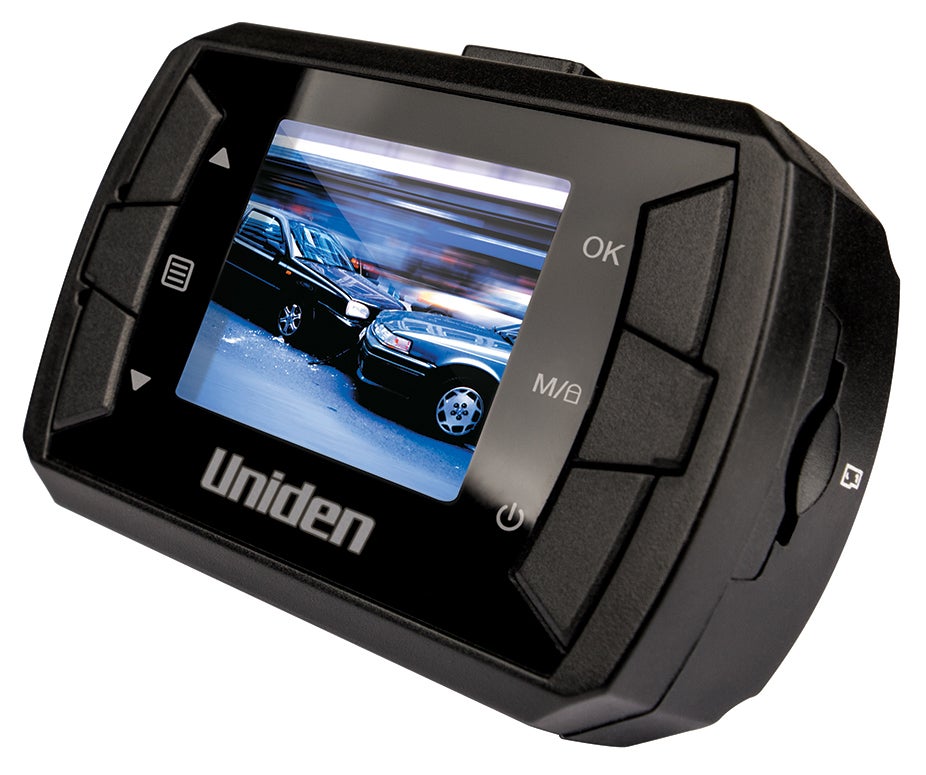 Uniden iGO CAM 325
Uniden describes its iGO Cam 325 as an "ultra-compact recorder" designed to provide vehicle accident recording. It's capable of detecting any sudden changes in a car's movement via its G-sensor, immediately recording the footage.
The iGO Cam 325 loop records, continually recording what is happening, with users also able to playback journeys taken.
Camera – full-HD 1080p recording; infrared night vision; motion detection is active when the car is parked and without the driver present, with the camera capturing footage if the car is bumped or scraped; loop recording
Display – a 1.5-inch LCD colour screen
Memory – microSD support for up to 32GB (sold separately)
Design – a rectangular design and dark finish
Installation – comes with a windshield mount, a vehicle power adaptor and a USB cable
Price – the iGO Cam 325 can be found online for around $78.99(*)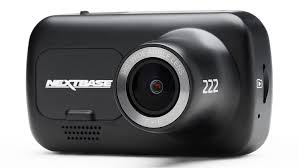 Nextbase 222 Dash Cam
Nextbase says that its 222 Dash Cam is equipped with a six-layer glass lens, allowing it to "capture excellent detail and clarity", helping to record important details such as number plates and road signs.
Intelligent Parking Mode is activated as soon as the vehicle is parked and the ignition turned off, with everything shut down except the G-force sensor. The camera automatically switching on and recording for 30 seconds if the vehicle is bumped and the sensor registers movement.
Camera – 1080p HD at 30fps, or 720p at 60fps recording; Intelligent Parking Mode with G-force sensor; loop recording
Display – a 2.5-inch HD IPS screen
Memory – compatible with 8-128 GB microSD cards
Design – a rectangular design and dark finish, measuring 46 x 82 x 46mm
Installation – comes with a Click&Go PRO car mount with integrated magnetic power connectors, an alternative suction mount, a power cable fitting tool, USB cable and a 4m power cable
Price – the Nextbase website lists the 222 Dash Cam at $229.99(*)

Navman MiCam GPS
In addition to dashcam and GPS functions, Navman's MiCam GPS sports a number of smart features, including verbal and visual navigation, designed to provide drivers easily accessed information.
Navman says that the MiCam GPS can read smartphone messages, and provide live traffic alerts and ETAs. Drivers can compare the signposted speed limit with their actual speed. A countdown bar shows the distance to the next speed or red-light camera, or school zone.
Camera – full-HD 1080p recording, with a Premium Starvis Sensor, designed for use in every lighting condition, including low light; in the event of an incident, the camera is designed to capture information, utilising a 3-axis G-sensor and GPS-tagged video; loop recording
Display – a 5-inch capacitive pinch-and-zoom LCD screen; users can zoom in or out on maps, while adjustable menu layouts allow for users to choose the information they want to see
Memory – 8GB internal memory; up to 128GB microSD
Connectivity – updates can be downloaded via wi-fi; smartphone pairing via Bluetooth, with the MiVUE Pro Companion smartphone app pairing with the MiCam GPS, enabling a range of smart functions
Design – a rectangular design and dark finish, measuring 85 x 139 x 36mm
Installation – comes with a windshield mount, a dual USB vehicle power adaptor, a USB AC power adaptor and a micro-USB cable
Price – the Navman website lists the MiCam GPS as priced at $349(*)
Garmin Dash Cam 66W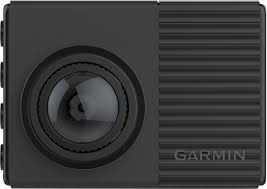 Garmin's Dash Cam 66W continually records once plugged into a vehicle's power source. It automatically saves footage when it detects an incident (in-built GPS records when and where events occurred).
Voice controls provides for different commands, including telling the camera to save video, while driver alerts include forward-collision warnings, lane departure warnings and "go" alerts, notifying the driver when stopped traffic in front has started to move.
Camera – records HD 1440p video, with an extra-wide 180-degree field of view; G-sensor incident detection; loop recording
Display – a 2-inch QVGA colour TFT LCD display
Memory – requires at least an 8GB microSD card, supporting up to 512GB (sold separately)
Connectivity – wi-fi and Bluetooth connectivity provides for users to upload saved footage to a compatible smartphone running the Garmin Drive app
Design – a rectangular design and dark finish, measuring 40 x 56 x 21mm
Installation – comes with a magnetic mount, vehicle power cables and a dual USB power adaptor
Price – the Garmin website lists the Dash Cam 66W at $379(*)
*Further information on pricing can be found at individual retailer websites. This should be used as a starter guide and not considered an actual quote.
Dashcams and road traffic accidents
At present, there is no specific wordings on car insurance policies in NZ that says that having a dashcam fitted will help save you money on your premium. However, a dashcam's footage can be beneficial if you find yourself disputing an accident. The issue of who's at fault can be tricky to determine, especially if there are no witnesses, and a dashcam can help resolve this.
Of course, if you're are concerned enough about your car to fit a dashcam, you'll also care that you've the best insurance cover should an accident occur. But when was the last time you compared your car insurance policy and checked to see if you could get a better deal? The grid below shows the 5-Star winners in the 30- to 49-year-old driver profile from our 2021 car insurance awards and ratings.
See here for our ratings methodology. The table above is an abridged version of our research. For the full results of our 2021 Car Insurance Ratings and Award, click here.

Enjoy reading this article?
You can like us on Facebook and get social, or sign up to receive more news like this straight to your inbox.
By subscribing you agree to the Canstar Privacy Policy