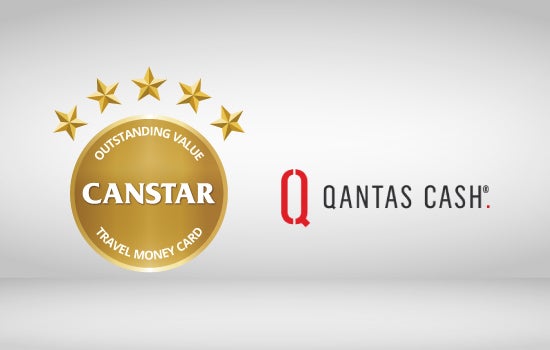 Qantas Cash travel money card has taken the 2016 Canstar Travel Money Cards Award. We catch up with Qantas for some more information on their card
"The travel money card for Qantas Frequent Flyers."
What is the Qantas Cash card?
Travel money cards are increasing in popularity and, along with credit cards, debit cards and cash, are a very useful way to access foreign currency while you're away. Canstar has researched and rates travel money cards available for New Zealand travellers, with Qantas taking the 2016 Award.
Doubt the popularity or ease of use of travel money cards? Here are a few fun facts supplied by Qantas:
Qantas Cash is used somewhere in the world every 4 seconds. It has been used in 178 countries across the world.
It has reached the $2bn upload milestone in just under the three years since it launched in August 2013.
Qantas Frequent Flyers can earn 1 Qantas Point for every $1 spent in foreign currency
It can be used at millions of MasterCard locations worldwide and allows Qantas Cash users to:

Access local currency through international ATMs around the world
Use electronically over the counter like you would a credit or debit card
Shop online at your favourite international retailers

Qantas Cash is built into Qantas Frequent Flyer membership cards, which makes it a convenient way for members to carry cash while they travel and is one less card to carry.
You can load up to 9 foreign currencies on the Qantas Cash Card – NZD, AUD, CAD, EUR, GBP, HKD, JPY, SGD, and USD. You can lock in exchange rates on up to 8 currencies before you fly.
You do need to be an existing Qantas Frequent Flyer member in order to attain a Qantas Cash card; however, you can apply for the card immediately after signing up to this rewards program. Because the Qantas Cash card is connected to your Qantas Frequent Flyer membership, you earn Qantas Points on all eligible purchases made at home or overseas.
Travellers should note that although the "Credit" button is used when making a purchase or a withdrawal at an ATM, this card is not a line of credit. The card cannot go into a negative balance.
Winner of 2016 Canstar Award for Outstanding Value
In light of the Qantas Cash win, Canstar caught up with Fiona Enh, Head of Qantas Cash, for a quick Q&A:
Q: The QANTAS Cash card offers a good range of currencies.  What are some of the most popular currencies with your travellers?
A: Qantas Cash has been used in 178 countries across the world. USD, EUR & GBP are some of the most popular currencies with the travellers
Q: Have you noticed any change in the volume of Euro or Pound being loaded since the Brexit was announced?
A: Yes, Qantas Cash has seen a spike in activity following the Brexit decision, with Qantas Frequent Flyers taking advantage of the drop in GBP. In the weekend following the announcement there was a 760 percent increase in GBP loads compared to the average of GBP uploads over the previous three weekends.
Q: Do you have any tips on how travellers can make the most of their QANTAS Cash Card while they're away?
A: You can use Qantas cash as you would any normal credit or debit card overseas, whilst earning 1 Qantas point for every $1 of spend.
Q: From your customer research, what are the card features that your customers tell you are most important to them?
A: Ability to lock in exchange rates, control, safety and security are some of the most important features to our customers.
Canstar congratulates Qantas on winning the 2016 Award for Outstanding Value Travel Money Cards with the Qantas Cash card.