Superhero Review
Superhero is an online share investment platform for Kiwis looking to invest. It provides access to the Australian and US share markets.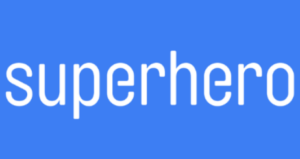 What is Superhero?
Superhero is an Australian trading platform that was established in 2020. It has since jumped across the ditch, looking to entice Kiwis with its low fees and straightforward trading experience.
Superhero takes a DIY approach to investing. It doesn't offer its own funds or manage your money for you. Instead, its service enables users to buy and sell shares and EFTs across multiple markets.
What can people invest in with Superhero?
Unlike many other trading apps, Superhero doesn't offer access to the New Zealand market. Although it is looking at adding this functionality. However, Superhero still provides access to over 7000 US and Australian shares.
Through Superhero you can invest in:
Shares: When you buy shares, you invest in a particular company, like Tesla or Facebook. Shares can be bought or sold between people on an exchange, which is a market where people can trade shares.
Exchange traded funds: ETFs are a group of different assets rather than one particular company, but they trade like shares on an exchange. Think of it in terms of a bakery. Buying individual doughnuts is like buying shares. You pay the price for each different kind of doughnut. An ETF is like buying a box of doughnuts, you get all the different types, which can be grouped by a theme.
Some key features of Superhero include:
No account fees*
Low minimum investment
Free transferring of shares from another broker to your Superhero account
Free live market data
*Standard service charges may apply
How much does it cost to invest with Superhero?
Superhero charges different fees for its trading account, brokerage and FX fees for its US and Australian shares:
Australian trading: $5 per trade (minimum investment A$100)
US trading: $0 per trade (minimum investment US$10)
FX fees: AU$0.0050 or US$0.0050 per transfer (depending on market)
More information on Superhero's fees can be found here.
How do I sign up to Superhero?
Sign up for an account through the Superhero app or website
Deposit funds via bank transfer – this usually takes between one and two business days
Once your account is set up, you can use the Superhero 'invest' tab to filter between US and Australian shares.
As part of Superhero's security system, you will need to confirm your details via two factor authentication before completing a trade.
You must be 18 years or older and living in New Zealand to set up an account.
Other online share trading from