While New Zealand's median house price has hit an all-time high of $515,000, growth in the overheated Auckland market has shown some easing.
The national median house price has increased by 6.3% in September compared with the same period the previous year, and 5.8% higher than in August this year, according to the latest Real Estate Institute of New Zealand (REINZ) figures.
Excluding Auckland, the average national house prices have hit a record high of $400,000.
Central Otago Lakes has shown the biggest jump in house prices, up 41% to $694,500. This region has also been revealed as the most expensive regions for building new homes.
Six regions have reached record median prices
Waikato/Bay of Plenty ($458,000) up 18%
Northland ($390,000) up 15%
Taranaki ($330,000) up 15%
Wellington ($480,000) up 16%
Nelson Marlborough ($450,000) up 22%
Otago ($296,000) up 5.7%
Auckland house sale prices have increased by 7% in September compared with the same month the previous year, reaching $825,000, but this is $17,000 less (2% decrease) on average than the average price in August this year.
Auckland appears to be "pausing for breath" during the wet school ahead but is likely to show more growth in spring, REINZ spokesperson Bryan Thomson says in a media release.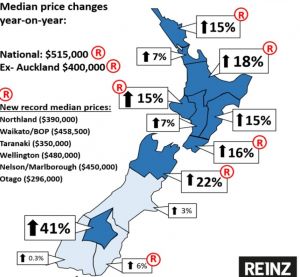 New build LVR rules gain favour
Auckland first home buyers also seem to be taking advantage of the new LVR rules around new builds – buyers only need a 10% deposit for new properties instead of the 20% required for existing homes.
Buying off the plans is not without its risks, though, with a multimillion dollar apartment project getting cancelled due to an unforeseen rise in construction costs, nzherald.co.nz reports.
Nationwide, the total value of residential property sales, including sections, was up 0.288 billion in September, compared with the same month the previous year – from $4.894 billion to $5.182 billion.
Housing supply remains an issue
While house prices continue increase in most of the country, a lack of housing supply remains an issue, especially in the capital.
Wellington has the fewest properties for sale, with seven weeks of supply and Otago is hot on the capital's heels, with only 10 weeks of supply, REINZ data shows.
Nationwide, there has been a 20% decrease in property supply in September 2016 compared with the same time the last year.
On the flipside, Auckland has seen a small increase in housing available – up to 12.5 weeks of supply in September this year compared with the same month in 2015.