Auckland is the most expensive city to buy a house – but it's not the most pricey when it comes to building a new property…
Otago is the most expensive region in New Zealand to build a new home, setting you back an average of $396,000 for the house alone.
The high cost of building in the Queenstown-Lakes district – at an average of $445,000 – has bumped up the cost of building a home in Otago. This is $6000 more than the average cost of building a new property in Auckland – $390,000, according to Statistics New Zealand data for the year-ending August. Auckland houses actually cost more per square metre than in Otago, but the properties are usually smaller in Auckland.
This compares with the cost of buying a pre-existing property, where Auckland is firmly on the map as the most expensive New Zealand city, with the average price at around $1 million.
Compare Home Loans with Canstar
The most expensive place in Auckland to build a new home is in Waitemata and Gulf Ward ($532,000) and the cheapest is Manurewa/Papakura ($266,000).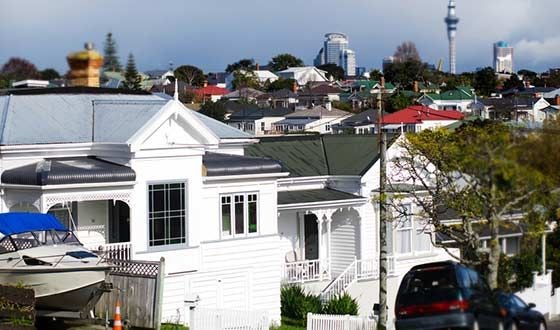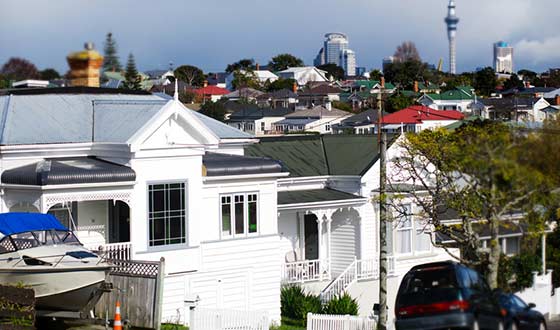 Average costs are all estimates – based on building consent applications – and exclude fees and land prices.
Nationally, the average expected cost to build a home is $346,000 at $1906 a square metre. However, the cost generally works out as 10% more than that.
If you're looking to save money on building a new home, your best bet is the West Coast, where it costs an average of $274,000 to start a property from scratch. Wellington is the next cheapest city; it costs an average of $284,000 to build a new home in the capital. A higher proportion of building consents for Wellington apartments and retirement village units has lowered the capital's average cost.
When it comes to the regions, Kawerau has the lowest average cost for building a new house in the North Island ($2000), and the Grey District has the lowest South Island average cost ($252,000).
If you're considering building, be sure to check out the current home loans available in the market. See the table below for a snapshot of the current floating rate building loans available, for a loan amount of $350,000 if building in Auckland, sorted by Star Rating (highest to lowest). If you're interested in comparing for other regions, check out the home loans comparison tool here.
We're building bigger than ever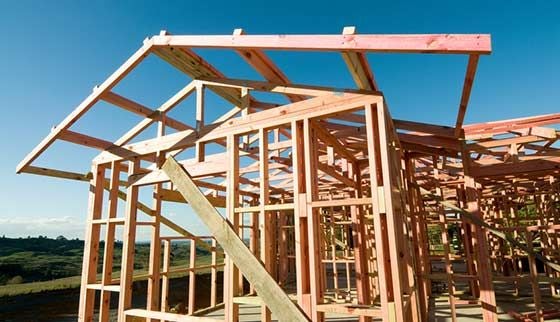 New Zealanders are building even less homes than they did in the 1970s but the properties are 60% larger in floor space.
Trends in home sizes, building consents for years ending August
| | 1974 | 2004 | 2016 |
| --- | --- | --- | --- |
| Homes consented | 38,000 | 33,000 | 30,000 |
| Average floor area | 110m2 | 181m2 | 182m2 |
| Total floor area consented | 4.2 million m2 | 5.9 million m2 | 5.4 million m2 |
Source: Statistics New Zealand, input by CANSTAR
There were 8000 fewer homes built in the year-ending August 2016 than in the same period in 1974 – 30,000 and 38,000 respectively.
On the flipside, the average new house in 1974 was 110 square metres for floor area but, by 2016, they are 72 square metres larger at 182 square metres. On average, houses are only 1 square metre larger in floor area than they were 12 years ago.
Floor area includes shared spaces, as well as basement carparks for apartments
Value of building consents hits $10 billion
The value of building consents in New Zealand has hit an all-time high, reaching an estimated $10 billion for the first time, according to Statistics New Zealand.
Building consents have increased by 10% from August 2015 and the value increased by 24%. This is the largest amount of building consents issued in 11 years.
In Auckland alone, 9851 building consents were issued for new homes in the year-ending August 2016, with a combined estimated value of $3.8 billion. Building consents increased by 1236 from the previous year.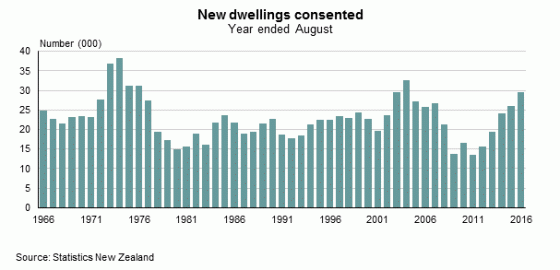 LVR exemptions for new builds
As of 1 October, the Reserve Bank of New Zealand has made it easier for Kiwis to borrow money to build a new property. Borrowers getting a home loan for a new property are exempt from the new LVR rule of needing a 20% deposit to get a loan.
RBNZ also widened its exemptions to LVR rules after its consultation; borrowers are now exempt from the LVR rules for any new residence which has been completed within the previous six months. The property has to be bought from the developer.