Auckland isn't all million-dollar mansions. We reveal the city's more affordable suburbs, and give first home buyers advice on how to get the keys to a first home.
House prices are continuing to surpass predictions for how they'd perform post-COVID. Median house prices across NZ increased by 9% this June (2020) to $639,000, up from $620,000 (3%) in May, according to the latest data from the Real Estate Institute of New Zealand (REINZ). June marked 105 months in a row of year-on-year median price increases for the country. But despite the rising numbers first home buyers (FHBs) are not being deterred.
For the first time since the Reserve Bank started keeping track in 2013, in June first home buyers took a bigger share of new mortgages in NZ than property investors.
Auckland's house prices
So what about the City of Sails, specifically? What can you expect to pay? REINZ data showed when compared to June 2019, median house prices in Auckland were up 9% in June (from $850,000 to $928,000). 
Prices rose in all of the region's districts (other than Papakura). But Auckland City had the highest median house price increase, up 17% to $1,147,500.
The amount of listings in the region is also increasing, 39% to be exact year-on-year; the second largest percentage increase in new listings behind Southland (59%).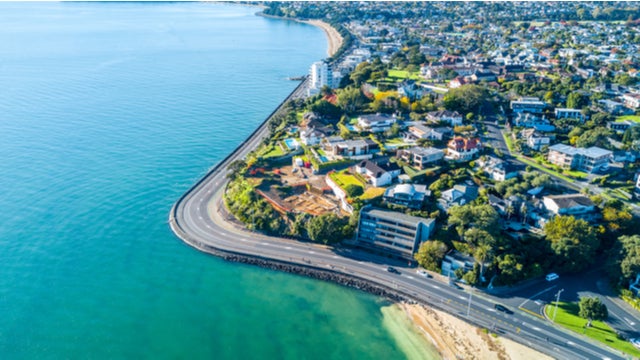 Best value suburbs in Auckland for first home buyers
When looking to purchase any home, location is all important. It's no different for FHBs. You need to weigh many factors, including: school zones, amenities and recreational areas.
If you need to commute to the city centre for work, you'll need to consider access to roads and/or public transport. Keep in mind that choosing a suburb slightly further out from the city could make all the difference to getting onto the property ladder. A couple of extra kilometres added to your commute could potentially save you hundreds of thousands on the cost of a home/mortgage.
The same is true when it comes to access to desirable schools. If you haven't children and don't plan on starting a family any time soon, avoiding sought-after school zones will also save you money.
REINZ recently analysed the most affordable Auckland suburbs for buyers wanting to live close to the city. For those seeking to live within 10km of Auckland's CBD, Avondale came out as the most affordable suburb, with a median price of $800,000. Next was Northcote, with a median price of $921,000. Avondale is only 1km further away from the Auckland CBD than Northcote, but house prices there are, on average, $121,000 cheaper.
Of course, if you're prepared to live further out, you'll find more affordable properties. Glen Eden is 15km from the CBD, but with a median price of $698,000 it offers great value for FHBs.
Currently, South Auckland is a popular destination for FHBs. There has been a particular increase in first-timers buying new builds and sections around Takanini, Tuakau, Pukekohe and Drury.
In places such as the Hunua Ranges, for example, $650,000 will buy you a three-bedroom 134m² home on a 273m² section close to good schools and amenities.  
Auckland suburbs to consider for first home buyers
Northcote
There are plans in place for North Shore's Northcote to get 1500 new homes, upgraded parks and a revamped town centre. It's close to Takapuna, Smales Farm and just across the bridge from the city. There are also plenty of schools for children and teens. Median prices in the area are pretty high: $897,000 for a two-bedroom home. But two-bedroom apartments in the new development start at $600,000.
Glen Innes 
Glen Innes' Tāmaki Regeneration Company is adding 7500 new homes to the wider area over the next 15 years, plus a revamped town centre by the train station. It's likely the new dwellings close to village amenities will attract young professionals and families. The average cost for a two-bedroom home in Glen Innes is around $760,000. The city is only a 15-minute train ride away.
Manukau
Those with budgets in the $550,000 to $650,000 range who can work locally (or are prepared for a longer commute) should look at areas in Manukau and Papakura. Up-and-coming Manukau is prioritised as a city hub by Auckland Council under the Panuku-led Transform Manukau. There are plans for a new integrated rail and bus station, revamped parks, cycle paths and an upgraded main street. A residential neighbourhood of around 400 new homes is also being built, with a variety of houses, some selling for less than $600,000.
Albany
Albany has been identified by Auckland Council as one of the city's hotspots for employment, commercial activity and amenities. The park and ride and busway are essential to living in Albany, as driving to the city (about 17km away) is getting increasingly difficult. Walkability to the bus for a morning commute is key. Median sale prices for a two-bedroom home are around $608,000. 
Mt Roskill 
Mount Roskill is another established suburb with plenty of amenities and transport options. A government-led project is in place to build 10,000 new homes over the next decade. These include a mix of state homes, affordable homes, and general market homes. Parks, public spaces and walking paths are also being renovated. It's only 8km to the city from Mt Roskill, too.
Avondale
For FHBs wanting to live within 10km of Auckland's CBD but not break the bank, Avondale is a good pick. The average price of a two-bedroom home in this central location sits around $645,000. There's a railway station for an easy commute and plenty of schooling options. 
Glen Eden
Glen Eden, in Waitakere, has Auckland's city skyline on one side and the expanse of the Waitakere Ranges on the other. Auckland Council has been working on building on the existing character precincts, creating new links to the park and ride and an active town square. The average cost of a home in the area is around $615,000 to $765,000, and the commute to the city is less than 15km.
What help is in place for first home buyers?
With a First Home Loan you only need to provide a 5% deposit to purchase your home. Not all banks offer this loan and certain conditions apply. Visit the Kāinga Ora website for a list of participating banks and to see if you are eligible.
If you're a FHB, or a previous home owner, and you've been making regular KiwiSaver contributions for three to five years, you may be eligible for a First Home Grant of up to $10,000. In Auckland, for existing properties, the grant is only available for homes under $600,000. For new homes, the cap is $650,000.
The strength of FHBs in the market in recent years is attributable, in part, to the rise in people using their KiwiSaver to build a deposit. (You need to leave $1000 in your KiwiSaver account, and there are eligibility criteria that apply). For more tips, read our story: KiwiSaver First Home Buyers Withdrawal: 14 Useful Steps.
If you're interested in buying a KiwiBuild home, you'll need to first check your eligibility and submit an application on the KiwiBuild website to get pre-approved. You can view all the currently available KiwiBuild homes on the KiwiBuild website. 
We also cover what assistance is available to FHBs in our story: First Home Buyers: Is Improving Home Affordability A Sign to Buy?
Compare first home buyer loan rates for free with Canstar!
If you're looking into home loan rates..
Knowledge is power when it comes to making a massive financial commitment like entering a home loan agreement. Shop around, compare home loan interest rates for FHBs, and make sure you get the best fit for you. 
To read more about our five-star home loan awards click here, or to compare rates using our free mortgage comparison tool hit this button:
Compare home loan rates for free with Canstar!
Enjoy reading this article?
You can like us on Facebook and get social, or sign up to receive more news like this straight to your inbox.
By subscribing you agree to the Canstar Privacy Policy