Canstar looks at the best car insurance for drivers aged 30-49 to help you get the best deal.
Finding the best car insurance isn't always easy. Not only do insurers make it hard to compare prices, but their policies and deals change depending on things such as your age, driving history, or even where you leave your car parked.
Thankfully, middle-aged drivers tend to get some of the best car insurance rates around. That's of course assuming you haven't spent your driving years rear-ending cars. But for most, you should be able to get a great rate for your new mid-life convertible!
Below, we take a look at the insurers who we awarded 4-Stars and 5-Stars for Oustanding Value (drivers aged 30-49) in our latest Car Insurance Awards, as well as some tips and tricks on how to save. So you can get the best car insurance for you.
Car insurance for drivers aged 30-49: What's the story?
Most drivers in this age bracket have had plenty of years on the road. And when it comes to car insurance, that history can be your best friend, or your worst enemy. If you've got years of clean driving under your belt, you will be offered favourable car insurance rates. But if you've spent your years racking up insurance claims, or possibly even demerit points, your insurer will offer you a price that reflects that risk.
But even if you have a clean driving record, and the insurance rates are in your favour, there are still plenty of tips and tricks to help you save even further.
How to save on insurance
Some tips to help you get the best deal on car insurance include:
Choose a higher excess – doing so means you'll have to pay more when making a claim, but will bring down premiums
Pay upfront – instead of paying monthly, you can pay for the whole year up front for a discount
Shop around – compare providers to find which ones could be best for you. Then, get a few quotes from those providers to get the best price
Keep your car secure – if you have a garage or secure off-street parking, your car is at less risk of break-ins. Which can bring down the price of insurance
Drive safely – accidents or even road violations can impact your insurance. A clean driving history can get you better deals, and benefits like no claims bonuses
Limit who can drive your car – excluding cover for young drivers can help you save on premiums
Bundle your insurance – does your provider also have home and contents insurance? Bundling both can earn you a discount. Make sure any other policies are both a good deal and right for you
Insure your car for its market value – this means instead of insuring your car for a fixed price (agreed value) your car is insured for what it is worth at the time of any accident.
Choose your extras carefully – there are plenty of add-ons to be had. But if they come at an extra cost, make sure they're worth it
Buy online – most of us buy online anyway. But if you're one of the few people going in-store to get your insurance, you're probably paying more than you have to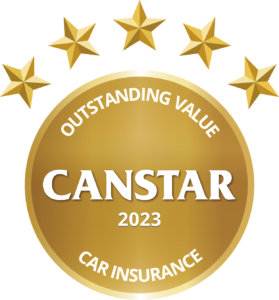 The best car insurance: drivers aged 30-49
Each year, we release our car insurance awards, including winners for Insurer of the Year, Outstanding Value, and Most Satisfied Customers. As part of our award results, we also publish our Outstanding Value Star Ratings, covering car insurance for different age groups. Below are our top-rated providers in the drivers aged 30-49 category. Click here to view our complete car insurance Star Ratings for all age groups.
---

About the author of this page
This report was written by Canstar Content Producer, Caitlin Bingham. Caitlin is an experienced writer whose passion for creativity led her to study communication and journalism. She began her career freelancing as a content writer, before joining the Canstar team.
---
Enjoy reading this article?
You can like us on Facebook and get social, or sign up to receive more news like this straight to your inbox.
By subscribing you agree to the Canstar Privacy Policy