About Qantas Cash Travel Money Card
QANTAS is an airline and a provider of Qantas Cash travel money cards, Qantas Frequent Flyer rewards program, freight shipping services, and catering services.
"The travel money card for Qantas Frequent Flyers."
What is the Qantas Cash card?
The Qantas Cash card is a pre-paid, debit MasterCard form of travel money card, and uses your own money for your spending. It can be used to pay for goods and services in person or online, and to make withdrawals at millions of MasterCard ATMs around the world.
You can load up to 9 foreign currencies on the Qantas Cash Card – NZD, AUD, CAD, EUR, GBP, HKD, JPY, SGD, and USD. You can lock in exchange rates on up to 8 currencies before you fly.
You do need to be an existing Qantas Frequent Flyer member in order to attain a Qantas Cash card; however, you can apply for the card immediately after signing up to this rewards program. Because the Qantas Cash card is connected to your Qantas Frequent Flyer membership, you earn Qantas Points on all eligible purchases made at home or overseas.
Source: Qantas
Travellers should note that although the "Credit" button is used when making a purchase or a withdrawal at an ATM, this card is not a line of credit. The card cannot go into a negative balance.
As a MasterCard product, the Qantas Cash card may currently not be used in the following countries due to economic or trade sanctions:
Crimea
Cuba
Iran
North Korea
Sudan
Syria
If you attempt to use your card or withdraw cash from an ATM in any of these countries, your request will be declined. New Zealand also imposes its own sanctions from time to time; please check the Ministry of Foreign Affairs and Trade for details on the countries you intend to visit.
CANSTAR is an information provider and in giving you product information CANSTAR is not making any suggestion or recommendation about a particular product. If you decided to apply for a product, you will deal directly with a financial institution, and not with CANSTAR. All product information should be confirmed with the relevant financial institution. For more information, read our detailed disclosure, important notes and additional information.
Winner of 2016 CANSTAR Award for Outstanding Value
CANSTAR congratulates Qantas on winning the 2016 Award for Outstanding Value Travel Money Cards with the Qantas Cash card.
Overall, the main competitive advantage Qantas has over other institutions is that their card has next to no fees. The only fees they charge are an international ATM fee and a low currency conversion fee of 2.50%. This sees the Qantas Cash card take the top pricing position.
In terms of features, the Qantas Cash card can be reloaded online.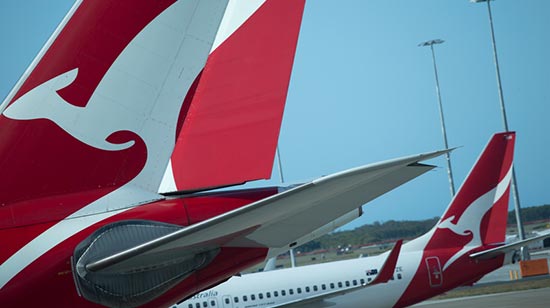 Features of Qantas Cash Card
Please note these features are current at the time of writing. You should check the product provider's website and product information at the current time.
Available currencies: 9:

Australian Dollar – AUD
British Pound – GBP
Canadian Dollar – CAD
Euro – EUR
New Zealand Dollar – NZD
Japanese Yen – JPY
Singaporean Dollar – SGD
Hong Kong Dollar – HKD
US Dollar – USD

Global use: Use the card wherever MasterCard is accepted at over 38 million locations worldwide. Withdraw cash from millions of ATMs around the world displaying the MasterCard logo.
Rewards points: Earn Qantas Points on all eligible purchases overseas and in New Zealand: Earn 1 point per NZD $1 spent in a foreign currency; earn 1 point per NZD $2 spent in New Zealand. "Double dip" on Qantas Points when you spend with Qantas Frequent Flyer program partners using your Qantas Cash card.
Online shopping: Shop online at international retailers with the card (if you have loaded the currency the trade in onto your card).
24/7 support:

Call MasterCard Qantas Cash Global Support from anywhere in the world, 24/7.

Security: Chip and PIN protected. Suspend your card if it is lost or stolen. Protected against fraudulent transactions with MasterCard Zero Liability.
Exchange rates on the Qantas Cash Card
Foreign currency exchange rates vary from time to time, set by Qantas and MasterCard, and can be found online here.
Cardholders benefit from locked in rates that apply when you make a transaction or incur a fee in a currency loaded on your card.
Rates and Fees on Qantas Cash Card
Initial load fee: $0 (No fee)
Reload fee: $0 (No fee)
Transaction fee for purchases: $0 charged by Qantas, but some merchants may charge their own fee
ATM fee (overseas): NZD $2.50 or equivalent: AUD $1.95, USD $1.95, EUR 1.50, GBP £1.25, JPY ¥160, CAD $2.00, HKD $15.00, SGD $2.50
ATM fee (New Zealand): $0 (No fee) charged on domestic ATMs withdrawals made within New Zealand
Currency conversion fee: 5% of transaction value
Secondary card fee: $0 (No fee)
Replacement card fee: $0 (No fee)
Monthly inactivity fee: $0 (No fee)
No monthly account fees
Cash refund upon closing account: $0 (No fee)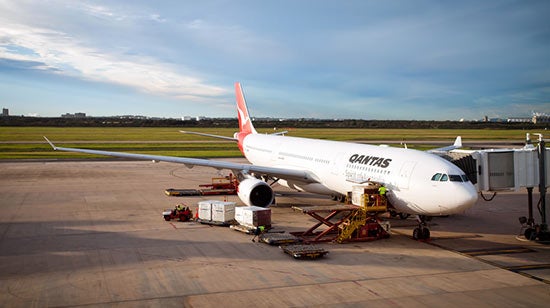 How to get and use the Qantas Cash Card
Order:
Register: Register your card online upon receiving it.
Load: Load your card for the first time via online banking.
Reload convenience: Use the Qantas Cash online banking platform or their mobile banking app for iPhone to manage, check, transfer, and reload the travel money card.
Loading, reloading, and spending limits:

Load or reload within 24 hours: Minimum $50 NZD (or currency equivalent); Maximum $20,000 NZD (or currency equivalent)
Maximum load or reload within 12 months: $100,000 NZD (or currency equivalent)
Card Balance: Minimum $0 NZD (no overdraft facility available); Maximum $100,000 NZD (or currency equivalent)
Maximum value of spending transactions over 24 hours: $15,000 NZD (or currency equivalent)
Maximum ATM withdrawals over 24 hours: $3,000 NZD (or currency equivalent) (Note: Local ATM operators may set lower maximum ATM withdrawal limits.)
Maximum cash over the counter: $350 NZD (or currency equivalent)
Eligibility to apply for Qantas Cash card
To apply for the Qantas Cash card, you must be able to satisfy the following criteria:
At least 16 years old
New Zealand resident
Member of Qantas Frequent Flyer program
About QANTAS
Source: QANTAS
These days, Qantas is regarded as one of the world's leading long-distance airlines. They employ over 30,000 people. Their subsidiary companies include Jetstar, Q Catering, Qantas Holidays, Qantas Freight, and Express Ground Handling. But it began much more humbly, having been founded in 1920 in the Australian outback.
Two Gallipoli veteran officers of the Australian Flying Corps, W Hudson Fysh and Paul "Ginty" McGinness began work as surveyors for air race routes. Along with wealthy grazier Fergus McMaster to provide financing and their former flight sergeant Arthur Baird as their aircraft mechanic, they ordered an Avro aircraft under the name The Western Queensland Auto Aero Service Limited. That name was later abandoned and thus was Queensland and Northern Territory Aerial Services Ltd (QANTAS) born.
The service began by offering joy rides with two biplanes, and Baird heavily modified the planes to ensure they would survive the thin, hot air of rural Queensland. In 1922, the service took on a scheduled airmail service, the first of many. In 1927 Qantas opened the first private hangar in Brisbane and started the Brisbane Flying School, which later became the Queensland Aero Club. In 1928, Qantas helped establish the Flying Doctor Service in Queensland.
During World War II, Qantas operated a vital line of communication from Australia to England, as well as performing emergency rescue flights for troops in the South Pacific region. Qantas again offered their planes and pilots during the war in Papua New Guinea and after the disaster of Cyclone Tracy in Darwin.
The now-familiar kangaroo logo has been in place in one form or another since 1944, adapted from the original one penny coin.
How Qantas supports the travelling community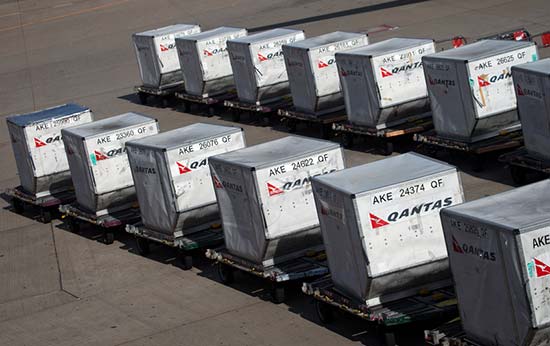 Travel competitions: To join in with the latest competitions on offer from Qantas, follow Qantas on the social media platform of your choice.
Helping kids live their dream: Qantas is the official airline of the Make-A-Wish Australia missions. They also provide life-changing experiences for kids and youth through the Qantas Foundation.
Helping end poverty: Poverty is present no matter where you travel, but Qantas is working to help change that.
Volunteers in their Qantas Cabin Crew Team and Qantas Helping Hands Community perform good deeds in the third world on their days off between layovers.
They also partner with UNICEF so that at the end of a Qantas flight, you will be asked to place any leftover foreign and local change in a Change for Good envelope. A couple of hundred yen is not worth much money to travellers when they get home (about $2 NZD at the time of writing), but this program has raised over $30 million to support UNICEF's global health, child protection and education programs.
Empowering women: Qantas supports women through the Women of the Future Awards, which offers a joint $150,000 scholarship fund for young female entrepreneurs, philanthropists, community workers, academics, scientists and business professionals who aim to improve the lives of fellow Australians.
Olympians at heart: Qantas will be ferrying the Australian team to Rio in the 2016 Olympics and has previously ferried the team to London in 2012.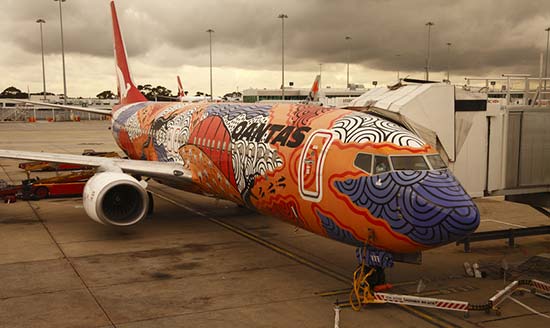 How Qantas protects the environment
Qantas is not blind to the substantial carbon footprint it leaves; that's why they focus on fuel efficiency and carbon offsetting initiatives. Travellers can offset their Qantas flight by purchasing carbon offsets here.
From 2009-10 to 2013-14 Qantas reduced electricity consumption by 9%, reduced water usage by 10%, and reduced waste production by 20%, despite their operations growing larger than before.
Qantas has installed 10 beehives on vacant land at Mascot, managed by the Urban Beehive. From spring 2015 to autumn 2016, it had already collected over 600kg of honey.
And don't forget the ways that you can make your own travel more sustainable!
Q&A with Qantas
In light of the Qantas Cash Card CANSTAR win, we caught up with Fiona Enh, Head of Qantas Cash, for a quick Q&A:
Q: The QANTAS Cash card offers a good range of currencies.  What are some of the most popular currencies with your travellers?
A: Qantas Cash has been used in 178 countries across the world. USD, EUR & GBP are some of the most popular currencies with the travellers
Q: Have you noticed any change in the volume of Euro or Pound being loaded since the Brexit was announced?
A: Yes, Qantas Cash has seen a spike in activity following the Brexit decision, with Qantas Frequent Flyers taking advantage of the drop in GBP. In the weekend following the announcement there was a 760 percent increase in GBP loads compared to the average of GBP uploads over the previous three weekends.
Q: Do you have any tips on how travellers can make the most of their QANTAS Cash Card while they're away?
A: You can use Qantas cash as you would any normal credit or debit card overseas, whilst earning 1 Qantas point for every $1 of spend.
Q: From your customer research, what are the card features that your customers tell you are most important to them?
A: Ability to lock in exchange rates, control, safety and security are some of the most important features to our customers.
Photo: Qantas Boeing 737-838 VH-VXB aeroplane | John Kirk (iStockphoto)