ASB's Clever Kash has won a Canstar Innovation Excellence award, recognising first-to-market financial innovations.
Thousands of New Zealand kids are receiving money lessons from a digital elephant, thanks to ASB's award-winning invention, Clever Kash.
Read full Innovation Excellence Awards report
On 26 October 2016, ASB launched Clever Kash, a money box in the shape of an elephant, where money is transferred via an ASB app and the balance then displayed on a screen on the elephant's tummy.
The aim of Clever Kash is to make money more "tangible" for kids, even if parents transfer pocket money via electronic payments, Clever Kash co-founder and chief architect James Bergin tells Canstar.
"We wanted to teach kids about the importance of spending and saving," Mr Bergin says.
Clever Kash aims to keep children engaged in the act of saving; parents hand the smartphone over to the child to "drag over" the virtual coins/notes, until the allocated balance appears on the elephant's screen.
Since its launch five months ago, more than 30,000 kids are using the digital money box. Children aged from three to 12 can get Clever Kash for free and parents can now order it directly from the Android or IOS app.
In the lead-up to Clever Kash's launch, ASB had a goal of reaching 10,000 expressions of interest within 6 months – they reached that amount in about five to six days. After some tweaks based on feedback from 250 families on earlier iterations of the money box, many families joined a waiting list for the device.
And research from ASB's financial literacy programme, GetWise, shows New Zealand children could do with a bit of a helping hand clearing up some misconceptions around money. Beliefs around money range from thinking all plastic cards are called credit cards – and have endless funds – to the idea that money is magic and comes from a hole in the wall.
Clever Kash incorporates elements of "gamification"
The device also appeals to kids' love of play by incorporating elements of "gamification". Badges appear on the money box screen as the child moves closer to the savings goal.
"If the money box just updated automatically, the kids wouldn't get the experience [of saving]," Mr Bergin says.
Parents can also programme Clever Kash so that the screen shows a money denomination goal – as well as a specific savings goal – such as for a rugby ball.
ASB didn't invent the idea of pocket money, but wanted to relook at the way it was used as a savings tool for children, as society moves to an increasingly "cashless" environment, Mr Bergin says.
And ASB's savings innovation has also received some unexpected fans.
Some young adults have even asked to get a Clever Kash device to put in their home as a visual reminder to prioritise their spending, rather than buying drinks at the bar, for example.
However, the bank is keeping eligibility within the age group of three to 12 to manage demand.
Canstar's verdict on Clever Kash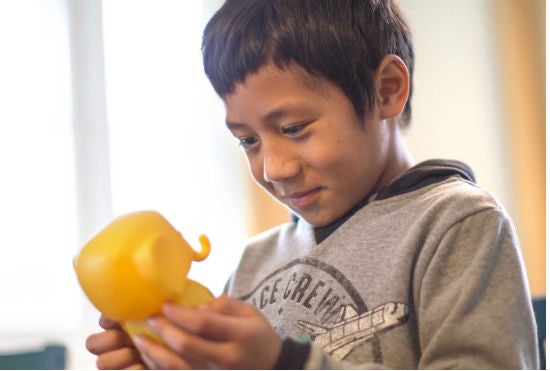 In selecting the innovation award recipients, Canstar identified a number of award-winning features from ASB's Clever Kash:
No current institution in New Zealand offers a similar learning tool, which makes Clever Kash unique and stand out from current market options.
ASB gives a modern spin on the money box. Unlike regular piggy banks that use tangible money, Clever Kash uses digital currency.
Clever Kash is easily accessible and free to use; any customer who banks with ASB will have access to this product.
Read full Innovation Excellence Awards report
Enjoyed reading this article?
Sign up to receive more news like this straight to your inbox.
By subscribing you agree to the Canstar Privacy Policy