Encouraging children to save from an early age is a great first step to financial security. Canstar explores the kids' saving accounts on offer from NZ banks.
Money decisions are very much part of our day-to-day adult lives. Do we buy a coffee, or save the cash for a long-term payoff, like a holiday? Are we investing in the right KiwiSaver account?
But for children, even understanding the value of money is a difficult concept to grasp. For a six-year-old, getting $10 from grandma for Christmas is like winning the lottery. And their impulse to splurge on candy or a small plastic toy will be all-consuming.
However, this is the best age to start teaching your children to save at least some of their windfall. Small cash treats saved here and there can soon add up to a much more substantial plaything.
Of course, a piggy bank in the bedroom is a great place to start your child's savings journey. But as they get older, and their cents and dollars start to add up, opening a bank account in their name is a prudent exercise.
Most banks provide children's savings accounts. While some offer youth banking aimed specifically at tweens and teens. There are also varying thresholds for giving bigger kids access to electronic money.
But with all youth banking products, it pays to shop around. Doing your homework for the best deal will mean your child will get better returns for their savings, and pay less in fees.
Note, as a rule of thumb, if children are under 13, they'll need parental permission to get an eftpos card. Over 13, they can usually open their own account and apply for an eftpos card, although rules vary at different banks.
The following is round-up of the current children's bank accounts available from the main high-street banks: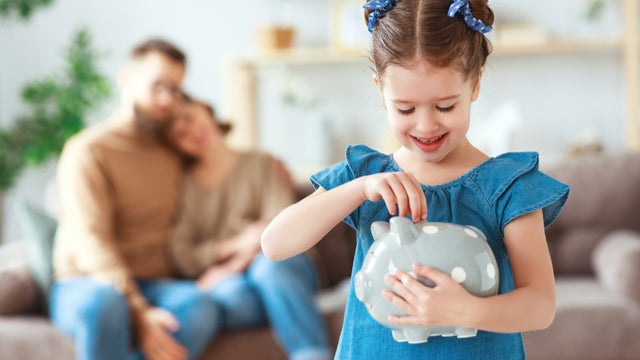 ANZ
A savings account to help kids learn how to save and watch their savings grow over time

Rewards kids with premium interest if they make no withdrawals and deposit $20 or more (not including credit interest) each month

Kids can dip into their savings and still earn standard interest (one free withdrawal per month)
The numbers
Total interest rate is 0.25% (0.05% p.a. standard rate + 0.20% p.a. premium interest)

No monthly account fee

First withdrawal in a month is free, $5 per month for two or more withdrawals
Kiwibank
Kiwibank First Saver account
No minimum balance required 

An account purely for saving. You can't make bill payments, automatic payments or direct debits from a First Saver account

Your kids can set savings goals and track their progress inside their account using

Goal Tracker

Kids can personalise their account name, like 'Sam's bike savings', to help them stay motivated to save
The numbers
Interest rate is 0.50%

No account management or transaction fees while your kids are under 19
Westpac
Designed for kids and teens up to 19 years, this account is fee-free and helps them learn to save and manage their money

For kids under 12: parents can relax knowing they have full control of the account

As well as the savings account, your child will also receive a pack with a Westpac Rescue Helicopter money box and an activity book with money magic tricks and pop-ups
The numbers:
You can choose from two different savings accounts:

Westpac Bonus Saver

and

Simple Saver

.

No fees for either

Westpac Bonus Saver: make unlimited withdrawals and still earn bonus interest each month if your account balance is up by $20. Be rewarded for saving with bonus interest, earn potential interest of 0.25% p.a. (base interest rate is 0.05% p.a. and bonus is 0.20%)
Simple Saver: a no-fuss savings account. Your first manual or electronic withdrawal each month is free. Interest is calculated daily, and the same rate applies whatever your balance. Interest rate, at time of writing: 0.05% p.a.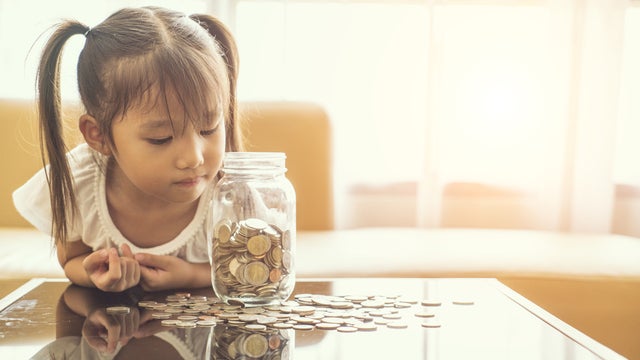 ASB
Savings on Call account or Headstart kid's bank account 
Headstart is designed for kids as an interactive and fun way to learn about money

It's both a savings and transaction account designed specifically for kids. It earns interest, calculated daily

For under 13s, they can make deposits, check their balance and ask for a statement. Only a parent can withdraw money, or give consent for their child to do it themselves

Teenagers (13 to 18) can open and manage their own Headstart account, make deposits, take money out and move it around
The numbers:
No base or transaction account fees

Interest rate is 0.15% p.a
What to look for in a youth account:
Be aware that once your child hits the age of 13, it's likely that they will be able to manage their account without your permission – even though you may be liable for their actions!
Most youth banking is free of fees, but do read the fine print for exceptions.
Transaction accounts don't tend to attract a high interest rate, so stick to a savings account if you know the money won't be touched for a long time. Compare interest rates to check you're getting the best deal.
Never open a youth bank account without reading the terms and conditions. Eftpos cards are a great example. Under the terms and conditions of some banks, once your child gets an eftpos card you can no longer put controls on their spending. If the child wants to empty the account in one fell swoop, they can! It's sometimes not easy to find this information on a bank's website, so always ask for a copy of the latest T&Cs.
Don't forget to review your child's account before they turn 18. Some banks start charging fees as soon as the account holder becomes an adult. Avoid this by looking at student bank accounts. Some banks will make this switch automatically for you.
Compare your options
A great lesson for children around money matters is ensuring they get the best value account for their money. While young, they will, of course, require some hand holding. But comparing options is a great lesson for them to pick up from you.
Together, check out the Canstar Junior Banking and Youth Banking award report, so you can compare the options on offer. And compare savings interest rates through our online comparisons.
Should I sign my child up for KiwiSaver?
KiwiSaver is usually talked about in relation to two main groups: those who are planning for retirement and young adults who are saving for their first home. Very rarely are children included in the KiwiSaver conversation. It's a personal choice, and important to do your research.
Know that if a KiwiSaver member is under 18, unfortunately, they can't receive the KiwiSaver government contribution of up to $521 per year, even if they're in paid employment.
Employers are also not required to contribute to KiwiSaver accounts of employees who are under the age of 18. There's also no such thing as child-rate fees for KiwiSaver.
KiwiSaver members under 18 have to pay the same fees as everybody else. If you are keen to sign up your child and get saving, make sure to thoroughly compare your options. And, again, you can do that all in one place with Canstar: