ASB has won the Canstar Bank of the Year – Junior Banking Award in 2017 for the second year running, let's take a closer look at their winning strategy…
Full junior banking and youth banking award report
What is the Bank of the Year – Junior Banking Award?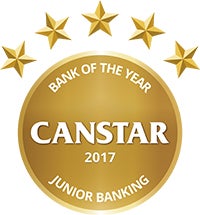 The lessons children learn from family about money can have a huge influence on how they tackle money matters later in life. But it's not only family that can assist with financial education. Canstar's Junior Banking Award is designed to recognise financial institutions that actively provide services to schools, parents and juniors to promote financial education across New Zealand. In addition to this, it seeks to highlight strong performing savings accounts available to this age group.
In 2017, Canstar compared 29 savings accounts for juniors from 8 providers. From there, researchers narrowed this down to the most suitable from each provider, and weighed these results against the respective institution's educational support, school banking program and branch accessibilitywith ASB coming out on top.
Why is financial education so important for children?
Arming children with some money management tips will give them a greater chance at making smart financial decisions as they head into adulthood.
Starting financial education early – ideally in schools – is also a policy recommendation in the 2016 OECD/INFE International Survey of Financial Literacy Competencies report.
Various research reports show children could benefit from a little helping hand clearing up some money misconceptions.
Findings from ASB's financial literacy programme, GetWise, showed some Kiwi kids have interesting theories about how money works.
Beliefs around money range from thinking all plastic cards are called credit cards – and have endless funds – to the idea that money is magic and comes from a hole in the wall.
Comedian and talk show host Jimmy Kimmel also received some interesting responses when he asked children what they would do with a million dollars. Answers ranged from "a flat screen TV and a mansion" to a "funhouse with bouncy house". But kudos to the kid who wants to donate half to charity "and half to people who don't have money and clothes".
As you can see, a financial literacy programme, such as the one provided by ASB, could really come in handy.
What makes ASB a winning junior banking provider?
Getting a competitive interest rate on your savings account is a definite tick in the box when choosing a junior bank account. But when children are first starting to learn about what money even is – let alone savings rates – you'll also want a provider that guides kids along the way.
As Canstar has discovered, ASB has this in spades.
"ASB's Savings Plus pays a competitive total interest rate (up to 2.50% which is open to juniors, however, where they really separate themselves from the rest of the field in the junior banking award, is when it comes to school banking," Canstar New Zealand general manager Jose George says.
ASB's school banking programme is the largest and most comprehensive in New Zealand, with 11 account managers and 729 schools participating in the programme.
Children are incentivised with certificates for regular savers, through the weekly money collections in the classroom.
ASB provides a number of support tools for classrooms to facilitate the programme:
school deposit drop box
school deposit envelopes
security bags
financial education materials.
"This programme complements ASB's junior specific website containing financial literacy tools, curriculum support around setting goals and understanding risk, and providing in-school annual seminars," Mr George says.
ASB's financial literacy programme, GetWise, run in parallel with school banking, teaches children about basic money skills, such as needs versus wants, and goal setting.
What is ASB's aim with junior banking?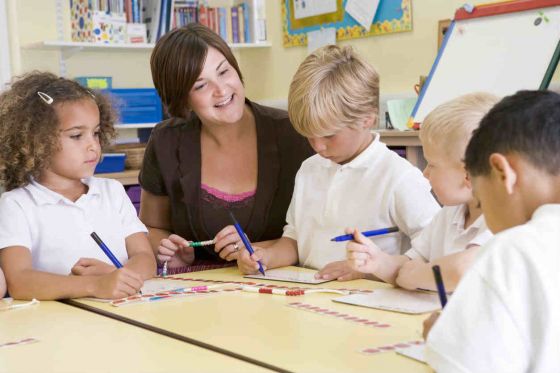 ASB aims to strike a balance between making finance fun for children, while also helping to establish healthy habits when it comes to money.
The school banking programme is designed to make money lessons fun and easy for both the schools and the young pupils, as ASB explains on its website:
"At ASB we recognise the importance of teaching financial literacy in New Zealand schools and want to create good savings habits at a young age.
"With your support, we're offering an easy way for your pupils to save by regularly banking at school.
"ASB's aim through this programme is to create a fun and convenient way for your pupils to bank at school along with keeping School Banking as simple as possible for both your school and the pupils."
How else does ASB support junior banking?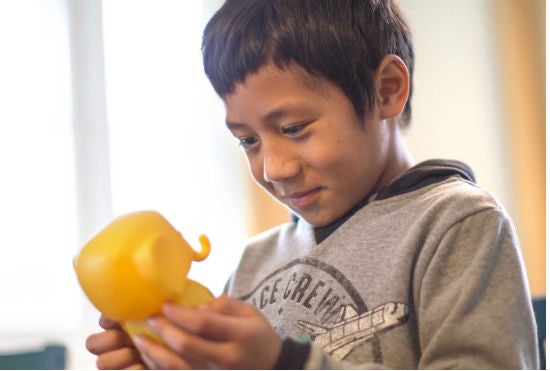 ASB also won a Canstar Innovation Excellence Award for its digital money box, Clever Kash.
The aim of Clever Kash is to make money more "tangible" for kids, even if parents transfer pocket money via electronic payments, Clever Kash co-founder and chief architect James Bergin tells Canstar.
"We wanted to teach kids about the importance of spending and saving," Mr Bergin says.
Clever Kash aims to keep children engaged in the act of saving; parents hand the smartphone over to the child to "drag over" the virtual coins/notes, until the allocated balance appears on the elephant's screen.
Since its launch five months ago, more than 30,000 kids are using the digital money box. Children aged from three to 12 can get Clever Kash for free and parents can now order it directly from the Android or IOS app.
Enjoy reading this article?
Sign up to receive more news like this straight to your inbox.
By subscribing you agree to the Canstar Privacy Policy