Utes are part of the Kiwi identity. But which ute is best and which do Kiwis love most? Canstar takes a look at the top selling utes in New Zealand.
Utes have always held a dear place in Kiwi hearts. Long an integral part of our agricultural livelihoods, and a staple among tradies, utes have become the car of choice for many urbanites, too. Now they're being used to lug about surfboards and shopping spree loot, not just fence posts and power tools.
Recently, utes have even begun to embrace the more luxurious touches found on sedans and compact SUVs.
But which utes are the biggest hit among farmers and weekend road-trippers alike? Canstar takes a look at the top selling utes in New Zealand.
Top selling utes in New Zealand
Utes are some of the most popular vehicles in New Zealand. In fact, last year, the Ford Ranger and Toyota Hilux were the two top-selling vehicles in NZ. They outsold the No.1 passenger vehicle, the Mitsubishi Outlander (9104 new registrations), while the Mitsubishi Triton was the fourth most popular new vehicle.
Our hunger for utes has stood strong despite growing climate concerns and rising petrol (and diesel) prices, which have strained the wallets of gas-hungry ute owners.
But while the 'ute tax' (introduced in April 2022) certainly had an immediate impact on sales, final year new registration figures suggest its overall impact has been little felt.
In the table below you can see the top-selling utes cars in New Zealand based on data from the Motor Industry Association.
| | | |
| --- | --- | --- |
| Top Selling Utes 2022 | Top Selling Utes, October 2023 | Top Selling Utes 2023 |
| 1 Ford Ranger (11,577) | 1 Ford Ranger (794) | 1 Ford Ranger (8627) |
| 2 Toyota Hilux (9787) | 2 Toyota Hilux (679) | 2 Toyota Hilux (7529) |
| 3 Mitsubishi Triton (6136) | 3 Toyota HiAce (160) | 3 Mitsubishi Triton (2986) |
| 4 Nissan Navara (1989) | 4 Mitsubishi Triton (99) | 4 Toyota HiAce (1618) |
| 5 Isuzu D-Max (1862) | 5 Volkswagen Amarok (73) | 5  Nissan Navara (1104) |
To give the above figures some context, here are the five top-selling passenger vehicles for the year. As you can see, the Ford Ranger's numbers are impressive, this year outselling the Swift and Model Y combined.
Top Selling Cars 2023
1 Toyota RAV4 (5798)
2 Suzuki Swift (3152)
3 Tesla Model Y (2895)
4 Mitsubishi Eclipse Cross (2687)
5 MG ZS (2628)
What is the Clean Car Discount or 'ute tax'?
The Clean Car Discount is a government initiative that was introduced in July 2021. As electric and hybrid vehicles are typically costlier than internal combustion engine (ICE) vehicles, the initiative was designed to encourage Kiwis to opt for carbon-friendly vehicles by making them cheaper.
However, the new government plans to make sweeping changes to the Clean Car Discount by the end of the year, removing many of the financial incentives and penalties associated with purchasing EVs and utes.
It's also important to note that from March 31, 2024, EV users will also have to pay the road user charge (RUC), which will significantly increasing the cost of operating an EV.
RUC fees go towards maintaining and improving the road network, and are currently paid by those who drive diesel vehicles. Petrol vehicle drivers pay their part through tax on gas. However, from April 2024, EV car drivers will also have to contribute to the road network by paying RUCs. Currently, the RUC is priced at $76 per 1000km, which will increase the cost of using an EV to get around.
You can find more information about the upcoming changes for utes here.
Are there any low emission or electric utes available?
There is only one electric ute currently available in NZ: the LDV eT60. Other than that, there's no official news on what else you can look forward to. Although several high-profile electric utes are now available overseas, so it may be that 2023 is the year the EV ute market really opens up.
Until then, your option for a low-emission, electric ute is limited to: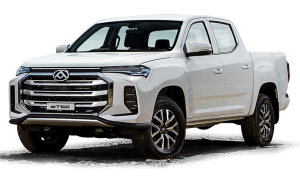 LDV eT60
To September this year, 53 new LDV eT60s were registered in NZ.
While hardly a groundbreaking number, it does show the appetite for an electric ute is there, but the restraints may still be too much for some.
However, the ute recently received a hefty price slash of nearly $20,000, bringing its price down to $56,990 (pre Clean Car Discount). When you incorporate the rebate, that a price tag of $49,975. In comparison, the top-spec diesel-powered T60 can be purchased for $49,990.
Still, many ute owners require the toughest of vehicles and, unfortunately, electric utes can't truly offer that yet. So for our hardworking farmers out in the regions, the electric ute revolution may still be a few years away.
---
Compare car loans with Canstar
If you are looking at getting yourself a new set of wheels but don't have all the cash needed, you're not alone: 80% of car buyers purchase their cars on finance. Shopping around for a new car is no doubt more thrilling than picking a personal loan. But there can be some serious savings available, just by comparing the personal loan market. And that's where Canstar can help!
The table below displays some of the unsecured personal loan products available on Canstar's database for a three-year loan of $10,000 in Auckland (some may have links to lenders' websites). The products are sorted by Star Rating (highest to lowest) followed by company name (alphabetical). Use Canstar's personal loan comparison selector to view a wider range of products on Canstar's database. Canstar may earn a fee for referrals.
Compare car loans with Canstar
---

About the author of this page
This report was written by Canstar Content Producer, Caitlin Bingham. Caitlin is an experienced writer whose passion for creativity led her to study communication and journalism. She began her career freelancing as a content writer, before joining the Canstar team.
---
Enjoy reading this article?
You can like us on Facebook and get social, or sign up to receive more news like this straight to your inbox.
By subscribing you agree to the Canstar Privacy Policy