Simplicity wins Canstar's award for Most Satisfied Customers | KiwiSaver
This year, KiwiSaver has been in the headlines more than usual. The financial turbulence caused by the pandemic has focused attention on many aspects of the retirement savings scheme.
The stock market's roller-coaster ride caused us to think about our appetite for risk. While the economic gloom highlighted hardship withdrawals and their long-term consequences for retirement nest eggs.
Ultra-low interest rates improved affordability for first home buyers, many of whom are reliant on their KiwiSaver for a deposit. And, more recently, a new report shone a light on managed vs passive funds and their fees.
In all, it's been a big few months for KiwiSaver. And, as a result, it's never been more imperative to be across your KiwiSaver profile and whether it's working for you and your future needs.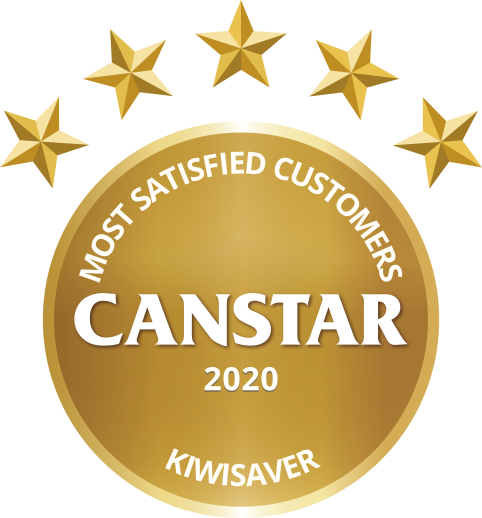 Most Satisfied Customers | KiwiSaver
Against this background, Canstar launched the 2020 research into its award for Most Satisfied Customers | KiwiSaver. To inform Kiwi consumers of the best financial products in the market, Canstar canvassed the opinions of 2811 KiwiSaver members.
To discover which KiwiSaver provider offers the best level of customer satisfaction, each was rated across the following categories:
Communication
Customer Service
Fees
Investment Returns
Value for Money
Topping our research, with the best feedback, is the winner of our 2020 award for Most Satisfied Customers | KiwiSaver: Simplicity. The award marks back-to-back wins for Simplicity, the only provider in our survey to be awarded a 5 Star rating for Overall Satisfaction.
Across all categories, the non-profit, low-fee provider earned consistently high ratings: 5 Stars in every field, apart from Investment Returns, for which it earned a 4 Star rating.
The only other provider to earn a top score is Milford Funds, which took out 5 Stars for Investment Returns and Communication, and 4 Stars in all other categories.
Also highly rated are Generate and SuperLife, each earning a clean sweep of 4 Stars in every category.
What KiwiSavers want
Ultimately, all investments are measured on their returns. And this is reflected in our research. Of those respondents in our survey, the majority cite Investment Returns and Value for Money as the main drivers of their satisfaction.
Communication also rates highly. Indeed, over half (54%) of those in our survey say they check their KiwiSaver balance at least once a month. However, the big surprise came in the low number of people who were concerned about the costs they were being charged by their provider.
While over a third of respondents (36%) said they pay attention to their annual fees and charges, just 9% said that low fees play a major part in their satisfaction levels. It's a conclusion that's shared by the new KiwiSaver report mentioned above…
| | |
| --- | --- |
| Drivers of satisfaction | % |
| Investment returns | 29% |
| Value for Money | 26% |
| Communication | 21% |
| Customer Service | 16% |
| Fees | 9% |
Passive funds: Simplicity itself!
In its ongoing regulation of KiwiSaver providers, the Financial Markets Authority recently published a snappily titled report: MyFiduciary Analysis of Active versus Passive Management in KiwiSaver.
The report compares the fees charged by active and passive funds. And given that passive funds simply track indexes and involve less hands-on decision-making, the report says that: "We would have expected to find that the less active providers would have lower fees, on average, than the most active providers."
But the key finding of the report is that: "There is no significant relationship between the level of active management employed by providers and the fees they charge."
It concludes: "Overall, our results suggest that value for money in some KiwiSaver products is not as high as it could be. With greater competition and scrutiny, we would expect over time to see fees more closely aligned to the investment strategy, and lower KiwiSaver fees overall."
However, the report does show some providers in a good light. Simplicity prides itself on being a low-cost provider of passive KiwiSaver investments. And the report underscores this fact. In fact, in all of the report's analysis, Simplicity consistently delivers some of the lowest fees, combined with the most passive investment management style.
So, if you're after a KiwiSaver solution that delivers what it promises. Plus, a KiwiSaver provider that gets a 5 Star ringing endorsement from its current members, there's only one simple solution: Simplicity – the winner of Canstar's Most Satisfied Customers | KiwiSaver Award for 2020.
---
To read more about our Most Satisfied Customers | KiwiSaver Award 2020 click this link. Or to compare KiwiSaver providers, click on the button below.
Compare KiwiSaver providers for free with Canstar!
Enjoy reading this article?
Sign up to receive more news like this straight to your inbox.
By subscribing you agree to the Canstar Privacy Policy