Active vs passive – Canstar explores what KiwiSaver members need to know about the two different styles of investment management.
You might not think the active-passive financial debate has much to do with you. But if you're in KiwiSaver, you're wrong. How an investment manager decides to run your KiwiSaver account can have an effect on your long-term returns. And, most importantly, on the fees you pay.
What's the difference between active investment and passive investment?
All fund mangers judge their performance against market averages, or indexes, for example the Dow Jones Industrial Average, or the NZX 50. These represent a hypothetical portfolio of investments that provide an average picture of a market's health: whether it's going up or down, even if individual shares are tracking in the opposite direction.
Passive managers use computer software to buy shares that reflect the make-up of these indexes. By tracking an index and buying and selling corresponding shares automatically, they expect to match their chosen index's (it is hoped) ever-upward trajectory.
Active managers, on the other hand, engage in research and analysis. They make educated choices: buying undervalued investments before they increase in price, or selling an overvalued investment before its price drops.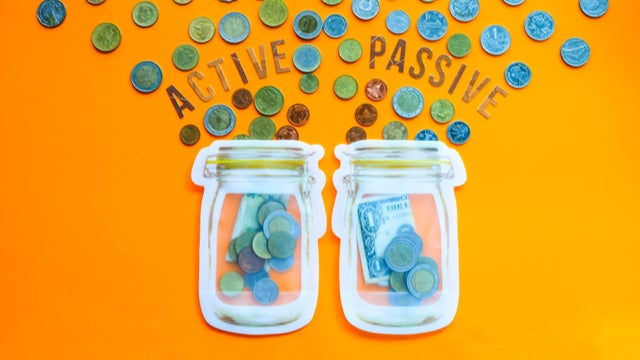 Which gives the best results: active investment or passive investment?
Which performs best? This is the crux of the ongoing argument! Passive investment is never going to outperform the market, as it's designed only to track the market. But so long as the market's value creeps ever upwards, everybody's happy. For example, the NZX 50 has soared from around 1600 two decades ago to 11,693 (at time of writing, Feb 2020). But if the market stagnates or drops, the value of the investments will do the same.
An active fund manager's intention is to beat the market. They buy and sell proactively and aim to make returns above indexed averages, whichever way the market is headed. But, of course, humans are fallible and nobody can foresee the future.
While active funds can outperform passive funds some years, there are plenty of statistics to show that it's harder for managed funds to maintain the same performance year-on-year.
If you want to hear more, from both sides of the argument, the below debate from the Financial Markets Authority is an entertaining view:
What it means for KiwiSaver members
For KiwiSaver members, the main implications of the two different styles of investment are the fees charged. Because many of the processes involved with passive investment are automated, the funds are cheaper to administrate and as a result charge lower fees.
Some passive KiwiSaver providers are very proud of this fact and heavily promote their low-fee accounts, such as Simplicity. But not all passive providers have considerably lower fees. And, just because something is cheap, it doesn't mean that it's better.
On the flip side, higher fees don't necessarily mean higher returns or better service. As the Financial Markets Authority states in its latest KiwiSaver report: "This year, tracker data continues to show no clear link between higher fees and higher returns, apart from a couple of standout funds."
Fees can have a big impact on your total returns over the long term, but they are just one part of the KiwiSaver equation. If you want to invest in a high-growth fund that chases returns above the market average, but which charges higher fees as a result, that's your choice. Just make sure you do you homework and research all your options thoroughly.
To help you in your search, Canstar's free KiwiSaver tool allows you to compare different funds' features, fees and returns to work out the best KiwiSaver provider for you, your lifestyle and your time of life. Just click on the button below:
Compare KiwiSaver providers and funds with Canstar