If you're self-employed or work the gig economy and don't have regular income, you could still qualify for a mortgage thanks to a low-doc home loan.
Even before the term "gig economy" was coined and working for Uber became a career opportunity, New Zealand was already a country comprising of the self-employed and small businesses.
According to government statistics, 97% of businesses employ fewer than 20 people, 70% of enterprises have no employees whatsoever and around 144,000 Kiwis work as self-employed contractors.
While being self-employed has its positives – you're the boss and you get to keep all the profits – it has negatives, too: lots and lots of hard work, no paid leave and the stress associated with inconsistent cashflow.
A lack of a regular, stable income can also complicate the process of getting a home loan. That is when a low-documentation (low-doc) loan can be of assistance.
Who can benefit from a low-doc loan
If you approach your bank for a home loan, they need to assess your earning capabilities. To do this they look back over your financial records.
If you've a full-time job, this isn't a problem. The bank will be able to see your regular wage payments going into your account – your expenses coming out – and have a clear picture of your personal finances.
For the self-employed, however, the process can be more complicated. The bank will probably want to see at least a couple of years' worth of financial accounts, properly prepared by a qualified accountant. If, during that timeframe, there have been periods of no income or financial stress, it can negatively affect the chances of being approved for a mortgage.
As a result, contractors, the self-employed and small business owners often don't meet the banks' traditional loan criteria.
What is a low-doc loan
A low-doc loan is one that requires less proof of regular income than the mortgage products offered by the big banks. For example, six months' proof of income instead of two years. As such, most low-doc mortgages are not issued by banks, and instead come from secondary lenders, including credit unions and building societies.
These second-tier lenders don't work to the same government regulations as the banks, so are able to offer loans specifically tailored to customers who present a greater risk of loan default, such as the self-employed.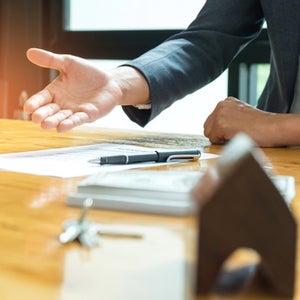 How to apply for a low-doc loan
While you can apply directly to a non-bank lender for a low-doc mortgage, it can pay to use the services of a mortgage broker. As they work with more than one lender, they'll be able to give you information on a range of different mortgage products, and the best ones to fit your finances.
Although low-doc lending requires less documentation, you'll still need to have your financial records in order. Information you'll need to provide will include details such as:
Existing debts
Credit card limits and balances
Proof of income
Dependants
Outgoings
Existing assets
By using a broker, however, you should only have to provide this information once. If you approach lenders independently, each will require you to submit separate documentation.
Low-doc loans: what to consider
Although low-doc loans offer greater flexibility for those unable to secure a traditional mortgage from a bank, they do come with conditions attached. Because of the increased risk of default associated with them, they usually incur:
Higher mortgage rates
Higher fees
Lenders may also require you to take out lender's mortgage insurance – an added insurance premium to cover a lender's losses should you default
If you are self-employed, and are wondering if you have enough documentation to support an application for a mortgage from a conventional lender, it's still worth talking to a bank or broker. They'll be able to provide guidance on all the options available. And you might find you do qualify for a conventional loan, which will enable you to benefit from the current low interest-rate environment.
For an overview of the mortgage rates currently on offer, check out Canstar's free comparison tool, by clicking on the button below.
Compare home loan rates for free with Canstar!
Enjoy reading this article?
You can like us on Facebook and get social, or sign up to receive more news like this straight to your inbox.
By subscribing you agree to the Canstar Privacy Policy