The debate over whether to live in a house or an apartment is nothing new. Buying an apartment has long been an attractive option for those who either can't afford to – or just don't want to – live in a traditional home.
Apartments can have a wide range of benefits. And, in the midst of an economy that's hard on those looking to buy property, it's often a more viable option for those on lower incomes and those who are entering the market. Ignoring the "home" in first home buyers, apartments are increasingly popular with younger buyers wanting to enter the market.
We asked Canstar team members about their experiences of high-rise living. As you'll see, one person's dream is another's nightmare, so it pays to carefully consider the pros and cons of buying an apartment.
Apartment living case study 1: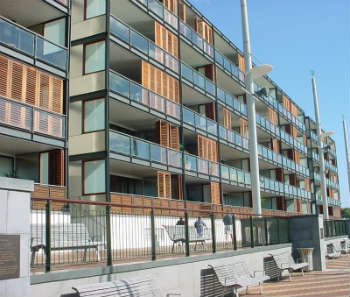 "I own and live in an apartment. I lived there by myself for five years, however I've now lived there with my boyfriend and our dog for three years. It was cheaper to purchase than a house, and the building maintenance costs are shared between all owners (body corporate).
"You can also build up a great community atmosphere with your neighbours. The cons are the noise due to having neighbours so close and possible neighbour issues, and the amount of time it takes to get things done, as all requests have to go through body corporate and be approved depending on the request. There's also a no-pet policy in a lot of the older buildings, whereas newer buildings usually allow them – in some cases they have to be small enough to carry.
"Depending on the building, there are also the body corporate costs, while mine is older – and cheaper –since it doesn't have a pool/gym/lifts, etc. Personally, I think that apartments are a great way to get onto the property ladder – especially in a place like Auckland, where housing is so expensive and more apartments are being built in the suburbs."
Benefits of apartment living compared with living in a house
Low maintenance
With nearly all apartments, maintenance is covered and taken care of by the landlord or the body corporate, meaning you never have to worry about finding an emergency plumber on a Sunday morning!
Amenities
Living in an apartment complex usually brings access to a large array of amenities that you might not get when buying a home. Potentially, this includes things like a common room, swimming pool, communal barbecues, a gym, covered parking and a security system.
Perfect for living alone
The size and simplicity of an apartment is ideal for those who are planning on living alone for the foreseeable future and are seeking less space and smaller bills.
Bills and fees
Apartment living usually costs you less for heating and cooling, and utilities such as water and electricity. This can help with budgeting.
Disadvantages of apartment living compared with living in a house include:
Less room
The first and foremost disadvantage of apartments is that they're generally smaller than the average traditional home. While this means you've less space to clean, that's only a small consolation for less living space. You also may not have access to a clothes line.
Privacy and noise
Due to the crowded nature of apartment buildings, the privacy afforded by apartment living is less than that of living in a house. You might overhear someone speaking (singing/shouting…) in the apartment next to yours, or they might hear you. Noisy neighbours are always more of a irritation when they're only a few feet away!
Personalisation
Because most apartments are owned or overseen by a landlord or body corporate, the extent to which you can decorate and personalise your apartment is potentially limited. Some common restrictions include being able to repaint, replace or change fittings, and the installation of air conditioning if the apartment doesn't already have it. On the other hand, if you own a home, you can redecorate to your heart's content!
Parking
Parking spaces can be at a premium in an apartment block, particularly if you don't have allocated parking.
Apartment living case study 2: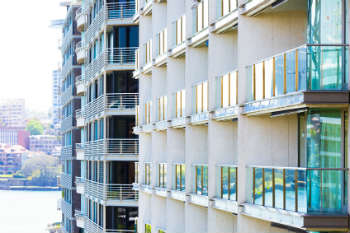 "In the apartment I live in right now, we struggle with having smokers in the other apartments. As they aren't allowed under their leases to smoke inside their apartments, they blow their smoke off their balconies – straight into our open windows. Regardless of whether you live in an apartment or a house, you always have the possibility of living next to noisy neighbours. But, in an apartment, those neighbours share a wall with you.
"But when I lived in a house that I cleaned by myself, I was exhausted from trying to keep it clean to my standards while studying full-time and working part-time and volunteering on the side. Now that I'm working full-time, I've just accepted that even in a small apartment, my standards have to slip a little and I have to be realistic about how clean it can be."
Buying an apartment – financial considerations
The type of lifestyle you want to lead, as well as what you prioritise when choosing a property, will play a big part in whether apartment living works for you. As you'll see from the examples above, there's more to it than sussing out parking and your tolerance for noise. One final – and very important – consideration when it comes to buying an apartment is working out how you are going to pay for it.
Before searching for a property, regardless of whether it's a house, apartment or something in-between, make sure you have a good understanding of what's happening in the home loan market. While the home loan rate is a big consideration, there's more to keep in mind. The level of support you receive from a lender through the house-buying process is extremely beneficial, particularly for first home buyers.
To help you out in your search, Canstar researches, rates and compares home loans in New Zealand. To look at these ratings, as well as our annual research report, just hit the button below.
Compare Home Loans with Canstar
---

About the author of this page
This report was written by Canstar Content Producer, Caitlin Bingham. Caitlin is an experienced writer whose passion for creativity led her to study communication and journalism. She began freelancing as a content writer, before joining the Canstar team.