Left your Christmas shopping to the last minute, with no time to get to the shops? Not a problem – use express delivery and avoid the crowds and the stress.
With the shops starting to get frantic, it's undeniable that many shoppers have left most – if not all – their Christmas shopping until December. If you want to steer clear of queues and elbow jostles, then online shopping might be the way to go. But with the big day just around the corner, it pays to stay alert to cut-off dates for sending those gifts overseas. The good news is, you still have time. The even better news? You have options on how to get it there.
Read on for Canstar's guide to delivering all those Christmas presents. Spoiler alert: A sleigh isn't one of the options.
When can you expect your Christmas parcels to arrive?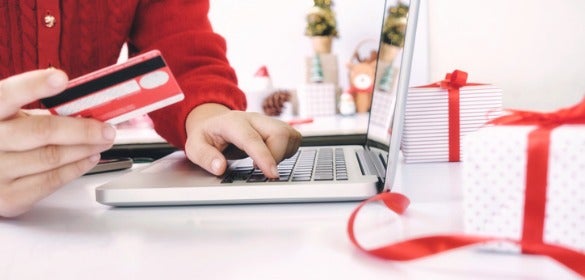 If you want your parcels to arrive in time for Christmas and are sending from New Zealand, here are the cut-off dates, based on how you are sending them and where you are sending them to.
Here are the cut-off dates if you are sending Christmas presents via NZ Post
Cut-off dates if sending presents within New Zealand
By Post -Thursday 19 December
By Parcel – Thursday 19 December
By Courier – Monday 23 December
Cut-off dates if sending presents to the South Pacific, Asia, North America, UK or Europe
By Air – Monday 2 December – This deadline has now passed
By Courier – Monday 9 December
By Express Courier – Friday 13 December
Cut-off dates if sending presents to the rest of the world
Rest of the World
By Air – Friday 29 November – This deadline has now closed 
By Courier – Friday 6 December
By Express Courier – Wednesday 11 December
Deadlines to be aware of with online shopping websites
If you're shopping for Christmas presents, you might also want to send it via an online shopping website. We've checked out a few popular online shopping websites, to find out the deadlines for getting them delivered in time for 25 December.
Delivery cut-offs when shopping with Mighty Ape
In 2019, mightyape.co.nz rated number 1 in customer satisfaction, according to Canstar Blue's customer satisfaction survey on online stores.  So, we've rounded up the delivery cut-off dates for this favoured online store.
If you're buying from Mighty Ape and sending to a New Zealand delivery address, make sure you check the following delivery options and cut-off dates.
Mighty Ape uses Courier Post for New Zealand options, but delivery times and cut-offs vary, depending on the type of product you are ordering and the type of delivery service that you choose. Have a look at the delivery timeframes, according to the website:
Overnight Delivery
Most In stock at Mighty Ape products are delivered overnight anywhere in New Zealand – provided the order is placed before the advertised cut-off time. Overnight Delivery cut-off is usually 3:30pm Monday to Friday, however, this is updated daily and the expected shipping date will be shown for you on the product page. Larger products take an additional 1–2 days to be delivered to the South Island. Rural Delivery and Dangerous Goods (e.g. fragrance, aerosols) may take an additional day for delivery.
Same Day Delivery / Evening Express Delivery
Same Day Delivery is available to some Auckland, Wellington and Christchurch suburbs. All items in your order must be In Stock at Mighty Ape for this option to be displayed. Same Day Delivery orders are delivered between 6pm and 9pm in the evening on the same day your order is dispatched.
If you are ordering on a business day and before the cut-off time, the option will be called "Same Day Delivery". If you are ordering after the cut-off time or on a weekend or public holiday, the option will be called "Evening Express Delivery".
Out of Stock Products
Products labelled In Stock with Supplier or Out of Stock can take longer to ship, as we need to order stock in from our supplier first. Delivery times can be a few days or a few weeks. A delivery estimate based on information provided by our supplier is displayed on the product page and in the Checkout.
Pre-order products
Pre-orders for most new release Games and DVD/Blu-ray are shipped from Mighty Ape before the official release date – to ensure delivery on the release date. A "Day One Delivery" message is displayed on the product page where this service is offered.
International Delivery Times
Mighty Ape says its delivery times are dependent on the destination country. An estimate is provided in the Checkout, once you've selected your delivery address. Alternatively, you can use the Delivery Estimator on the product page to get an estimate.
Why we love shopping online
According to the New Zealand Connected Consumers Report, in 2017, two thirds of Kiwis shopped online, nearly double that of 2006, when only 37% had shopped online. There are many advantages to online shopping, from convenience and wider ranges to easy price comparisons – and better prices at that.
However, keep in mind, that as of 1 December 2019, if you're shopping on an international site, in many cases you'll now have to pay GST. We've got further detail on this guide on the GST legislation changes, here.
Shopping online can also be a convenient way to shop, grab a glass of wine – or whatever your choice of seasonal poison is – a credit card and internet connection and you're away. Just a final word of caution with credit cards. Putting it on the plastic can make life so much easier in the first instance when it comes to paying for those additional seasonal expenses. Just don't let your seasonal time-saver become a New Year nightmare. It is crucial to keep that debt in control, stay on top of repayments and to make sure that the type of credit card you are using, matches your spending profile. To find out what your shopping profile is, have a read of this Canstar explainer guide, here. Once you've figured that out, you can narrow down credit card options to suit you, using Canstar's free credit card comparison tools. Just don't wait too long if you want to make those Christmas delivery cut-offs! Happy Christmas shopping!