Canstar's 2021 Car Insurance Award winner Tower shares some useful tips on what to do in the event of a road accident and how to save on your car insurance.
Cars are necessities for Kiwis, with around 4.3 million driver licence holders in our country of 5 million. And as there are lots of reasons for road accidents and prangs, that makes car insurance a necessity, too.
Each year, the leading factors contributing to fatal crashes tend to be loss of control, failure to keep left and speeding. Other reasons, such as diverted attention and not giving way, often led to crashes that involve injuries, both severe and minor. Road rage has also become more commonplace, too. Over the past decade, most of us have experienced tooting, yelling or tailgating.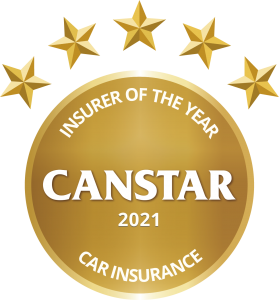 How to avoid road accidents?
First of all, be mindful of how fast you're driving. Speeding not only increases the likelihood of a crash, but also makes it more fatal for everyone involved. Statistics show that just a 1% increase in speed can result in a 4% increase in fatal crash frequency.
Secondly, keep your eyes on the road. Using a mobile phone while driving is illegal in New Zealand, as it's just as dangerous as drink driving. And yet, thousands of drivers are issued cell phone notices each year.
If you're new to driving or want to keep check of your driving habits, get help with a mobile app such as GoCarma. It connects to your car's in-built Bluetooth and tracks your driving habits, including smartphone use and speeding, to score your performance. Use the app every time you get behind the wheel to check your score and receive personalised feedback on how to improve.
The app is developed by Tower, but is available to all NZ drivers. If you are a Tower car policy customer, however, you could receive a discount on your car insurance excess for driving safely.

What to do if you have a road accident?
Accidents can happen, despite our best efforts. When they do, your immediate call to action is to pull over so your car is out of the way of other traffic. Switch on your hazard lights and turn off the ignition. Then call 555 if you're holding up traffic, or 111 if someone's been badly injured.
The next step is to assess the situation and write down as many details of what happened as you can. At the very least, you'll need the time, location and the registration plates of other vehicles involved in the accident. Once you have the details, inform your insurance company as soon as you can.
If you're a Tower customer, you can use the Zyte app to assess your car's damage remotely. This means you can get expert advice on whether your car is safe to drive away from an accident, and possibly avoid a trip to a panel beaters to get a quote.
If it turns out that your car requires repair, simply drop it off at one of Tower's priority repairers, who will get started on the work right away. Easy as!
Make sure you're with the best insurer
It's always a good idea to have your car insured, because the benefits aren't just limited to cover for your car's damages. For example, Tower offers 24/7 roadside assistance and covers the cost of a rental vehicle should you need one. For new cars, you get full replacement within two years.
That's why Canstar selected Tower as the winner of its Car Insurer of the Year Award. Tower combines excellent value for money in terms of products and service offerings, with outstanding customer satisfaction.
Click to learn more about Canstar's Car Insurer of the Year Award 2021
---
About the author of this page
Sally Gordon is Head of Propositions at Tower Insurance, where she develops and delivers strategic propositions that result in beautifully simple customer experiences. Sally led the team that launched GoCarma in December 2020.
Born and bred in New Zealand, Tower has been supporting Kiwis when they need it most for 150 years. In that time, Tower has grown to operate across New Zealand and the Pacific Islands, providing its customers with cover for their houses, cars, contents, businesses and more.
While heritage is important to Tower, it has also set its sights on the future. Its goal is to meet the 21st-century head-on with customer-focused, digital-first insurance solutions for Kiwis and their communities.
---
Enjoy reading this article?
You can like us on Facebook and get social, or sign up to receive more news like this straight to your inbox.
By subscribing you agree to the Canstar Privacy Policy