If you park your car and return to find it damaged in a hit and run, do you know what to do? We break down the steps you need to take if you're the victim of a hit and run accident, from reporting the incident to claiming insurance.
A sizeable dent in your car isn't something you ever want to return to after a day of retail therapy at the mall. Unfortunately, damaged cars are a common occurrence, especially in tight car parks. And, frustratingly, even more common is the sneaky hit and run: someone damaging your car without leaving a note. Or, even worse, a fake note, left to appease any witnesses!
An AA Kiwi driver survey found that 58% of drivers had returned to find their parked car damaged. And, in 88% of those cases, the person who caused the damage hadn't left a note. But it gets worse! The survey asked drivers what they would do if they damaged someone else's car and no one had seen them. Only 16% were prepared to admit it.
What should you do if your car has been damaged?
If you've come back to your car to find a huge scratch down the side of your door, it's easy to panic, but try not to. Plenty of us have been the victim of a hit-and-run.
The good news is that if you have comprehensive car insurance, your insurer should cover your damages, less your excess. If you don't have comprehensive cover, you'll likely have to track the other driver down through legal means and report the incident to police.
If possible, also report the incident to the owner of the car park, as they could have CCTV footage of the incident. This can help identify the person who damaged your car and wasn't considerate enough to leave their details.
Try to determine the extent of the damage. Document the incident by writing down the time when you discovered the damage, whether you heard any noises, like a crashing sound, and what time it might have occurred – perhaps your car was hit at night while parked on your street – and take photos of the damage.
Make sure all the damage is well documented before you drive off. Look for witnesses, too, not only other drivers, but people nearby, such as trolley collectors, if you're in a supermarket car park.
If you witness someone else damaging a parked car, do your bit and pass on any information you have to the innocent party.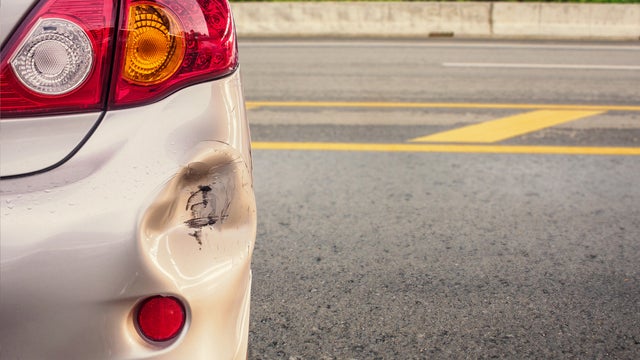 What will my insurance provider cover with my comprehensive policy?
Comprehensive insurance generally covers damage to your car from a wide range of sources, including other drivers and car accidents. If you know who did the damage or you find out with the help of police, your insurer will contact them or their insurer to manage the claim.
If you don't know the perpetrator, then you'll need to claim on your own insurance and pay an excess. Or if the damage is minor, foot the repair bill out of your own pocket.
If you don't have comprehensive car insurance, it's a good idea to ensure you're covered, as it can save you thousands in the event of an accident. Or if you are already insured, consider lowering your excess to cover smaller knocks and scrapes. Although this will increase your premiums, if you are routinely losing wing mirrors, it could save you money in the long run.
---
Compare car insurance with Canstar
Looking for great value car insurance? The grid below shows the 5-Star winners in the 30- to 49-year-old driver profile from our 2021 car insurance awards and ratings.
See here for our ratings methodology. The table above is an abridged version of our research. For the full results of our 2021 Car Insurance Ratings and Award, click here.

---
What if I've hit another car?
If you have damaged another car, be aware that under the Road Code, you must give your name, address and vehicle registration to both the owner or driver of any other vehicle that has been damaged. You must do this as soon as possible, but no later than 48 hours after the crash. You must also inform the owner of any other property that has been damaged. For example, you hit a car and a fence!
If, you can't find these people, you must report the accident to the police. Do this as soon as possible, and no later than 60 hours after the crash.
Keep cool at the wheel
According to research by Canstar, there is plenty of other road-user behaviour that get drivers hot under the collar. Chief among these are drivers who fail to indicate, drivers who weave in and out of lanes, and tailgating.
If you ever find yourself getting a raged while behind the wheel, try to chill. Here are a few tips on how to deal with driving stress, and protect yourself against aggressive drivers.
Treat others as you like to be treated. Try to be polite and courteous to other road users, even if those around you are struggling in that department. You have nothing to gain from being rude.

Keep track of time. Many road rage incidents are likely to occur when drivers are in a hurry and are frustrated. If you have somewhere important to be, make sure you allow enough time for a few delays along the way.

Make yourself comfortable. You're less likely to get wound up by other drivers if you're relaxed behind the wheel. Make sure your seat is in the most comfortable position and the temperature is just right. Maybe try listening to some relaxing music.

It's not all about you! Remember that some things are out of your control, including those annoying traffic lights that always turn red as you approach. You can't control the traffic, but you can control your reaction to it. Frustration, anger and impatience are often the biggest danger zones on the highway.
Compare car insurance providers for free with Canstar!
Enjoy reading this article?
You can like us on Facebook and get social, or sign up to receive more news like this straight to your inbox.
By subscribing you agree to the Canstar Privacy Policy