Canstar's inaugural Buy Now Pay Later awards reward the providers that deliver the best value for money and customer satisfaction.
Back in the day, before apps and smartphones, there was still lay-by. You hit the shops, chose what you wanted to buy, and paid for it in instalments. The kicker back then was that you didn't get your hands on the goods until you made your final payment. Roll on a couple of decades and thanks to Buy Now Pay Later (BNPL) schemes, we can all get our sticky mitts on a pair of new kicks or gadget instantly!
In NZ, we have a choice of BNPL schemes. While each allows you to purchase items in easy installments, they have very different fee structures and come with varied levels of in-store acceptance and customer service. So to help consumers make the right choice for their spending habits, Canstar has launched its inaugural BNPL awards:
Canstar's BNPL Awards
To decide which BNPL providers offer the best levels of value and customer service, Canstar's expert panel has researched two separate awards: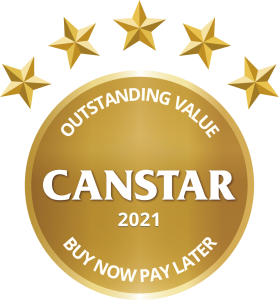 Outstanding Value BNPL Provider Award Winner: Zip

This award is based upon a sophisticated and unique ratings methodology, unique to Canstar. It compares price and features across BNPL providers, allowing consumers to make an informed choice about which one offers the best value and customer service.
The price component covers the cost associated with each BNPL provider, including any missed payment fees, ongoing (monthly) fees and establishment fees.
The features segment of the award is broken down into five different categories:
Account Management (repayment options, flexibility, etc)
Customer Support
Ease of application
Merchant Availability
Suitability Assessment (financial checks, etc)
From the results of the research, we presented a top Five-Star Rating and our Outstanding Value | Buy Now Pay Later Award to Zip.

BNPL provider Zip has over 2 million customers across Australia and New Zealand, and is available at over 1600 retailers, including The Warehouse, Noel Leeming, Bunnings Warehouse, The Market and Chemist Warehouse.
Zip features
Pay in four, fortnightly instalments
Credit of up to $1000
App and website
BNPL late fees
$8 fee for missing a payment plus f

urther $8 for every week the payment is outstanding

Payment fees are capped at $40
Outstanding Value Award | Find Out More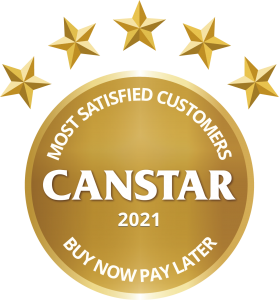 Most Satisfied Customer | Buy Now Pay Later Award Winner: Afterpay

Canstar's Most Satisfied Customer award is based on in-depth consumer research with BNPL users. For the award, we canvassed the opinions of 1192 Kiwis who use BNPL on a regular basis. They were asked about their providers and asked to rate their experiences across the following categories:
Overall Satisfaction
Communication
Customer Service
Fees & Charges
Mobile Application
Retailer Availability
Set-up and Application
Value for Money
Based on the results of our research, we awarded our Most Satisfied Customer | Buy Now Pay Later Award to Afterpay.

BNPL provider Afterpay is one of the most recognisable schemes in NZ.
Afterpay features
Pay over four instalments, every two weeks, from initial purchase instalment
Personalised credit limit
App and website
Digital Afterpay card that works like Google Pay or Apple Pay
BNPL late fees
$10 fee for your first late repayment; $7 fee every seven days if you continue to miss your repayments
Fee cap: for each order below $40, a max of one $10 late fee may be applied per order. For each order of $40 or above, the total of the late fees that may be applied are capped at 25% of the original order value or $68, whichever is less
How Kiwis use BNPL
Those in our survey were also asked to reveal what drives their satisfaction levels with their providers.
Overall, we discovered the most important factor for BNPL users is the ease of the application process and setting up an account. This is followed by the user-friendliness of the BNPL mobile app, and then value for money and fees and charges. The full breakdown of what matters most looks like this:
Anecdotally, BNPL is said to encourage spending, through ease of credit. And that's something that's reflected in our research: 39% of people admit to buying more goods due to BNPL, most users hitting their BNPL apps one or twice a month (55%).
But it's reassuring to know that as BNPL consumers Kiwis are a responsible bunch. Most of us have just one account 42%, and only 12% of users admit to having been charged late fees.
Used responsibly, BNPL is yet another tool to allow canny consumers to better manage their finances and control their cashflow. So if you want to join the BNPL revolution and are looking for the best providers that deliver great value and customer satisfaction, click on the button below to learn more about Canstar's inaugural BNPL awards.
---
About the author of this page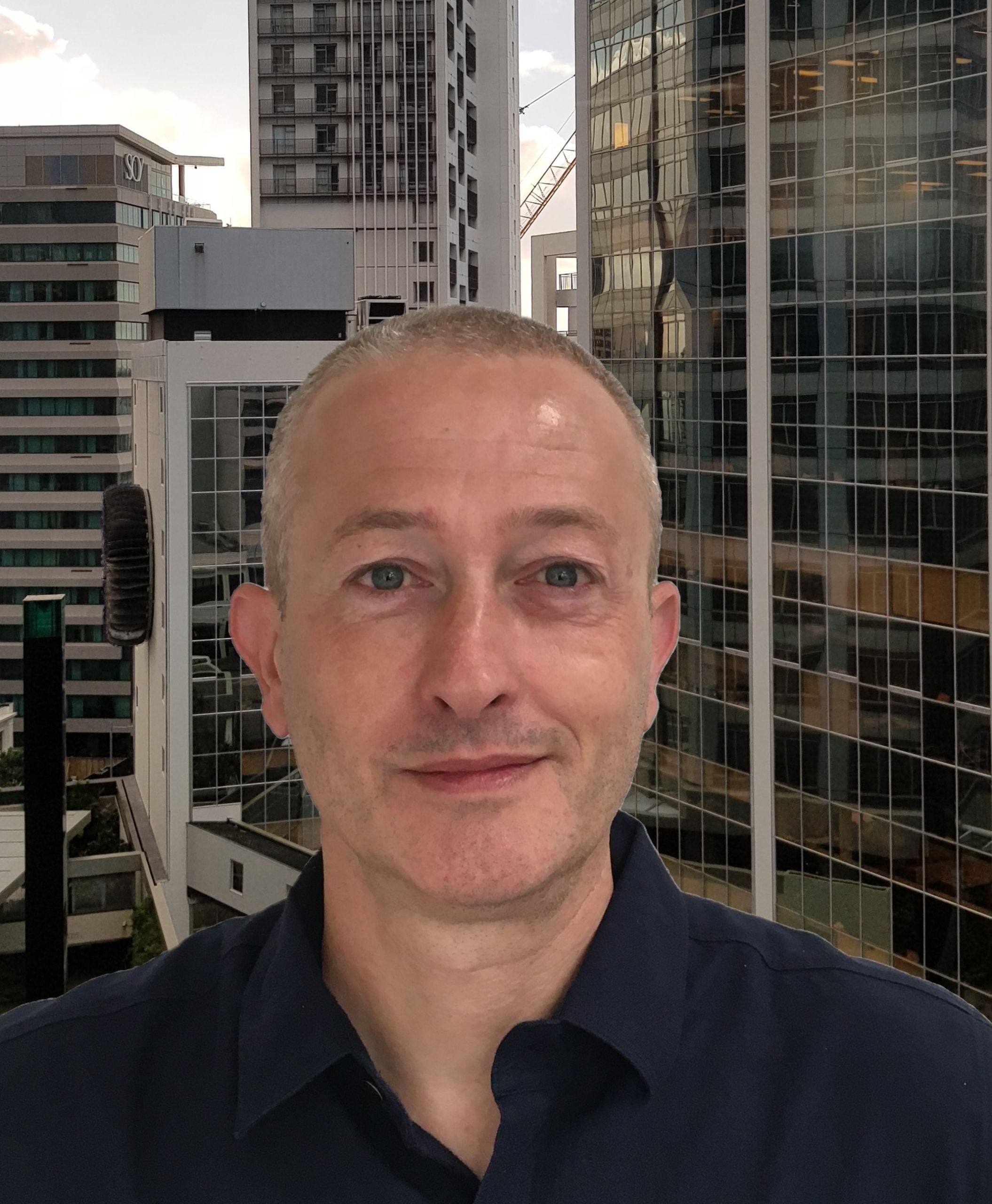 This report was written by Canstar's Editor, Bruce Pitchers. Bruce began his career writing about pop culture, and spent a decade in sports journalism. More recently, he's applied his editing and writing skills to the world of finance and property. Prior to Canstar, he worked as a freelancer, including for The Australian Financial Review, the NZ Financial Markets Authority, and for real estate companies on both sides of the Tasman.
---
Enjoy reading this article?
You can like us on Facebook and get social, or sign up to receive more news like this straight to your inbox.
By subscribing you agree to the Canstar Privacy Policy