Kiwis are well ahead of the pack with financial literacy, beating out most of the world with their knowledge of money matters.
The OECD/INFE International Survey of Financial Literacy Competencies pools nearly 52,000 people across 30 countries (17 of them OECD), including 1300 New Zealanders between the ages of 18 and 79.
While the French are the overall financial literacy champions – scoring 14.9 out of a possible score of 21 – New Zealanders ranked highly in fifth place with 14.4 points. The survey measured respondents around areas such as having a budget, being an active saver, paying bills on time, having long-term financial goals, and whether they borrowed to make ends meet.
But New Zealanders sold themselves short with their financial knowledge; only a third rated themselves higher than the average. That said, two thirds of the New Zealand participants scored higher than the average test score. On average, just over half of the adults (56%) in the study achieved the minimum target scores.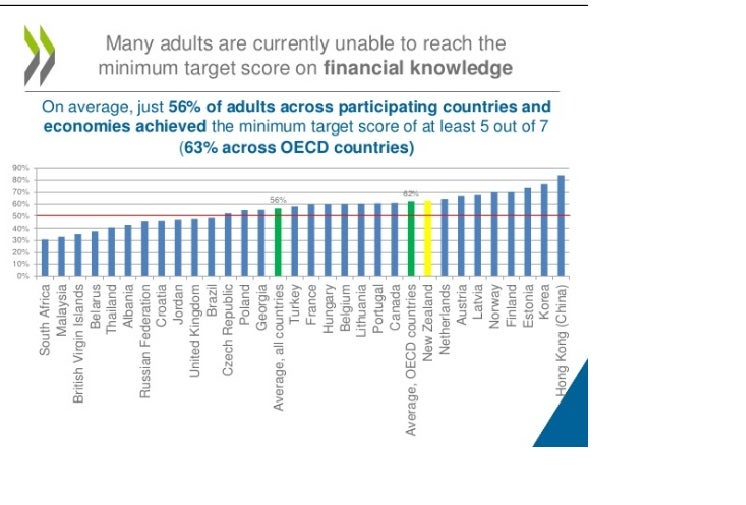 The results suggest New Zealanders are good at thinking about the long term but it's more important to ask whether this translates into action, retirement commissioner Diane Maxwell says in a media release.
The challenge is finding ways to cope with current financial demands while planning financially for the future, Ms Maxwell says.
Basic financial knowledge lacking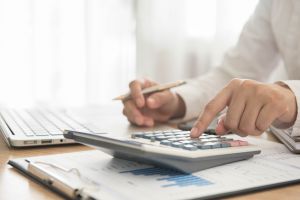 Many adults lack "basic financial knowledge" around calculating simple interest and compound interest, the survey reveals.
On average, only 58% of the participants could calculate simple interest – for example the value of an amount increasing by 2% every year. The results were marginally better among the OECD participants; 65% knew how to calculate simple interest.
Numbers drop even further when it comes to understanding of compound interest. On average, only 42% of adults were aware of the benefits of compound interest again, slightly better in the OECD group – at 48%.
And less than half of the respondents have a household budget.
Canstar's Best Budgeting & Saving Tips
Getting financial lessons in schools: policy suggestions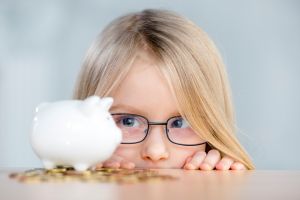 Starting financial education early – ideally in schools – is among the policy recommendations in the survey report.
Other recommendations include increasing budget tools and improving access to comparisons for financial products.
Canstar compares and rates various financial products across a range of services, including home loans, KiwiSaver and Term Deposit which can be used towards research.
New Zealand Government pushing for financial literacy
The New Zealand Government is pushing for greater understanding around finances. In September, the Commission for Financial Capability held a "Show me the Money Week", with various events around the country, to stress the importance of saving for retirement.
A poll of 1300 New Zealanders taken during money week revealed 86% are concerned about financial security when they reach 65. Nearly two-thirds of the respondents are in the 50 to 64 age bracket.
The Financial Markets Authority is also honing in on financial literacy around KiwiSaver, encouraging investors to research the relationship between their KiwiSaver returns, fees and overall investment results.
The OECD/INFE International Survey of Financial Literacy Competencies survey findings were announced at the inaugural NZ-OECD Global Symposium on Financial Education. The symposium will cover how to plan financially.
Canstar's Best Budgeting & Saving Tips