"It's my view that one of the biggest challenges the world faces in the coming decades is feeding its rapidly growing population. Growing markets, particularly in Asia, and the expansion of the global middle class, means that agricultural producers will struggle to keep up with demand.
The way I look at this is that the world's biggest challenge can also be a nation's biggest opportunity. As a nation of over 4 million that feeds around 40 million, New Zealand is well placed to take hold of this opportunity."
The above comment was made by the Minister for Primary Industries, Nathan Guy, back in 2013. And there is no doubt that successful agribusiness relies on the ability to understand the operation of competitive global markets, international marketing and the management of complex and extended supply chains.
Kiwis are constantly improving their agri practices through technology solutions such as herd improvement, software, pasture mapping and management. As such, there are new collaborations up and down the agricultural value chain – from seeds and grains, to animal genetics, quality control, farm assurance systems, farm equipment and technology.
Here are just a few of the New Zealand agribusiness innovations that have helped to shape our current industry.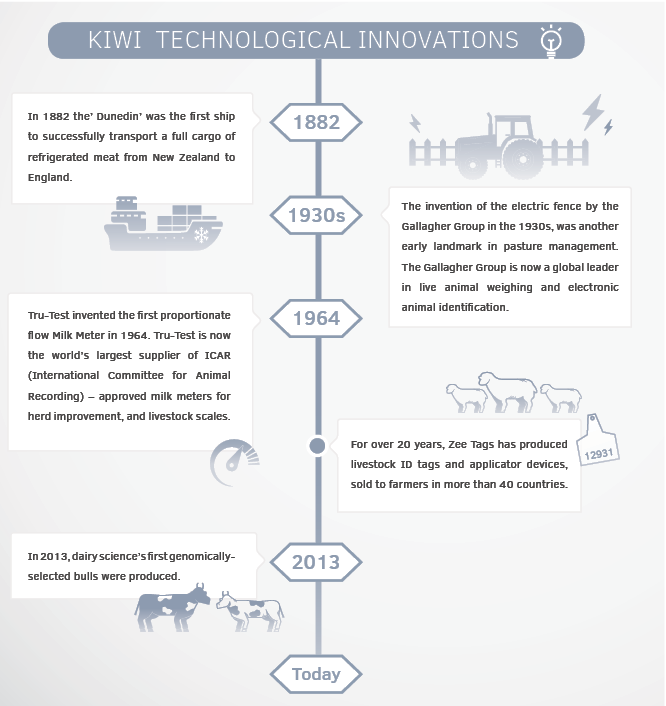 Please note: this is by no means a comprehensive list of Kiwi agri inventions and innovations – we don't have space for that!
Plenty of encouragement for innovation
Innovation is firmly on the agenda of both government and industry, with a number of opportunities for agribusiness development. The government invests around $30 million annually into research and development focused on improving agricultural productivity and profitability.