Southern Cross Pet Insurance is a standout performer in the pet insurance market once again, winning a Canstar Most Satisfied Customers Award for the second year running.
Canstar asked Southern Cross Pet Insurance General Manager Anthony McPhail, to see what sets Southern Cross Pet Insurance apart in the pet insurance market, and to get some tips on how Kiwis can find the right pet insurance for their pets.

What sets Southern Cross Pet Insurance apart in the pet insurance market?

 At Southern Cross Pet Insurance we love looking after New Zealanders' pets. We're working hard to help more Kiwi pets live happier, healthier lives. And here's why Kiwis and their pets love us back:
–          We're here for the whole family
Southern Cross has been looking after Kiwi families with health insurance for more than 50 years and we know how important pets are too.
–          We do more to look after all pets
We're trusted partners of the New Zealand Veterinary Association and SPCA. When you choose Southern Cross Pet Insurance, you're supporting their amazing work and the wellbeing of animals throughout New Zealand.
–          We make pet insurance affordable
We offer simple plans with co-pay options and discounts to reduce premiums. You can also add extra cover like dental.

What are the benefits of having pet insurance?

Pets are part of the family, but unlike the rest of us, they don't get free hospital care or ACC. Vet bills can easily cost thousands of dollars, which many of us simply can't afford. That's when pet insurance comes to the rescue.
Pet insurance can save you from financial stress or needing to make a tough call, and ensures your pet gets the treatment they need.

How do consumers decide which pet insurance policy is suitable for their pet?

You can choose from two types of cover with Southern Cross Pet Insurance.
PetCare offers comprehensive insurance, covering sickness and accidental injury. There are four levels of cover to choose from: $2,500, $5,000, $10,000 and $15,000 per year. Our most popular plans are our $5,000 and $10,000 cover levels. A pet's breed is a key factor of what level of cover an owner should consider, as some breeds will have higher medical costs.
You can start your pet on any PetCare plan from six weeks to six years of age.
AcciPet is a budget-friendly option for nasty events. AcciPet covers accidental injury only, up to $5,000 per year. There is no upper age limit when signing up.
Once they're insured with us, we will provide cover throughout their lives.

When is the right time to insure your pet?

The best time to get insurance for your pet is when they are a puppy or kitten. That's because illness and injury can occur at any time in a pet's life.
Pet insurance does not generally cover pre-existing conditions. By insuring your pet from a young age, you can get them covered before there are any signs or symptoms of pre-existing conditions.

What do pet owners need to consider with disclosure before taking out an insurance policy?

Pet owners complete a pet health declaration when they sign-up to pet insurance. They answer a set of questions regarding their pet's health history.
Canstar's verdict: Why Southern Cross Pet Insurance is a Canstar Most Satisfied Customers Award winner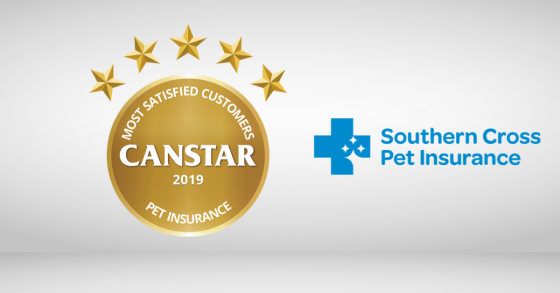 Southern Cross Pet Insurance has received 5-stars across multiple drivers of satisfaction that Canstar rates providers on.
"For the second year in a row, Southern Cross Pet Insurance has won a Canstar Most Satisfied Customers Award – gaining 5-stars in ease of claim, quality of service, value for money and overall satisfaction," Canstar NZ general manager Jose George says.
"The fact Southern Cross Pet Insurance has won an award twice since the award was established last year, highlights that this pet insurer excels when it comes to customer satisfaction," says Mr George."