The Clean Car Discount has helped Kiwis save thousands on new cars. However, there are some major changes on the horizon, including slashed benefits for electric vehicles and some relief for petrol car owners. So what is the Clean Car Discount and what new changes should you know about?
Electric cars are an increasing presence on our roads. Growing climate concerns and rising fuel prices have driven Kiwis to alternative vehicles in record numbers over the past few years.
Despite long wait lists, clean cars accounted for just over a third of all new registrations in 2022. The rising popularity of EVs and an increasing variety of models has seen some brands lowering their prices.
The most popular EV in the country, the Tesla Model Y, starts from $67,500. The GWM Ora was introduced to NZ in April, and at $42,990, it's currently the cheapest EV in the market. And while the Ora is the latest in a series of "affordable" EVs, $43,000 still isn't exactly cheap for a new car.
To help make electric cars more affordable, the government introduced the Clean Car Discount, to help lower the entry point for EVs. And, so far, it has been working. Since the discount came into effect, EV sales have skyrocketed. So what is the Clean Car Discount, and what upcoming changes should you know about?
What is the Clean Car Discount?
The Clean Car Discount is a government initiative, originally introduced in July 2021. Initially, it provided fixed cashback rebates for consumers that purchased electric (BEV) and hybrid (PHEV) vehicles. The rebates as of July 2023 are:
EV: New car: $7,015 | Used car: $3,507.50.
PHEV: New car: $4,025 | Used import $2,012.50.
As electric and hybrid vehicles are typically costlier than internal combustion engine (ICE) vehicles, the initiative was designed to encourage Kiwis to opt for carbon-friendly vehicles by making them more affordable.
And the sales data suggest it's working: 2022 was the biggest year on record for EV and PHEV sales overall. Last year 16,223 new EVs were registered in New Zealand, versus just 6897 in 2021.
However, the new government plans to make sweeping changes to the Clean Car Discount by the end of the year, removing many of the financial incentives and penalties associated with purchasing EVs and utes.
It's also important to note that from March 31, 2024, EV users will also have to pay the road user charge (RUC), which will significantly increasing the cost of operating an EV.
RUC fees go towards maintaining and improving the road network, and are currently paid by those who drive diesel vehicles. Petrol vehicle drivers pay their part through tax on gas. However, from April 2024, EV car drivers will also have to contribute to the road network by paying RUCs. Currently, the RUC is priced at $76 per 1000km, which will increase the cost of using an EV to get around.
What does the Clean Car Discount cover?
Alongside the rebates mentioned above, the Clean Car Discount currently includes:
Used vehicle rebates
In 2021, used EVs had a rebate of $3450, however, in 2023 that increased to $3507.50. The increase was part of the government's plan to encourage low and middle-income New Zealanders to buy a low-emission car. However, an increase of substantially more than $57.50 may have had a better chance of making that a reality.
Disability vehicles
The Clean Car Discount takes those with disabilities, and their caregivers, into account. New and used low-emission disability vehicles qualify for a special rebate. BEVs qualify for a $11,500 rebate, and PHEVs qualify for a $5750 rebate.
New vehicle rebates and fees
New vehicles that emit between 1-100g of CO2 per km currently receive a rebate of $1700. However, for each gram of CO2 below 100g adds an extra $57.50 to the rebate.
Vehicles that have a CO2  output of 101-149g do not receive a rebate or a fee. Vehicles with an output of 149-192g of CO2 receive a fee, with each additional gram of over 150g incurring a fee of $57.50.
The maximum fee for vehicles that produce 260g (or higher) of CO2 is $6,900.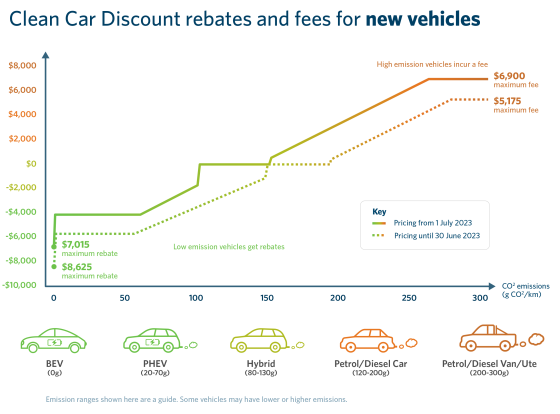 Road user charges
Currently, electric vehicles are exempt from road user charges. However, that's set to change. At the end of March 2024, light EVs (3500kg or less) will lose their exemption, with heavy EVs (more than 3500kg) set to follow at the end of December 2025.
For light EV drivers, this will mean increased costs from next April. Current road user charges are $76 per 1000km, GST inclusive. So if you're planning to purchase an EV, you need to budget for the introduction of these extra charges from early 2024.
What else do I need to know?
Aside from what's mentioned above, to qualify for the current Clean Car Discount your vehicle must:
Cost less than $80,000 including GST and on-road costs.
It's being registered in New Zealand for the first time.
Have a safety rating of 3-stars or more on the RightCar website at the time of registration
---
Compare car loans with Canstar
The table below displays some of the unsecured personal loan products available on Canstar's database for a three-year loan of $10,000 in Auckland (some may have links to lenders' websites). The products are sorted by Star Rating (highest to lowest) followed by company name (alphabetical). Use Canstar's personal loan comparison selector to view a wider range of products on Canstar's database. Canstar may earn a fee for referrals.
Compare car loans with Canstar
---

About the author of this page
This report was written by Canstar Content Producer, Caitlin Bingham. Caitlin is an experienced writer whose passion for creativity led her to study communication and journalism. She began her career freelancing as a Search Engine Optimiser, before joining the Canstar team.
---
Enjoy reading this article?
You can like us on Facebook and get social, or sign up to receive more news like this straight to your inbox.
By subscribing you agree to the Canstar Privacy Policy