What if interest rates go up? What if I lose my job? What if the house I've bought doesn't appreciate in value? Lying awake at night with these ghoulish thoughts rattling around in your head could signal a predisposition to MS, or mortgage stress.
What is mortgage stress and how do I know if that's what's really ailing me? In general terms, mortgage stress is defined as directing more than 30% of your pre-tax income to home loan repayments. If that's you, the alarm bells should be starting to ring. But before you reach for the headache tablets remember that every situation is unique.
Take this Quick Mortgage Stress Test
Do you …..
Pay more than 30% of your pre-tax salary to your home loan?
Pay interest-only on your home loan?
Struggle to find money for utility bills?
Pay those bills with your credit card(s)?
Pay only the minimum due on your credit card(s)?
Regret buying that fancy car with the balloon payment at the end of the lease?
Expect a relationship breakup could be on the cards soon?
If you answered 'yes' to the majority of these questions, Mortgage Stress has most probably set in, blocking the way to getting ahead. At the risk of stating the obvious, mortgage stress directly concerns your ability to pay your mortgage because this is the largest debt you have and its repayment spreads out over 25 years or so. And a lot can happen with interest rate fluctuations and your own personal circumstances during that time.
 Compare Home Loans Interest Rates
For example: what if …
A couple earns $150,000 before tax and they apply for a home loan of $350,000. 30% of their pre-tax income is $45,000, or $3,750 a month. The monthly loan repayments on a home loan of $350,000 (based on a floating interest rate of 6.25% pa.) are approximately $2,310 a month. That's about 18.5% of their pre-tax income which should give them some flexibility in their budget if they need it.
But, what happens if one of the couple stops work for some reason: because of illness, to look after parents or children, or because they lose their job. Suddenly their income changes from $150,000 to say $85,000. 30% of their pre-tax income is now $25,500 or $2,125 a month while their monthly repayments are still $2,310.
The reality is they may find themselves in trouble if they haven't planned well for these changes and put aside savings or taken out insurance.
Home Loan Rate Roundabout
The current official cash rate of 2.25% is extrmeely low and potentnially gives real estate agents ammunition to spruik a catchphrase of 'There's never been a better time to buy'.  But keep in mind that, whilst the RBNZ has been in a  easing phase of late, that will change over the course of your loan's life.
Of course, the rates we pay for loans are a little higher than the official cash rate. Canstar analysis has calculated that the average floating home loan rate at the moment  (based on the products on the Canstar database) is 5.73%. Our database now shows there are plenty of low rate home loans in the marketplace, down to around 5.45% floating at time of writing and fixed-term deals out to four years at leass than 5%.
But: I would think if you needed rates to be this low in order to borrow and keep repayments manageable, you will definitely struggle if and when rates go up, say, another 2% or 3%. Instead of providing more borrowing power, a low rate environment is the perfect time to consolidate your mortgage position and repay extra as a buffer should anything happen in your life further down the track.
The important thing to remember is that the life of your loan is likely to be many years, during which time rates can skyrocket or plummet with scant warning. Erring on the safe side in the beginning may well be a wise move against the dreaded mortgage stress which can impact every nook and cranny of your financial existence. Just because you can borrow a bigger amount doesn't mean you can afford to pay that amount off, particularly when life's curveballs and rising rates put your theory to the test.
House prices out of reach?
It's almost a cruel irony that interest rates are at their lowest while property prices, by and large, continue to rise in most capital cities in the country, as per the median residential house price data from the REINZ, below: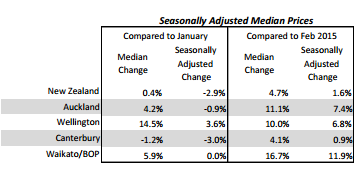 No-one can predict the future with 100% accuracy but if we learn by history we can factor in measures that will deal with mortgage stress if it rears its ugly head later on.