Whether you're an avid TikToker or casual texter, your phone is probably always on you. Phone insurance can help keep your most valuable pocket-asset safe.
What is phone insurance?
Phone insurance is designed to cover the cost of repairing or replacing your phone if it's damaged, misplaced or stolen. Phone insurance also covers potential faults after the manufacturer's warranty has expired.
---

What does Spark mobile insurance cover?
Accidental damage
Spark will repair or replace your phone, depending on how badly damaged it is. Your mobile is covered for physical damage, or destruction, by an unforeseen event.
Accidental loss or theft
Spark will provide up to $1000 of unauthorised usage on your mobile phone within New Zealand. Other benefits include:
Replacement of mobile phone
Up to $500 cover for temporary phones while you're overseas
How much does Spark Mobile Insurance cost?
Spark has two different Mobile Insurance plans, covering two price brackets:
$8.95/month for phones that cost up to $799. An excess of $150 applies
$12.95/month for phones $800 and above. An excess of $195 applies
---
What does Provident phone insurance cover?
Electronics retailer PB Tech has teamed up with Provident Insurance to provide customers with extra protection outside of the typical manufacturer's warranty. Benefits include:
Cover for accidental damage, loss, theft and fire
Up to three claims throughout the duration of the policy
No excess payable
How much does Provident phone insurance cost?
Electronic insurance plans can be purchased at both PB Tech's online and physical stores as part of a combo deal. Prices vary depending on which product you buy. Policies can not be purchased for electronics you already own.
---

What does AppleCare cover?
AppleCare+ provides mobile phone insurance for iPhones. Benefits include:
Up to two years of 24/7 priority access technical support
Up to two years coverage of unlimited incidents of accidental damage
Same day service in most major cities worldwide
Express replacement service
Battery service if your phone retains less than 80% of its original charge capacity
Global repair coverage if you damage your iPhone while overseas
How much does AppleCare+ cost?
AppleCare+ is available for purchase on a two year plan. The cost of a two year insurance plan depends on the price of your iPhone.
iPhone 14 Pro, iPhone 14 Pro Max – $349
iPhone 14 Plus – $319
iPhone 14, iPhone 13, iPhone 13 mini, iPhone 12 – $269
iPhone SE (3rd gen) – $139
AppleCare+ has some additional fees including:
$49 service fee for screen or back glass damage
$169 for other accidental damage
AppleCare+ can be purchased at the same time as your iPhone, or within 60 days of the original purchase.
---
Can I insure my phone another way?
If you don't feel like it's worthwhile taking out an insurance policy for just your phone, you may be able to add it to a contents insurance policy instead. Contents insurance plans that can cover your phone include:
Vero 'maxi' contents insurance policy, cover up to $3000*
AA contents insurance policy – cover for accidental damage to mobile phones
Tower 'premium cover' contents insurance – unlimited cover for mobile phones
Some renter's insurance policies also cover mobile phones. Applicable insurance policies include:
Any Tower renter's insurance policy
AA renter's insurance
AMI renter's insurance
*Intended as a guide only. Visit insurer's website to verify terms and conditions.
Is phone insurance worth it?
Phone insurance is a great option for people in certain situations, but it may not be ideal for everyone. If you're constantly losing, damaging or misplacing your phone, then phone insurance could be a good option. Similarly, if your phone is a higher-end model, insuring it could be a smart decision.
Some phone insurance is offered as an optional extra when you purchase a phone. But if you already have contents insurance, it's worthwhile checking to see if you phone is already covered. Some contents insurance policies have the option for a phone to be added, but this can incur extra premiums.
View Outstanding Value Home & Contents Insurance Awards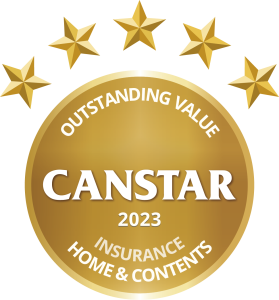 ---
About the author of this page
This report was written by Canstar Content Producer, Caitlin Bingham. Caitlin is an experienced writer whose passion for creativity led her to study communication and journalism. She began her career freelancing as a content writer, before joining the Canstar team.
---
Enjoy reading this article?
You can like us on Facebook and get social, or sign up to receive more news like this straight to your inbox.
By subscribing you agree to the Canstar Privacy Policy