All the cryptocurrency and Bitcoin news and insights you need to know from Brave New Coin.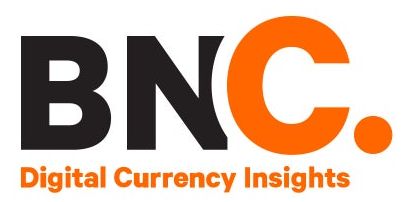 Bitcoin's slide continues
A difficult second half of the week in digital asset markets has ended with the Bitcoin price down and many large-cap assets trading red and losing value. Bitcoin slid 9% while Ethereum (ETH) was down 2%.
Uncertainty surrounding China's regulatory approach to cryptocurrency continues to weigh the market down. Recently, the popular Chinese messaging service Weibo banned several influential cryptocurrency accounts.
The owners of the accounts were unable to access them, and users attempting to visit the pages were met with a message stating the accounts had violated Weibo guidelines and "relevant laws and regulations". It appears the blocked accounts were actively involved in promoting crypto exchanges, which are banned in China.
Big Bitcoin trouble in China
Wu Blockchain reports that the Weibo accounts in question had as many as 5 million followers. In the aftermath of the account bans, the Bitcoin price dropped around 5%.
In its weekly newsletter, Wu Blockchain reports that a security company consisting of former Chinese police officers predicts that, within three months, a judicial interpretation of the criminal elements of crypto within China will be released. The group predicts over-the-counter merchants, transaction-matching services, mining, and ICOs will all be made illegal.
Bitcoin's week, however, began strongly, when central American nation El Salvador announced plans to become the first country to adopt Bitcoin as a reserve asset and accept it as legal tender.
Speaking at the Bitcoin 2021 event in Miami, Nayib Bukele, the president of El Salvador, said he plans to introduce a law to make Bitcoin acceptable alongside the country's fiat currency. Bukele revealed that El Salvador will be partnering with Strike, a lightning network-powered Bitcoin version of the payment app Venmo, to power payments.

Market cap report
Across the board, cryptocurrencies have continued their decline: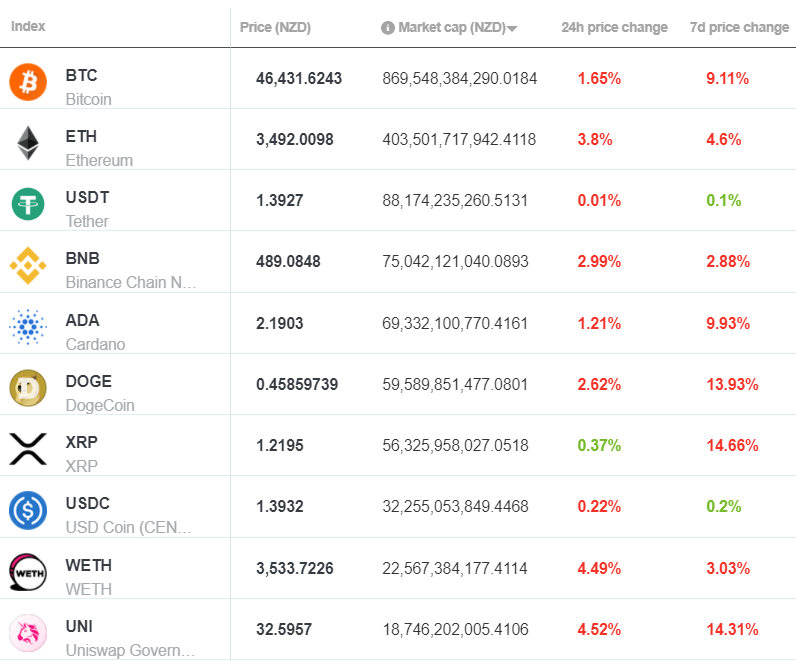 For the full market cap rundown, click here.
Binance stock tokens
Cryptocurrency exchange Binance is offering tokens for Coinbase, Tesla and Apple stock on its platform. So what are these synthetic digital assets, and are they the same thing as owning the actual stock?
When crypto exchange Coinbase listed on NASDAQ in April, Binance offered COIN, a tokenised version of Coinbase stock. Binance also offers tokenised versions of Tesla, Microsoft, MicroStrategy and Apple.
Called synthetic digital assets, they are marketed as tokenised versions of real-world stocks. However, the legal framework regarding these assets isn't clear. As with most things in crypto, the approach seems to be build and launch first, then deal with regulators if and when they catch up.
What are Binance stock tokens?
According to Binance, their stock tokens represent the shares (or fraction of shares) of the public companies they are minted for. The exchange claims that their stock tokens are fully backed by shares held by a German asset management company, CM-Equity AG.
CM-Equity AG is a licensed financial service, rather like a stock broker, which is overseen by Germany's version of the Financial Markets Authority .
As for settlement, you can redeem the tokens for Binance's dollar-backed stablecoin, BUSD. Binance states customers in any stock token purchase "are transacting with CM-Equity AG as your counterparty".
However, this doesn't mean that once you've purchased your coin tokens you can talk to the German company about them. CM-Equity is solely an infrastructure provider and doesn't answer questions on services for end users.
How do Binance stock tokens work?
Once you open a trade in stock tokens, Swiss company Digital Assets AG buys the equivalent amount of the company's shares on behalf of CM-Equity AG. Further, Digital Assets mints a token on its private blockchain.
Next, the shares purchased by Digital Assets are locked in a security account associated with CM-Equity AG. Once this is complete, Digital Assets sends the minted token to Binance via CM-Equity.
While this is a neat solution that allows for these tokens to access new liquidity, one potential problem with the Binance stock token model is that when you own a stock token you don't actually own any shares in the original company.
However, Binance says you will benefit from the movements of the underlying share, plus you also get dividends. Essentially, you're making an indirect bet on the underlying company shares.
For more on the subject, click here.
Aditya Das
Brave New Coin
Economist Analyst/Writer
Subscribe to Brave New Coin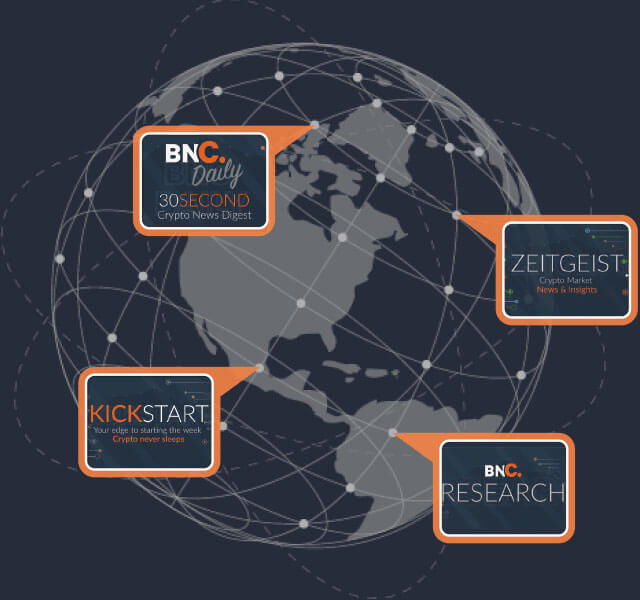 Boost your cryptocurrency and blockchain market intelligence. Brave New Coin's suite of newsletters delivers curated crypto content for traders, analysts, investors and digital asset enthusiasts. From daily news and weekly wraps, to deep dive research and the latest market trends – click here to stay informed.