Weddings are memories for the making and with this comes the ever-mounting pressure to purchase impressive wedding gifts. So, we've created a guide to help you out!
Gone are the days where you could send the happy couple off with a new toaster. Modern couples usually live together before getting hitched, so have often already accumulated everything they do and don't need.
Nowadays, it tends to be all about the cash. Some couples feel pressured to compete with the other extravagant, Insta-worthy weddings out there. These weddings don't always come cheap, so couples may decide they'll benefit from monetary weddings gifts, to help pay for their big day or subsequent honeymoon. It's common for the modern couple to either set up a wedding wishing well or an online wedding gift registry, meaning other guests may be able to find out how much you contributed. 
So, how much do you spend? We've broken it down to cover common scenarios you will be faced with as a wedding guest: A wedding wishing well, gift registry or a destination wedding. 
Psst…Paying for wedding costs with a credit card? Make sure you compare credit cards to get the best deal to suit you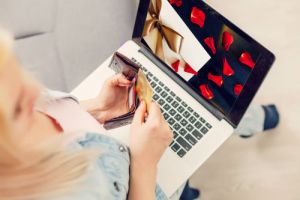 What is a wedding wishing well & how much should I contribute?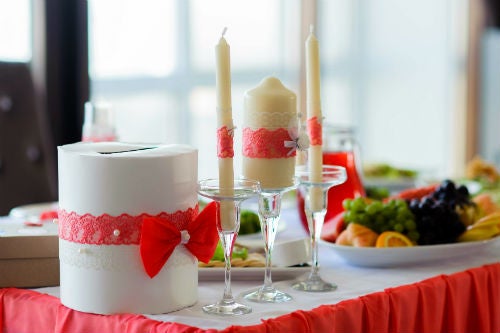 Compare credit cards with Canstar
A wedding wishing well is a donation box where you put a wedding gift – in the form of cash – while attending weddings. The money you place in a wedding wishing well typically goes towards the couple's honeymoon, new home deposit or just offsets the exorbitant cost of their big day. The amount you give also depends on whether you've helped contribute to the wedding in other ways.
If you aren't too close to the newlyweds, the rule of thumb is that the wedding gift should amount to the cost per head, so, however much it costed to host you. While you may not be certain of how much the bride and groom are putting into the wedding, you can get a general idea from the location and tone to the wedding. But, be careful, as any less than $50 can be frowned upon. According to the deputy editor of The Knot.com – Kristen Maxwell Cooper – if you're a friend or a relative, $110 to $180 (NZD) is an appropriate amount to give as a wedding gift. While, a closer relative could expect to give up to $220.
While giving cash may seem like an easy way out to some, Amanda from Southern Bride – a practical wedding planner site – says majority of the budding brides and grooms she helps, choose the wedding wishing well option for their wedding gifts. Therefore, we recommend to not give physical wedding gifts if brides and grooms have asked for cash. While it may seem thoughtful, it's best to respect their wishes.
What is a gift registry & how much should I spend?
A gift registry is essentially a wish list of possible gift options – picked out by the couple.  When guests purchase a gift from the list, the registry system provider marks it off the list. The purchaser can usually be anonymous, if requested. This helps ensure couples get the wedding gifts they really want and helps to avoid double-ups. More and more couples are directing guests to online gift registries. Guests can either choose from a range of wedding gifts to buy outright, or contribute part of the funds toward more expensive "goal" items the couple have their eyes on.
In terms of the price you should spend on a gift registry, the same rules apply as the wedding wishing well. You could be expected to spend about $110 to $180 if you are a friend or relative and up to $220 if you're closer to the bride or groom.
Smith & Caughey's and Stevens are some of many popular New Zealand stores which offer gift registries. Smith & Caughey's online has a large range of offers where if you register certain brand's items to the value of a specific price, you will receive a voucher or gift from that brand on top of the registered gifts. For instance, if you register Villeroy & Boch items worth $550 or more altogether, you will be gifted a $100 voucher. And, when you register at least $500 worth of gifts from Lenox, you'll be given a Lenox Jubilee Pearl large photo frame, which usually costs $125.
Smith & Caughey also currently has a great deal going where if you register $100 worth of items on your gift registry, under certain conditions, you will retrieve $100 credit on a new Smith & Caughey's card.
Stevens online has a different approach in giving back when it comes to gift registries. Their conditions state that at the closing of your gift registry, you'll be gifted an additional e-Gift card valued at 10% of the total amount spent in your gift registry.
They also offer free gift wrapping, message cards and discounted shipping costs. The discounted shipping costs feature means the items in your gift registry can be sent in bulk for half the price of the usual shipping cost per item.
Exceptions to the wedding gift budget rule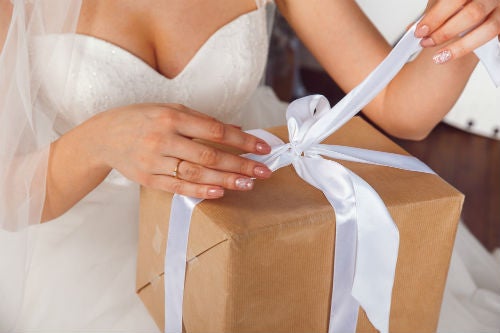 However, there are a few exceptions to these gift-giving guidelines. Couples with destination weddings generally understand guests have had to spend on travel and accommodation and therefore expect less on wedding gifts. They may set up wishing wells only, which are options for guests who want to gift a bit extra, or for those unable to make the trip but still want to contribute. And, couples getting married later in life tend to be less demanding, especially if it is a second wedding. Of course, it does make things easier if the couple getting married have already attended your wedding, as you can always be guided by the amount they spent on you.
We hope our guide on how much to spend on wedding gifts has helped minimise the stress weddings can sometimes bring. Because, despite the excitement of it all, there's no denying weddings can come with some pressure! That's why we – here at Canstar – compare financial products to help you during stressful times. Purchasing a short-term  credit card with low or no fees is a great option during wedding season. If you make payments in time, you will be able to purchase that perfect outfit and impressive wedding gift without having to pay any interest at all. You can compare credit cards below. Now, kick back, relax, and enjoy everything the season of celebrating love entails!
Compare credit cards with Canstar