If you drive a petrol car you're probably feeling the sting of paying at the pump. But why are petrol prices so high at the moment? Canstar explains.
Petrol prices have increased significantly since the start of the year. Add on the cost of living crisis, and many people find themselves stuck in a tight spot.
Fuel tax
You're not just paying for petrol when you fill up. Most Kiwis would probably be surprised at how much of their money goes towards tax at the pump, especially since the end of the fuel tax subsidy, at the start of July.
Currently the amount of tax included in the price of a litre of petrol in NZ is:
70.024c – National Land Transport Fund
6c – ACC Motor Vehicle Account
0.66c – Local Authorities Fuel Tax
0.72c – Petroleum or Engine Fuels Monitoring Levy
On top of this you have:
GST at 15%
10c extra in Tamaki Makaurau for the Auckland Regional Fuel Tax
This means that for most Kiwis, the amount of tax on a litre of gas is now around 77c, or 87c in Auckland. For more information, click here.
Why is petrol so expensive? NZ petrol price rises
The table below shows how the main port price has also increased in NZ this year. The main port price is a weekly average of retail prices in: Auckland, Hamilton, Wellington, and Christchurch.
Petrol
Cost
per litre
Jan 2023
Cost
per litre
July 2023
Price
increase
91
$2.50
$2.81
12.4%
95
$2.67
$2.97
11.2%
As you can see, our petrol prices have gradually increased since the beginning of the year.
Why are petrol prices increasing?
There's a few factors behind the rising prices of fuel this year, including:
End of fuel tax discount
Fuel companies were reluctant to pass on the full excise increase on July 1, so have gradually been increasing fuel prices
Carbon costs from the NZ Emissions Trading Scheme (ETS)
You can see clearly the balance of taxes, margins and costs in this colourful MBIE graph: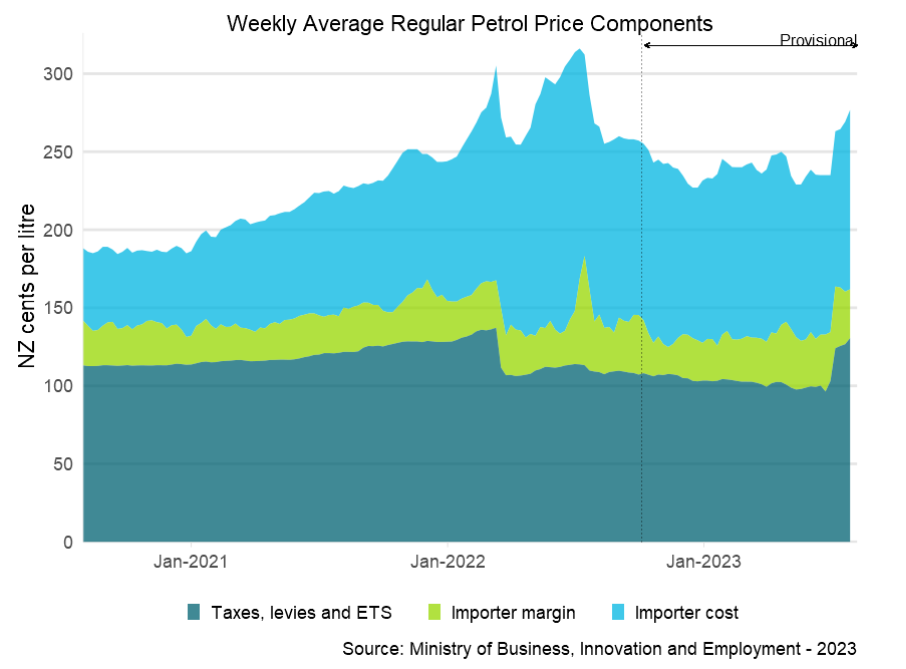 So, why is petrol so expensive?
Fuel prices have risen this year due a range of factors, but the most impactful has been the removal of the fuel tax discount. The fuel tax subsidy was first introduced in March 2022, to help combat rising fuel costs caused by the war between Russia and the Ukraine. However, on July 1, 2023, the subsidy was removed, and fuel prices shot up overnight.
However, some fuel companies were reluctant to pass on the price increase to Kiwis in one hit. This has meant that fuel prices have continued to climb throughout July and into August. Ongoing uncertainty around the ETS and carbon prices has also helped keep fuel costs high.
So while overall petrol prices are now lower than July 2022's record highs, thanks to increased taxes, at the pump, the cost of petrol remains elevated and, unfortunately, seems likely to remain so for the foreseeable future.
---
Compare Outstanding Value Car Insurance with Canstar
Looking for great value car insurance for you and your family? Each year, we release our car insurance awards, including winners for Insurer of the Year, Outstanding Value, and Most Satisfied Customers. As part of our award results, we also publish our Outstanding Value Star Ratings, covering car insurance for different age groups. Below are our top-rated providers in the drivers aged 30-49 category. Click here to view our complete car insurance Star Ratings for all age groups.
Comprehensive Cover: Drivers 30-49:
See here for our ratings methodology. The table above is an abridged version of our research. For the full results of our latest Car Insurance Ratings and Award, click here.
---

About the author of this page
This report was written by Canstar Content Producer, Caitlin Bingham. Caitlin is an experienced writer whose passion for creativity led her to study communication and journalism. She began her career freelancing as a content writer, before joining the Canstar team.
---
Enjoy reading this article?
You can like us on Facebook and get social, or sign up to receive more news like this straight to your inbox.
By subscribing you agree to the Canstar Privacy Policy