Wise's debit card is more than a travel money card, that's why it's the winner of Canstar's Travel Money Card Award 2021.

The best travel money card?! Yes, given that galivanting around the globe is somewhat curtailed at the moment, it might seem strange that we're talking about Canstar's Travel Money Card Award 2021. But with vaccination passports on the horizon, and countries opening up their borders to low-risk visitors, like those from Aotearoa, hopefully it won't be too long before we're off spending our hard-earned abroad.
And when we do finally start packing for international travel, along with our passports a Wise debit card should be a holiday essential. More than just a foreign currency travel card, Wise's multi-currency debit card is a real game changer.
It allows you to hold money in 50+ currencies and move cash between your balances in seconds. Other innovative features include auto-conversion, which automatically chooses the cheapest currency to use when making a purchase. Wise also offers transfers that are up to seven times cheaper than other major providers.
It's because of these factors, and more, that Wise won our Travel Card Award 2021. When judging Wise against its competitors, our expert research panel used a highly technical methodology. But to make things a bit simpler, we also sat down with the Wise guys, and had them answer a few questions about what sets Wise and its debit card above the competition in the travel card space.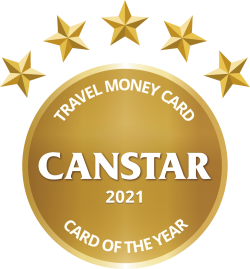 What is Wise?
Wise allows people in their increasingly global lives to pay, to get paid, and to spend, in any currency – wherever they are and whatever they're doing – via instant, convenient, transparent cross-border transfers and payments that are as low-cost as possible.

For the everyday traveller, Wise combines a multi-currency account, international money transfers and debit card products into one. It's designed for all Kiwis – locals, travellers, expats and digital nomads – who need an everyday account that works within NZ and abroad in multiple currencies, to receive their salaries, pensions, pay bills, shop online and more.
Wise has already issued 1.4 million debit cards globally, and each is loaded with innovative features at a price point that's, on average, seven times cheaper than old-school banks.
A wise account offers:
Account details: get account details in nine countries (NZ, Australia, UK, US, Eurozone, Canada, Singapore, Hungary, Poland and Turkey) in minutes, so you can pay and get paid in those countries like a local
Direct debits – share your AU, EU and UK account details with merchants to conveniently automate and pay bills and subscriptions
BPAY: pay bills in NZ with BPAY from around the world
Balances: hold and convert 55 currencies instantly at the real exchange rate
Debit card: use your card in around 200 countries and anywhere online, spend with Apple and Google Pay, and withdraw anywhere with no foreign transaction fees or exchange rate mark-ups
Savings jars: stash away money in any currency, for rainy day funds, long-term savings and more. Money in jars can't be spent using the debit card or used to pay via direct debit until it's moved back to balances
International money transfers: send money to over 70 countries at the real exchange rate, up to seven times cheaper than the banks and instantly when sending money with PayID
Scheduled transfers: Set up recurring transfers to automate the process of sending money abroad

What does the Wise debit card offer?
Spend: use the card in around 200 countries and anywhere online, spend with Apple and Google Pay, and withdraw anywhere with no foreign transaction fees or exchange rate mark-ups
Free to use: no monthly subscription fees, no monthly maintenance fees and no transaction fees
Save money: spend at the real exchange rate, with no sneaky mark-ups
Withdraw cash: for free at any ATM in the world
Multiple currencies: hold and convert over 55 currencies instantly
Security: set spending limits, freeze/unfreeze the card instantly in the app and get real-time notifications for every transaction
Smart money-saving technology: automatically chooses the currency that offers the best conversion rate
Virtual Visa Cards: add up to 10 virtual cards, each with a unique number to shop with and better manage expenses

How does Wise product differ from other travel cards and FX providers?
The global banking system wasn't built for the 21st century. Banks and other payment providers are local, which means they use a patchwork of systems to move and manage money internationally, making it difficult and expensive for people and businesses with multi-currency needs.
Wise's debit card solves the problems of the clunky old-school financial system, making international banking and cross-currency payments fast, easy, transparent, and cheap. Wise is the only fintech company in NZ and Australia focusing on solving the cross-border payments and international banking problem for consumers, businesses and even banks simultaneously.
Who Wise is for?

Travellers
Expats
Supporters of family abroad
Digital nomads

What can a Wise card do?

Pay for goods/services
Send money to people
Pay by card
Receive money from people
Receive money from companies
Receive money from customers
Hold money in different currencies
Convert money
Automate payments (direct debits)

What can a Wise customer do?

Open a bank account abroad
Get paid in another currency
Spend in different currencies online and abroad

Why use Wise?

10m global customers
Up to 7x cheaper than the banks
Up to 19x cheaper than PayPal
Easy to open an account in NZ

How Wise saves consumers money
Wise uses the mid-market exchange rate. When paying or sending money in other currencies, most Kiwis aren't aware that banks and other providers, such as credit cards, often set their own unfriendly exchange rates, which tend to be lower than the mid-market rate Wise uses. This means New Zealanders are paying more money than they need to every time they make an online transaction.
Wise is incredibly transparent and upfront with its fees, so customers know exactly how much they are paying. It also offers a range of online tools that help you keep track of fluctuating exchange rates. You can use Wise's Rate Tracker to track exchange rates between two currencies daily, or to set email notifications for when it reaches your desired rate.
---
For more on Wise's win and our full Travel Money Cards Award and ratings, click on the button below.
Compare Travel Money Cards with Canstar
Enjoy reading this article?
You can like us on Facebook and get social, or sign up to receive more news like this straight to your inbox.
By subscribing you agree to the Canstar Privacy Policy