The very specialized and sometimes volatile nature of agribusiness operations demands a specialized banking service. CANSTAR assess the agribusiness products and services offered by New Zealand financial institutions.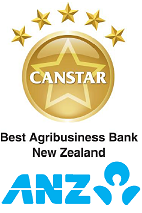 SO, WHO PROVIDES BEST VALUE?
For the third year running, CANSTAR is pleased to announce ANZ as winner of the CANSTAR Agribusiness Award.
The 2012 merger of the National Bank of New Zealand with ANZ created an agribanking powerhouse, giving ANZ a strong competitive advantage.
Some highlights include ANZ's impressive 1 agri-manager for every 47 agribusiness customers as well as the highest number of branches (255). ANZ also provide an 18 hour call centre and reassuringly, they provide a link to their rural resources from their homepage.
In terms of resources, ANZ offer a suite of purpose-designed agri-products, such as the ANZ Environmental loan, as well as a wealth of rural news and insights resources. ANZ's Agri Manager specialist teams, thought leadership on important topics for the industry, Agri Focus publications, seminars and other events they sponsor all add value for agribusiness customers, providing easy-to-access knowledge on important industry issues.
View the full Agribusiness Star Ratings report.