Smartphone ownership at 76% and 70% percent of all banking transactions are completed digitally
Power shifting from banks to customers
Westpac "acting like a 200 year old startup"
When it comes to being happy with our chosen financial institution, online functionality makes a critical difference. According to Canstar award winner Westpac, 70 percent of all banking transactions are now being completed digitally. This is not surprising with a Roy Morgan survey this week putting smartphone ownership at 76 percent of New Zealand adults.
"Importantly, it's not just the Millennials who are banking on the go," said Canstar General Manager- New Zealand, Jose George.
"A recent Canstar Blue survey of more than 2,400 New Zealanders found that while Gen Y are most likely to do a lot of their banking via mobile, Gen X and Baby Boomers are also very smartphone-savvy.
"Customers really have become accustomed to using their smartphone for everything, from checking the weather to finding a property to buy to doing their banking. And the explosion in well-designed fintech platforms and solutions means that banking customers have a higher than ever expectation of intuitive banking functionality across both desktop and mobile."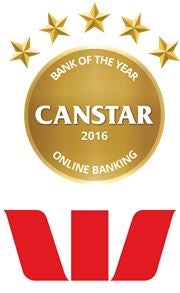 Each year Canstar assesses the online banking services and functionality offered by New Zealand's financial institutions, across both desktop and mobile. In 2016, for the second year in a row, Westpac has won the Canstar Bank of the Year – Online Banking award.
"Since the execution of the Westpac One platform across both desktop and mobile last year, Westpac has retained an innovative mindset, implementing continual features and functionality," said Mr George.
"It was evident to our Research team that Westpac has spent significant time and resources on its mobile banking capabilities, with a seamless customer experience and transition between desktop and mobile." said Mr George.
According to Westpac's Chief Digital Office Melissa Macfarlane, the mainstream use of the smartphone has had a huge impact on consumer behavior and customer expectations are interlinked with the mobile functionality of the day.
"Right now, your bank can be accessed from your pocket 24 hours a day, seven days a week," said Mrs Macfarlane.
"We believe (and are banking on ) that demand for digital banking is moving beyond straightforward transaction and account management. Customers will expect value-added extras and tools from their bank that cover things like financial education. They will also expect us to know them and tailor our offerings in a personalised way – giving customers the ability to choose what and how they want their finances managed. "
"Banking is no longer on the banks terms, but on our customer's terms."
According to Mrs Macfarlane, the secret to innovative success is to behave like a bank- but to think like a startup.
"The successes we've had are direct outcomes of Westpac's ability to behave like a bank and not like a bank at the same time. We're thinking and acting like a 200 year old start-up," she said.
"We operate in a highly regulated environment, so it's imperative we have the right processes and structures in place to give our customers security. Attention to every single detail is absolutely necessary. But at the same time, we need to be  agile and anticipate our customer's needs."
Innovation requires an agile, fast, collaborative environment where failure  equally is seen as an opportunity to learn. The ability for the two cultures to co-exist within Westpac is fundamental to our success."
View the 2016 Canstar Online Banking Award report.
For further information, contact:
Brenda Newth, SenateSHJ +021 655 534
About Canstar:
Canstar provides Australia and New Zealand's only fully interactive online research service in retail and business finance.
Founded in 1992, Canstar Pty Limited (formerly CANNEX) is Australia and New Zealand's premier researcher of retail finance information for over 250 institutions such as Banks, Building Societies, Credit Unions, Finance Companies, Brokers, Mortgage Originators, Life Companies and finance related Internet Portals.
Canstar customers use the extensive database for competitor analysis as well as a means of disseminating their product range.   Canstar also distributes this information to print and electronic media for publication and to Agents, Accountants, Brokers and Internet Portals for use in advising their clients.
What are the Canstar star ratings?
Canstar researches, compares and rates the suite of banking products listed below. Results are freely available to consumers who use the star ratings as a guide to product excellence. The use of similar star ratings logos also builds consumer recognition of quality products across all categories.  Please access the Canstar website at www.canstar.co.nz if you would like to view the latest star ratings reports of interest.
Business deposits
Cash PIE
Credit cards
Credit card rewards
Home loans
KiwiSaver
Online banking
Personal loans
Savings accounts
Transaction accounts
Term deposits
COPYRIGHT
© Canstar New Zealand Limited (3225469), 2008-2013. The recipient must not reproduce or transmit to third parties the whole or any part of this work, whether attributed to Canstar  or not, unless with prior written permission from Canstar, which if provided, may be provided on conditions.
DISCLAIMER
To the extent that any Canstar data, ratings or commentary constitutes general advice, this advice has been prepared by Canstar New Zealand Limited (3225469) FSP 200146 and does not take into account your individual investment objectives, financial circumstances or needs.  Information provided does not constitute financial, taxation or other professional advice and should not be relied upon as such.  Canstar recommends that, before you make any financial decision, you seek professional advice from a suitably qualified adviser.  A Product Disclosure Statement relating to the product should also be obtained and considered before making any decision about whether to acquire the product. Canstar acknowledges that past performance is not a reliable indicator of future performance.