For the sixth straight year, Heartland Bank is the winner of Canstar's Bank of the Year | Savings Award.

Over the past year, interest rates on savings accounts have more than doubled. Back on July 7, 2022, the average rate on Canstar's database for bonus-rate savings accounts was 1.30% p.a. Now, it's 4.50% and the top rate is 5.25%, which is much higher than all the term deposit rates on our charts 12 months ago.
Therefore, if you've a lump sum sitting in a bank account earning negligible income, why? There are some great savings accounts on the market and, according to Canstar's latest research, the best can be found at Heartland Bank.
For the sixth year in a row, Heartland Bank is the winner of Canstar's Bank of the Year Savings Award.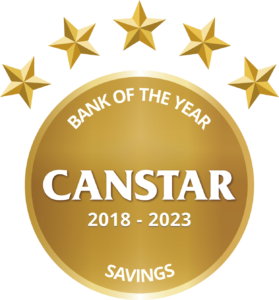 What is Canstar's Bank of the Year Savings Award?
Canstar's Bank of the Year Savings Award uses a sophisticated rating methodology, unique to Canstar. It's awarded to the New Zealand financial institution that offers customers the strongest combination of product features, customer service and, of course, great interest rates across their savings account and term deposit offerings.
And because savers have different needs in terms of what they want from their savings accounts, our award covers two different types of savings account:
Flexible Saver: For consumers looking to maximise their savings while retaining easy access to their funds.
Regular Saver: For more active savers who are willing to meet stricter conditions to achieve higher levels of interest.

Why is Heartland Bank Canstar's Bank of the Year Savings Award winner?
Of the 11 financial institutions assessed for this year's award, the Heartland Bank yet again offers the most competitive savings accounts across both the regular and flexible saver profiles, and its term deposit products.
Jose George, Canstar NZ General Manager, says the win cements Heartland Bank's place as the leader in savings for New Zealanders.
"Savings are an important part of anyone's financial toolkit. Having a pot of funds that is easily accessible, or earning high interest, is important for those rainy day moments or unexpected emergencies.
"Heartland Bank impressed the judges with its high interest rate offers and fee-free accounts. Heartland Bank's customers will appreciate these generous offers, particularly given rising living costs.
"This award is well deserved, and we congratulate Heartland Bank for the continuation of its winning streak."
Read more about Canstar's Savings Account Star Ratings here!
---

About the author of this page
This report was written by Canstar's Editor, Bruce Pitchers. Bruce has three decades' experience as a journalist and has worked for major media companies in the UK and Australasia, including ACP, Bauer Media Group, Fairfax, Pacific Magazines, News Corp and TVNZ. Prior to Canstar, he worked as a freelancer, including for The Australian Financial Review, the NZ Financial Markets Authority, and for real estate companies on both sides of the Tasman.
---
Enjoy reading this article?
Sign up to receive more news like this straight to your inbox.
By subscribing you agree to the Canstar Privacy Policy