When managing a household budget, don't forget to factor in the costs associated with the routine upkeep and maintenance of your home.
When you're a homeowner, outgoings don't end at mortgage payments and utility bills. It pays to factor in the cost of the general maintenance issues that can pop up, so you don't get caught out when they arise. We break down four major maintenance costs to keep in mind.
'Prepare for the unexpected' is a good line of advice to follow when you own a home. Even if you own a brand new home or have built from scratch, every home needs a decent amount of annual TLC.
There are little jobs that are relatively easy to keep on top of, like straightforward painting tasks, keeping leaves out of gutters and replacing light bulbs. For the bigger stuff like roofing and sorting out plumbing issues, you'll need to call in the professionals. To keep on top of these costs, it's a good idea to plan ahead. 
Part of home ownership is about balancing mortgage repayments with repairs and your day-to-day living expenses. To keep on top of everything, it pays to organise your budget accordingly, and have separate bank accounts for your different expenditures.
Financial experts recommend opening a savings account and storing away enough funds to cover around three- to six-months' of typical household expenses. That way, you'll have a cushion when major costs arise.
What to prepare for:
Roof maintenance
Your roof is a crucial part of your home's protective exterior, but it is also one of the most easily damaged, be it by strong winds, sun, hail or other weather conditions. Without regular upkeep, your roof can start losing the ability to perform its job properly: to be the protective cover for the rest of your home.
If your roof's old, shingles and tiles can come loose or crack, and nails and steel can rust. It's not a good idea to start clambering over your own roof, leave that to the professionals. But you can make regular checks of your roof space, to look for leaks. 
A slow leak in your roof, or other part of your home, might not be noticeable immediately, but over time the drip can lead to major mould growth or structural damage. This will likely be expensive to remedy or repair. 
Some home insurance policies will cover damage to your roof, so check the details of your policy for your level of coverage.
Heat pump maintenance 
Even a well-maintained heat pump can run into problems when it gets to a certain age. If your energy bills have suddenly dramatically increased, the heat pump is emitting strange noises/smells or it's producing excess moisture, it's probably time to call in a professional.
Some of the most common problems with an ageing heat pump include the fan not acting as it should, internal mechanisms coming loose, or becoming clogged with dirt. To stay warm during New Zealand's winter months, it's vital to carry out any necessary repairs.
If you've had your heat pump for a number of years, replacement might be a cheaper option than repair, especially if you invest in a new more energy-efficient model. While you are comparing star ratings, it's a good time to also compare electricity providers, to ensure you're getting the best deal. Just click on the button below:
Compare energy providers for free with Canstar!
Plumbing maintenance
Plumbing maintenance issues can arise in various areas of the home. Here's a tip from plumbing experts that could save you hundreds of dollars (if not, potentially, thousands): don't ignore small problems. If you can see a sink is draining slowly in the bathroom, or your toilet water level is changing dramatically after flushing, you might have a blockage problem. Ignoring blockages like this can cause major issues later on, especially if your house was built pre-1970s, as they often have earthenware pipes that are prone to cracking. 
Leaky pipes also require immediate maintenance. They almost always happen at the pipe joints. Tape and fillers can sometimes offer a temporary fix, but for something more permanent you may to replace a piece of pipe or its related fittings. 
If you have a house built during the 1980s, it's worth checking that your pipes don't include the notoriously defective Dux Qest brand. The only lasting remedy if you have these plastic pipes in your home is to have them all replaced, as many insurers now refuse to cover water damage caused by them.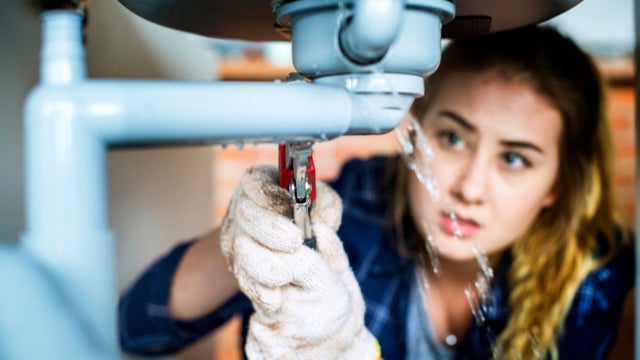 Insulation issues
Many older homes in New Zealand, especially if they were built before 1978, have limited or no insulation. This makes them more expensive to heat and can lead to an unhealthy living environment. Even if there already is insulation in a home, it may be less than optimal, or could have lost some of its performance over the years.
There are things that can be done relatively easily to improve this situation. Ceilings are often the easiest and most effective areas to insulate in an existing house. If the roof space is accessible bulk insulation can simply be placed over your ceiling lining and framing, according to Smarter Homes. For some home insulation measures there are even government grants that make them more affordable. 
Emergency Funds
You may not face all of the above issues while living in your home, but it pays to be prepared. Consider setting up a savings account and putting away a little money each month for problems that might arise.
If you already have a major maintenance issue in your home, don't ignore it. Structural problems don't just disappear, and often cost more to remedy the longer you leave them. If you don't have an emergency fund, there are financial solutions.
You could talk to your mortgage provider and enquire about refinancing to cover the cost of the repairs. After all, your lender owns part of your home and has skin in the game. Or you could consider whether a personal loan might work for you.
The decision is up to you, and should only be made after thoroughly going through your finances, but Canstar is here to help. Our research can help you compare the different personal loans on the market and aid your research. For more information, click on the button below.
Compare personal loans with Canstar
Enjoy reading this article?
You can like us on Facebook and get social, or sign up to receive more news like this straight to your inbox.
By subscribing you agree to the Canstar Privacy Policy